Last edited:
14 July 2016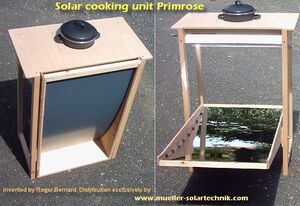 The Primrose, originally invented by Roger Bernard (see Nelpa), is a cooking unit improved and produced by Bernhard Mueller of Mueller Solartechnik before his retirement. It is constructed to serve as a little kitchen with the advantages to stay in the shade and stir the food during the cooking process. The working height (91 cm (36 inches)) remains. The cooking unit Primrose resists wind and, with minor modifications, all other weather conditions. The reflector can be put up for easy storage.
Recent news and developments
Audio and video
See also
Audio and video
Contact
See Bernhard Müller.
Community content is available under
CC-BY-SA
unless otherwise noted.