Jurassic World: Dominion Dominates Fandom Wikis - The Loop
Play Sound
Last edited:

19 November 2019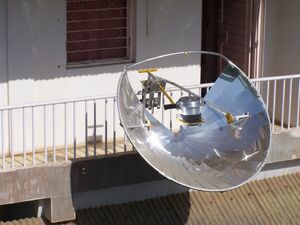 Promoters, Researchers and Innovators in New and Clean Energy (PRINCE) is a volunteer-based group founded by Ajay Chandak and is dedicated to creating a better world for everyone through the use of renewable energy. We believe that protecting and enhancing the environment is possible only through using non-conventional energy sources. We are based in Dhule, Maharashtra, India and work in association with the local NGO Jankibai Trust.
We conduct many training programs for developing manufacturers of parabolic cookers and our efforts are succeeding. The technology will propagate faster if we can make it accessible to all.
News
[
]
November 2019: The PRINCE-40 wins award - The PRINCE-40 parabolic solar cooker, designed to serve a community, has won a National Grand Challenge for designing a robust, efficient, and compact community solar cooker. The challenge was from Department of Science and Technology, Government of India. The award focussed on community solar cooker designs.
July 2019: In the second week of July, Dr. Chandak will lead an environmental expedition to Ladakh to demonstrate the ability of solar thermal parabolic cookers to cook food and boil tea with the power of the sun even when snow is on the ground and temperatures are below freezing. Ladakh, a high-altitude desert with more than 325 clear sunny days and no locally available cooking fuel is an ideal region for cooking with solar thermal devices. Using solar cookers whenever the sun is shining can significantly reduce the amount of subsidized LPG fuel that residents of this region must currently purchase and import every year. Ajay and his team will demonstrate low cost, easy to use PRINCE solar cookers at schools and rural child care centers (Aanganwadis). They will carry out a solar cooking expedition to Khardungla Pass, at an elevation of 5360 mt (17585.2 ft) on the 10th of July. Ajay also plans to donate a PRINCE-40 solar community cooker to Indian Army personnel for pilot testing so that it can be used in remote outposts in this region where all cooking fuel must be imported at tremendous expense. Ajay has been instrumental in training and mentoring entrepreneurs from Ladakh since 2010. These entrepreneurs have manufactured and installed almost 1000 domestic solar cookers in the region.
April 2017: Award recipient - Dr. Ajay Chandak has received the SCI Order of Excellence for his work in promoting solar thermal cooking worldwide.
May 2016: Usability of the solar dish cooker for large scale community cooking - Kurukshetra Journal
August 2014: Professor Chandak has written about the recent installation of steam generating solar cooking systems at The Akshardham Temple located in New Delhi and at the Ram Krishna Mission Student's Home, Mylapore, Chennai. The Akshardham Temple system is now able to serve 2,000 - 3,000 meals on a clear sunny day, saving approximately 30 to 50 scm of PNG each day in operation. MNRE has partly funded this installation and Clique Solar has manufactured and installed the system. The system at the Ram Krishna Mission Student's Home as been adapted with the ability to store the excess heat generated mid-day to be able to cook very early in the day and after sunset. Read his reports: ARUN®100 Installation at Akshardham Temple, New Delhi and ARUN®100 with Thermal Storage at Ramkrishna Mission, Chennai - Ajay Chandak
March 2014: Professor Chandak wants to update the solar cooking community that a Scheffler Community Kitchen has been installed and tested at the Aapla Ghar school for homeless rural children located in Naldurg. After cooking their first meal on this solar system the students and management were more than happy. He brings particular attention and notice of appreciation to the local M.P. Dr. Ashok Ganguly, who arranged financing of the project through their M.P fund, contributing $23,000 USD to the project. Also, another Scheffler system is to be opened soon at an orphanage located in Dhule.
December 2013: On December 9, 2013 Professor Chandak was elected to the Board of Directors of the International Solar Energy Society (ISES). Chandak will represent "Solar Heating and Cooling". ISES is a UN-accredited NGO that is active in over 110 countries.
November 2013: More Indian schools to get solar cookers (The Hindu) - After experimenting with solar power in cooking noon meal for students in a corporation school, the Coimbatore Corporation has decided to provide them to a few more schools. The corporation, sometime in August, installed two [institutional] solar cookers at the North Coimbatore School at Rs. 68,000. ...[T]he civic body was keen on tapping alternative sources of energy to bring down reliance on conventional sources of energy and provide a friendly kitchen environment for workers, who had been struggling with firewood. Read more...
November 2013: Solar cooking receives a new platform to speak from - The second edition of Sun Focus, a quarterly magazine devoted to concentrated solar heat has just been released. The new publication from India was founded by Dr Farooq Addullah. He explains that the magazine will focus on off-grid applications of concentrated solar technologies (CSTs) for the purpose of saving fuel oil, firewood, and LPG in industrial and commercial establishments using heat between 80 °C and 250 °C. Solar cooking plays a major role in the content. This latest edition's cover article is devoted to the latest developments of the Scheffler Community Kitchen, written by Professor Chandak. Read his article on page 11. Scheffler Solar Concentrators in India - Sun Focus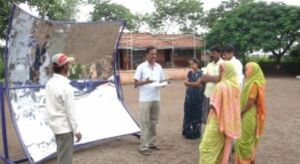 January 2013: Parabolic community solar cookers used for midday meals in rural schools - WOTR is a nonprofit organization that has been operating in five Indian states since the early nineties. They have untaken a unique solar cooking project targeting Zilla Parishad primary schools in the Sangamner and Akole taluka of the Ahmadnagar district. The objective was to find ways to help prepare their midday meal. Currently, twenty-three solar cookers are in service. After a careful study of all options, it was decided to deploy the PRINCE - 40 parabolic solar cooker, designed by Professor Chandak, for the pilot installation in fifty-three villages across three states – Maharashtra, Andhra Pradesh, and Madhya Pradesh. Most of the schools where these cookers are installed are using them as main source of energy for the mid-day meals. Read more about the project at: A Report on Deployment of Parabolic Community Solar Cookers for Midday Meals in Rural Schools
December 2011: We are getting amazing feedbacks from end users for installations carried out for the PRINCE - 40 solar community cookers, with the help of NGOs like WOTR and MPSSS. It looks like these organizations will expand the program and we should see few hundred systems in schools in next year. You will find a few more models of community solar cookers from us in coming year.
October 2011: The latest PRINCE newsletter announces a scheduled training for Scheffler Reflector Solar Cookers coming January 21 -27, 2012. Next, PRINCE founder Ajay Chandak has received an Energy Conservation Award from the Government of Maharashtra. Also, PRINCE has organized a networking workshop for all stakeholders in the renewable energy business on January 25 - 26, 2012. PRINCE Biogas Plants now approved by MNRE. Read more about these items: PRINCE newsletter, Fall 2011
July 2011: Originally announced as a one-time event Oct. 11-13, 2011 with a related conference, the solar cooker competition has been cancelled, and instead there will be a year-long opportunity for having solar cookers and fuel stoves tested free, starting this month. India's Promoters and Researchers in Non-Conventional Energy (PRINCE) group have updated standards for solar cookers, developed in conjunction with input from SCWNet members. These universal testing standards will be used to evaluate the cookers by simulating real world conditions. Designers, manufacturers, NGOs and individuals are invited to submit solar cookers for testing, and need not be present for the tests. While there will be no cash prizes, solar cookers will be rated on thermal performance, cost of manufacture and transport, and user convenience. Send cookers anytime between now and June 2012 to: Prof. Ajay Chandak, PRINCE, Shamgiri, Opp Swagat Lodge, Agra Road, Deopur, Dhuli – 424005, Maharashtra, India. Include your usual instructions for consumers. If you wish your cooker returned, please arrange to cover return shipping costs. After testing, entrants will be contacted with results, and have the option of omitting their information in the publicly listed ratings. No reply from entrants within two weeks or so after receiving their results will be taken as consent to publish. Other questions? Email: renewable.india@gmail.com.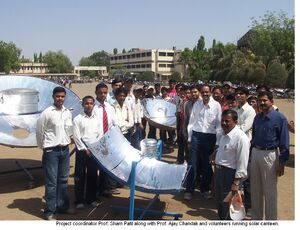 March 2009: Energy Day was celebrated in a unique way in city of Dhule, India, by a voluntary organization PRINCE (Promoters & Researchers In Non Conventional Energy). With the help of around 100 students of mechanical engineering from SSVPS BSD College of Engineering a solar canteen was set up by Prof. Ajay Chandak, Prof. Sham Patil and Prof. Deepak Dubey. Three SK-14, solar dish cooker, one square PRINCE design of dish cooker and one Community solar cooker of 2.3 m dia. were used in the canteen. On these gadgets almost 1000 snacks were cooked and sold by the students. Staff and students of the Institute and invited guests from the city enjoyed solar food. Guests had fun watching the food being cooked in front of their eyes in the solar cookers and to taste the same as any other methods of cooking. Snacks cooked and sold on large scale were Idlis and coffee. However other snacks like Khichadi, Cakes etc. were also prepared for demonstration to the visitors. Many students, staff and visitors showed great interest in the solar cooking demonstrations and local manufacturer, M/s Essential Equipments, reported sell of around ten solar cookers in next two days, which is welcome outcome of such event. Many students were thrilled with the experience of this event for the first time in their life and have shown great interest to organize such events at different locations in the city, next year. Principal of the Institute Dr. Jahagirdar has promised to support such events in future. Other programs for energy day celebrations included demonstrations of energy efficient technologies for lighting, fans and domestic appliances. All these equipments were demonstrated to visitors. Many visitors reported having changed their copper and aluminum ballasts with electronic ballasts in next week. After all seeing is believing. One workshop was also organized for local masons, hoteliers and interested people to teach them skills of installation of biogas plants working on food waste. Chairperson of PRINCE, Prof. Ajay Chandak, has given up LPG since last four years and fuel requirement for his family comes up from the solar cookers and biogas plant working on food waste. PRINCE group has come up with a special cost effective design of biogas plant. After the workshop five people have shown interest in installation of the biogas plants.
November 2007: Professor Ajay Chandak, of PRINCE, reports completion of an ambitious project to manufacture, transport, install and commission over 300 large parabolic solar cookers at tribal schools in the Indian state of Maharashtra. The project was coordinated by Chandak, with manufacturing by PRINCE trainees M/s Essential Equipments and three contractual manufacturers. Twenty-five trained teams carried out installation and testing of the cookers. The entire process took just 45 days, and resulted in 100 schools being equipped. The "community solar cookers," as Chandak refers to them, are 2.3 meters in diameter and powerful enough for a 22-liter pressure cooker. Each cooker cost around Rs. 26,000 ($650) and comes with a large pressure cooker and other accessories.
[[Image:Ajay_Chandak_receives_award.jpg|right|thumb|Professor Ajay Chandak accepts a renewable energy award from Mr. Vinay Kore, the Maharasthra state minister for non-conventional energy, as other dignitaries look on]
November 2006: Professor Chandak won a "Renewable Energy Award 2005" from the Maharashtra Energy Development Agency. Of the state-level award for excellence in renewable energy, Prof. Chandak says, "Such awards are small milestones on our way and keep us pushing forward." He thanks friends from around the world for their contributions, adding, "They are equal partners in the award."
January 2006: Professor Chandak led a workshop titled "Manufacturing Parabolic Solar Cookers and an introduction to renewable energy technologies." Twenty people from eight states participated in the workshop, mostly renewable energy professionals. Mr. Chandak hopes that several of them will consider manufacturing parabolic solar cookers in their own states. Large community-size cookers, two meters or more in diameter, proved quite popular. These cookers can cook meals for 30-50 people. Smaller, family-side cookers were also shown, as were related technologies like solar food dryers.
Documents
[
]
Audio and video
[
]
See also
[
]
External links
[
]
Contact
[
]
Shamgiri, Opp Swagat Lodge, Agra Road, Deopur
Dhuli - 424005
Maharashtra
India
Email: renewable.india@gmail.com
Facebook: https://www.facebook.com/ajay.chandak.37
YouTube: PRINCE's YouTube channel

and
Prof. Ajay Chandak
PRINCE, Suman Foundation
Shamgiri, Opp. Swagat Lodge, Agra Road, Deopur,
Dhule: 424 005.
Maharashtra
India
Tel: +91 2562 271795
Whatsapp/Mobile: +91 9823033344
Email: renewable.india@gmail.com, ajaychandak@iitbombay.org , or solarmanofindia@gmail.com