This article is about an entity that either no longer exists or that may no longer be active in solar cooking promotion. It is retained here for archival purposes.


Last edited:
20 November 2012
Patentó un horno solar híbrido digital, el
Nevehorno
que funciona secuencial o simultaneamente con Energía Solar, electricidad de la red o biomasa funcionando alternativamente como nevera pasiva con un novedoso sistema de cocción que no necesita ollas.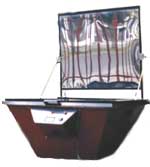 Estas características permiten su uso durante la noche o en días nubados.
Puede cocinar 12 a 15 libras de carne, pollo o pescado en tiempos de 2 a 3 horas. Para cantidades inferiores, el tiempo se reduce incluso a 30 minutos por cada libra.
Para mayor información puede ver el sitio:
http://www.terra.org/html/s/sol/cocina/directorio/ficha.php?id=66
Proyectos Solares Inteligentes también trabaja con investigación e instalación de Energía Solar fotovoltaica con paneles solares. adicionalmente, instala calentadores solares de última generación de alto vacío.
Recent News and developments
Edit
November 2012: In Colombia, the weather conditions are highly variable, and at any time, a sunny day can easily become a rainy day. For Colombian urban dwellers, solar cooking is still considered a great option in sunny conditions, but it still falls short of a complete cooking solution for families. It requires open access to good sunshine, and as of yet, offers limited thermal storage. Therefore Proyectos Solares Inteligentes has been working for years on a model that meets the demanding requirements of modern man and yet also be a solution for rural dwellers. The type of solar cooker is called Nevehorno. A patent application is in process for this hybrid solar/electric cooker. The oven can be used at night time or indoors using 500 watts of energy, which is about quarter of the use of a similar sized conventional oven. If there is no electricity, the oven can run off charcoal, biomass or wood like a barbecue. It can also function as a passive refrigerator, that keeps food cold for relatively long periods without consuming energy.
External links
Edit
Ing. Luis Becerra Carrera 11 N°7-07 Sur
Bogotá, Colombia
Fax +571 2337001
Tel: +57 3370519
Fax +571 2337001
Mobile: +301 5254396
Email: proyectosolar@yahoo.com
Web: http://proyectosolaresinteligentes.blogspot.com
Skype: proyectos.solares.inteligentes
Community content is available under
CC-BY-SA
unless otherwise noted.