Last edited:
8 January 2019
Events
International conferences
NEW: 

5-7 November, 2019 (Nairobi, Kenya): Clean Cooking Forum 2019 - The Clean Cooking Alliance and the Kenya Ministry of Energy will co-host the Clean Cooking Forum 2019, to be held in Nairobi, Kenya, from November 5-7. With the theme of "Investment. Innovation. Impact," the sector's flagship event will bring together hundreds of attendees from around the world working to build an inclusive industry that makes clean cooking accessible to the three billion people who live each day without it. More information...

22-24 January 2020 (Faro, Portugal): CON

SOL

FOOD

2020

- To be held at the Institute of Engineering, Universidade do Algarve, Campus da Penha. The conference will focus on solar thermal food processing. The deadline for receipt of abstracts was 15 June 2019. More information... 
See also: Global Calendar of Events and past events in Puerto Rico
News
May 2018: Solar cooker request response - MSA Renewtech Foundation (India) and the United Clergy Task Force (UCTF) (US) responded to requests from faith-based communities in rural Puerto Rico for community-sized solar cookers. With private funding, coordination by UCTF, training by Mr. Pranav Gadhia of MSA Renewtech, and bilingual technical instructions, curriculum, and survey tools from Solar Cookers International, ten congregations of more than 100 people each are being trained in the assembly and use of the PRINCE-40 parabolic solar cooker.
April 2018: Solar cookers provided to rural areas still without power - In late April, Anne Patterson, SCI Global Advisor, will deploy 25+ Solavore solar ovens to Punta Santiago, the Toro Negro rain forest, and Morovis.  Most of these places are still largely without power and families spend disproportionately on fuel for generators. Monitoring and evaluation are incorporated into this project to track results. The evaluation tools used in these projects can be downloaded from solarcookers.org. Also available in Spanish from SCI.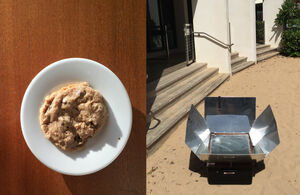 August 2015: Ritz-Carlton bakes beachside chocolate chip cookies for guests in Sun Oven - Bon Appétit magazine featured the Ritz-Carlton hotel in Dorado Beach which uses an All American Sun Oven to make chocolate chip cookies on the beach for their guests. "For us, the sun oven is a way to get kids thinking about how humans can harvest the enormous energy of the sun in better ways" says Sara Welsh, who manages the Ambassadors of the Environment initiative at the hotel. Read more...
History
Archived articles
Climate and culture
See also
Resources
Possible funders
Reports
Articles in the media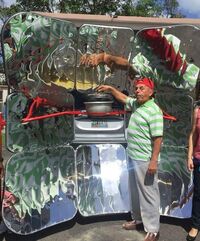 Web pages
Contacts
SCI Associates
NGOs
Manufacturers and vendors
Individuals
Government agencies
Educational institutions
See also
References
Community content is available under
CC-BY-SA
unless otherwise noted.