Last edited:
8 January 2019
| | |
| --- | --- |
| | |
Events
[
]
NEW: 

Webinar:

Thursday, 11 November 2021, 1:00pm UTC: - Solar Cookers International will present a webinar showing how solar cooking helps to improve public health, and the health of the environment around the globe. As part of this year's COP26 in Glasgow, Scotland, it will take place as a side event at the World Health Organization pavilion. There is limited space available for those interested in participating in this free event. Register early.
22-26 November 2021: 2nd National Congress for Solar Drying and Cooking Food - An affiliated group of universities in Mexico will host an online conference relating to solar food drying and cooking, as well as, food safety and energy savings realized with minimal environmental impact. Participants can register to view the presentations, or apply for presentation consideration. The conference will be in Spanish. Registration information... - (English version)
17-23 December 2021: Solar Cooking Awareness Week (Southern Hemisphere) - A loosely organized bid to acknowledge the fun and benefits of solar cooking. Show someone how to solar cook and share a meal.
24-26 January 2022: Fourth International Conference: Advances in Solar Thermal Food Processing - CONSOLFOOD Chairman, Celestino Ruivo, has announced an extended call for abstracts for the upcoming conference in January 2022, which is now planned to be an online event. Advances in solar cooking as well as solar food processing will be considered for inclusion. The event schedule and submission requirements are in CONSOLFOOD 2022 conference information.
See also: Global Calendar of Events and past events in Puerto Rico
News
[
]
May 2018: Solar cooker request response - MSA Renewtech Foundation (India) and the United Clergy Task Force (UCTF) (US) responded to requests from faith-based communities in rural Puerto Rico for community-sized solar cookers. With private funding, coordination by UCTF, training by Mr. Pranav Gadhia of MSA Renewtech, and bilingual technical instructions, curriculum, and survey tools from Solar Cookers International, ten congregations of more than 100 people each are being trained in the assembly and use of the PRINCE-40 parabolic solar cooker.
April 2018: Solar cookers provided to rural areas still without power - In late April, Anne Patterson, SCI Global Advisor, will deploy 25+ Solavore solar ovens to Punta Santiago, the Toro Negro rain forest, and Morovis.  Most of these places are still largely without power and families spend disproportionately on fuel for generators. Monitoring and evaluation are incorporated into this project to track results. The evaluation tools used in these projects can be obtained from Solar Cookers International.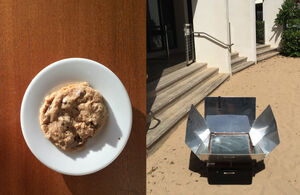 August 2015: Ritz-Carlton bakes beachside chocolate chip cookies for guests in Sun Oven - Bon Appétit magazine featured the Ritz-Carlton hotel in Dorado Beach which uses an All American Sun Oven to make chocolate chip cookies on the beach for their guests. "For us, the sun oven is a way to get kids thinking about how humans can harvest the enormous energy of the sun in better ways" says Sara Welsh, who manages the Ambassadors of the Environment initiative at the hotel. Read more...
History
[
]
Archived articles
Climate and culture
[
]
See also
Resources
[
]
Possible funders
[
]
Reports
[
]
Articles in the media
[
]
Web pages
[
]
Contacts
[
]
The entities listed below are either based in Puerto Rico, or have established solar cooking projects there:
SCI Associates
[
]
NGOs
[
]
Manufacturers and vendors
[
]
Individuals
[
]
Government agencies
[
]
Educational institutions
[
]
See also
[
]
References
[
]