Last edited:
31 January 2018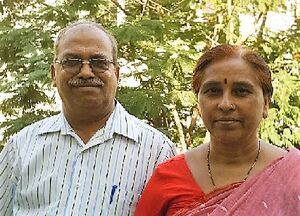 Ravindra Pardeshi is a designer of the Parvati Solar Cooker and the Twelve-Sided Parvati cooker. Mr. Ravindra Pardeshi and his wife Mrs. Shobha Pardeshi are working together with their own design.
These are simple and efficient low cost solar cookers. Many experimenters at higher latitudes have made these cookers and are happy with the output they get. We help anyone who is interested in making the same.

News
November 2013: Ravindra Pardeshi has annouced that a new version of the Parvati Solar Cooker will include a metal base capable of two axis rotation for easier sun orientation. The reflector is assembled from six modular pieces.
See also
External links
Contact
Ravindra Pardeshi and Shobha Pardeshi
D-13 Aranyeshwar Park, Sahakar Nagar
Parvati, Pune
Maharashtra
India
Pin code.411009
Tel.: +91 09404612862
Email: ravi_pardeshi1@yahoo.co.in
Web: The twelve-sided Parvati cooker
Facebook: https://www.facebook.com/ravindra.pardeshi.14
Community content is available under
CC-BY-SA
unless otherwise noted.