Obi-Wan Finale - The Loop
Play Sound
Last edited:
26 February 2020
Below you will find solar cooking recipes. The Solar Cooking Wiki also provides an individual page for 142 different countries where you will find news, NGOs, manufacturers, and individuals working on solar cooking projects in that country:

Below are the favorite recipes of many different solar cooks. However, be aware that you can use almost any standard recipe if you follow these cooking guidelines.
Solar cookbooks
"So you're interested in solar cooking! Whether you are a beginner or an experienced cook, Solar Oven Cooking by Merry Bevill has something for everyone." Order the ebook here: Solar Oven Cooking by Merry Bevill

More Solar Oven Cooking
The author notes; More Solar Oven Cooking picks up where Solar Oven Cooking left off. There is more information, more tips, and more recipes to answer your questions. Including: Types of Solar Cookers; How to Deal with Moisture in the Solar Cooker; How to Clean the Solar Cooker; More Solar Oven Cooking has recipes for foods you didn't think could be cooked in a solar oven. More Solar Oven Cooking by Merry Bevill
Milpa! from Seed to Salsa
2015: After 15 years living in Mixtec Indigenous civilization in the mountains of southern Mexico, Kathy and Phil Dahl-Bredine have facilitated the Mixtec campesinos of the Center for Integral Campesino Development of the Mixteca to express this rich cultural alternative. This bilingual book features the brilliant photography of Judith Haden, recipes from dozens of campesina chefs organized by Susana Trilling, and narratives from indigenous villages. It speaks of the manner in which this ancient/modern civilization plants and works, celebrates and governs itself, its rich cuisine and its vision of its place in the grand scheme of the planet Earth.This colorful challenge to the dominant values of Western civilization helps us reflect upon the values that can assure a future for this planet that is the common home of our various civilizations. The book contains a prologue by indigenous campesino leader Jesus Leon Santos, a Goldman prize recipient, and an afterword by noted agroecologist, Miguel Altieri. Proceeds from the book go to support the work. To order, please send a check for $40 (includes shipping) to:
Instituto Paz en las Americas (or just IPA)
2645 Mountain View Road
Silver City, New Mexico 88061
USA
Sol Food
Written by David and Ruth Whitfield, Sol Food is a cookbook, but it isn't just a cookbook. In its pages you'll find all the information and advice you need to start solar cooking in your own backyard, plus over 54 solar cooking recipes to put on your table. The Whitfields are the founders of the CEDESOL Foundation, and they share many of team's adventures, gleaned from over a decade of not-for-profit work promoting solar cooking and integrated cooking techniques in Bolivia and around the world. A percentage of the profit from book sales help fund thier efforts. Sol Food is offered as an ebook in PDF format. More information...

A Month of SUNdays - Solar Cooking at Home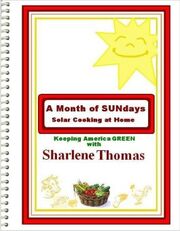 A Month of SUNdays, written by Sharlene Thomas, is a recipe book for both solar and conventional mainstream cooks. The cookbook include standard, original, and gourmet recipes, some including meat. For more information and to purchase...
This book was written to help everyone realize that using the sun's energy for cooking is practical and an effortless method of preparing delicious meals, saving our fossil fuels, and keeping America green. Solar cooking is no longer solely within the province of hikers, campers, or classroom experimentation. These everyday and gourmet recipes make it easy to discover just how delicious food tastes when cooked by the sun. In addition, you will find:
Tips and Techniques - a quick reference to basic solar cooking
Substituting Ingredients - adapting your own recipes
Breads - muffins, casseroles, yeast breads
Desserts - pudding cake, cookies, cobblers, pies, hot fudge cake
Meats - beef, venison, pork, and poultry, roasted, baked, in casseroles
Pasta and Rice - lasagna, spaghetti, manicotti
Seafood - cod, salmon, flounder, perch, haddock, and crab, baked, stuffed, and roasted
Soups - thick and hearty meals or light starters
Vegetables - casseroles, logs, side dishes
A Checklist for Solar Cooking - a quick list for beginners and old-timers, as well
Finding Solar Ovens - ready-built or build-your-own info
A General Guide to Cooking Times - meal planning based on foods and types of solar ovens used for cooking
See the energy savings on your utility bill almost immediately and enjoy a healthier lifestyle while doing your past to protect the environment for future generations.
Copyright (c) 2008
86 pps, 6"x9", color cover and two pages of colored plates, plus b&w pictures, comb binding.
$14.95 + $3 s&h.
Contact: sjthomas@mainstreamsolarcooking.com
Creative Handz
1280 White Memorial Church Rd
Willow Spring NC 27592
Heaven Sent Food
Heaven Sent Food, written by Jackie Harsha, is available either as an e-book and a printed version. The recipes were developed for omnivores who like to eat healthy, delicious food at affordable prices. The book explains solar cooking, different types of solar ovens, and offers 115+ delicious recipes. It's an easy to use, beautiful book that was illustrated by an award-winning artist. Solar energy is free - this book makes it possible for even the most inexperineced cook learn to cook for free using the sun's power, all four seasons. Once you eat solar cooked food, you will probably not want to eat any other kind. It's delicious, cooking it is free, and if you want to get the best flavors out of the food you buy, cook it with the sun. It's amazing.
Jackie's recent activities led her to promote solar cooking in a book called Energy Savers That Work. This comprehensive book cites solar cooking as the most energy efficient way to cook, as well as being the most cost-effective way to use solar energy at home.
Contact:
Jackie Harsha
+1 (480) 986-2470
Arizona, USA
Eleanor's Solar Cookbook
by Eleanor Shimeall
A 93-page book containing more traditional American dishes. Includes a section on canning in a solar box cooker.
Available for $10 + $2/shipping from:
Cemese Publishers
P.O. Box 1022
Borrego Springs, CA 92004
Tel: +1 (209) 478-6318
The Morning Hill Solar Cookery Book
by Jennifer Barker
The Morning Hill Solar Cookery Book is your source for recipes, cooking techniques, and tips of all kinds for solar and conventional kitchen cookery. No matter what kind of cooker you have, you will be able to use the recipes in this book to produce hearty, healthy vegetarian food which will please all tastes.
Available for $15 postpaid from:
Morning Hill Associates
15013 Geary Crk Rd
Canyon City OR 97820
+1 541-542-2525
Email: morninghil@yahoo.com
Web: http://www.morninghill.net
An Outdoor Kitchen Full of Sunshine
by Kris Mazy
An Outdoor Kitchen Full of Sunshine - Cooking Outside in a Solar Oven. Saving money is the key to a large family. No one know better than author, Kris Mazy, mom of 7 amazing children. In this book, Kris shares cooking using a solar oven. You can make incredible meals, save money on power and propane and spend more time with your family.
You Can Cook using the Sun's Energy!
Over 100 Recipes that you can make and create using your solar oven. Kris has spent the last 3 years creating solar oven recipes to allow more play-time with her ever-growing family.
And that was exactly what this mom of 7 was shooting for!
From Breads to Desserts, Mains to Sides, Cooking Outside Using a Solar Oven is fast, easy and saves money!
Kris has also shared all of her solar oven gluten-free recipes. Over 50 recipes are labled as gluten-free in this book.
Enjoy delicious recipes while saving time and money.
Order this product from Amazon.com. Use Amazon Smile to donate a portion of the purchase price to Solar Cookers International (SCI). Sign up using your existing Amazon account at smile.amazon.com and help support SCI!
Also available online at www.mazybooks.com.
Sabor Solar (in English)
The full text of the Sabor Solar Cookbook from Grupo Fenix shows how to cook Nicaraguan foods in a solar cooker. (Spanish version also available.)
See also
External links
All foods