Jurassic World: Dominion Dominates Fandom Wikis - The Loop
Play Sound
Last edited:
25 April 2022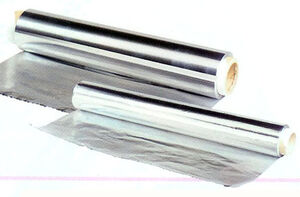 Standard kitchen aluminum foil can work well as a solar cooking reflective material. This common material has been, and continues to be used, in homemade solar cookers. It can be glued with white glue or wheat paste. However, a few wrinkles may result from the glueing process. Also, while the reflective surface does not get hot to the touch in sunlight, there will be some difference in expansion rates between the foil and the backing material, and this can cause some wrinkling. Typically, a little wrinkling of the foil will not create a problem with cooking.
As solar cooker design continues to evolve, and provide better cooking efficiency, there is an increased interest in finding more highly reflective materials to better redirect the sunlight. Polished metal surfaces have been tried, and while effective, tend to be costly solutions. Metalized polyester film correctly bonded to plastic Coroplast sheeting is a still economical approach for users wishing to create their own reflectors. Elmo Dutra, a professor and solar researched from Brazil, explains one such approach in Making the Petals of Solar Cookers with Mylar and Sheet Coroplast.
See also: Low-tech reflective material
Materials
[
]
Metalized polyester (MPET)
[
]
The Haines Solar Cooker uses MPET (metalized polyester) film bonded to 3mm of IXPE (cross-linked polyester) foam, with a white PET film backing.
Reflective tape
[
]
S-Reflect Mirror Film
[
]
S-ReflecT sheets laminated with high reflection PET film, on which an aluminum layer is spread by vaporization under vacuum method. The aluminum - layered PET film provides high reflection and elegant depth feeling.
S-Reflect has a very high reflectence : 90% and a perfect thickness for using in every solar cooker design with or without a background.
Structure

Nitrocellulose varnish layer

Aluminum layer

Polyethylene TEREPHTALATE (PET) film layer

Acrylic adhesion layer (option)
The material is available directly from the manufacturer's website.
Abrasion-resistant mirror film with adhesive backing (EverBright Mirror Film)
[
]
High performance reflective film with abrasion resistance and anti-soiling properties to maintain high reflectance. Has self-adhesive backing with removable liner. Solar-weighted reflectance of 87% (ASTM G-173). Available as rolls on 3-inch cores. Available at sundogsolartech.com
Reflective vinyl with adhesive backing
[
]
Vinyl sheeting with a mirror like finish is available in rolls with a self-adhesive backing, which has an easily removed protective layer. One source for this material is Solar Cooker at CantinaWest: Silver Reflective Adhesive Vinyl, who report that the material has a reflectivity ratio of 86%.
Another option is General Formulations' printable silver polester film
Automobile wrap mirror vinyl
[
]
The same material used to wrap automobiles with commercial messages without damaging the underlying paintwork is also offered with a reflective mirror finish. While very shiny, some customers have reported it does not provide image quality reflection as a glass mirror would. Relatively inexpensive, Amazon has a link to a source with pieces 61cm(24") x 152cm(60") for $7.95USD with free delivery. Chrome Mirror Silver Vinyl Wrap
Reflective material alternatives
[
]
Using a white color instead of reflective sheet
[
]
It might be possible under ideal conditions to use a white material to reflect more light into a box cooker or as the panels of a panel cooker. The performance would suffer greatly compared to a truly reflective material, but this is worth more study. Tom Sponheim has successfully pasteurized water in a box cooker with a white inner box and a white reflector.
For additional discussion, visit Topics needing research.
Low-tech reflective materials
[
]
Reflective materials are a key component of almost any solar cooker. If you are building a solar cooker and traditional reflective materials are not available in your area, several low-tech reflective material solutions can be used as alternatives.
Research
[
]
See also
[
]
Advanced Reflective Materials, 2011 - Cherly Kennedy, Senior Scientist, Concentrating Solar Power, Advanced Optical Materials Project Leader at the Department of Energy's National Renewable Energy Laboratory
External links
[
]