Last edited:
9 February 2016
This article is about an entity that either no longer exists or that may no longer be active in solar cooking promotion. It is retained here for archival purposes.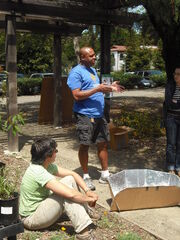 "Well, it's a bit worse for the wear, what with the duct tape and all, but it'll still cook a chicken!"
My Great Uncle Julius is describing his trusty solar cooker, the same one he crafted years earlier from recycled card board, tin foil, heavy plastic and, eventually, duct tape. Every year, during the extended months of sunny weather that his Sacramento climate provided (before he moved to New Zealand, but that's a different story), he would set the box cooker out on the porch of his unit in the co-housing community and gently cook his dinner. Even with the matter-of-fact assessment of the cooker's abilities expressed confidently by my spry, somewhat eccentric great-uncle, I still couldn't quite wrap my mind around cooking a chicken—or much else for that matter—inside a cardboard box. If I was doubtful, my husband Reyel was downright dubious. But we were both very curious, drawn in by the audacity of the idea and by our interest in all things solar. Clearly, we had to give this a try.
Great Uncle Jules had volunteered for many years at Solar Cookers International. We scoured the SCI website for cooker designs, and in the process learned about and became inspired by their mission to spread the use of solar cooking in areas where sun is abundant and cooking fuel is scarce. We were drawn in by the idea that this simple cooking device could help to address so many social issues, from the health risks of in-door cooking fires to the threat of rape and murder for women forced to scour the landscape in search of fuel, to the economic and social empowerment possible for those who make a business of crafting and selling solar cookers. It was clear how powerful solar cooking is in these humanitarian contexts. Our question was what power could it have for us? Could solar cooking ever be more than just a novelty to those who did not live with the pressures of limited fuel supplies? Could this act of cooking food without the need for pollutants become a viable and important component of a lifestyle centered on environmental justice and responsibility? Great Uncle Jules' insistence that his solar cooker provides a large percentage of his cooking fuel during the sunny parts of the year emboldened us to explore the idea.
With those questions in the back of our minds, I constructed the simplest of the designs Reyel and I found on the SCI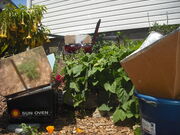 website—the "Funnel Cooker," designed by a professor and students at Brigham Young University. When I presented the awkward, somewhat misshapen contraption to Reyel, he looked at me with marked skepticism. But he set it up outside anyway, with some shrimp packed in a black glass jar in the center, and we sat back to see what would happen. When he cracked open the jar an hour later, and a seething hiss of steam and juicy shrimpy goodness escaped the jar, we were hooked.
Since 2004 we have been integrating solar cooking into both our personal sustainability framework, and into our work with kids and adult education programs. We've written grants to fund various events, designed curriculum for bringing solar cooking into classrooms, and generally had a blast teaching this skill to many others. What follows are chronicles of some of our solar cooking activities. We welcome comments, questions, and invitations to collaborate on further projects.
Selected Activity Log
Edit
Ecology Center, Berkeley, CA, 2010;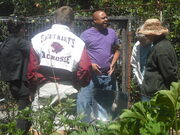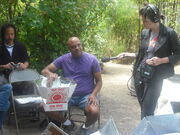 During the summer of 2010, we took a sebatical from producing solar cooking events as our family prepared to move from the Bay Area to Davis, CA. We hadn't intended to schedule anything, but when Beck from the Ecology Center in Berkeley invited us back for another workshop at the EcoHouse, we couldn't resist. Located in a residential North Berkeley neighborhood, the EcoHouse is a demonstration garden and home that serves as an outdoor classroom where workshops are offered in a range of topics from graywater systems to permaculture to, yes, solar cooking. Read more...
For this newest workshop, we decided to focus on the connections between solar cooking and small-scale food production, reflecting on the way a solar cooker helps the gardener close the loop between seed-plant-food-cooking-table by keeping the fuel source on-site and pollution free. Unlike our previous EcoHouse workshop, the morning fog cleared up by noon, allowing us to demonstrate the Global Sun Oven. About a dozen atendees strolled around the beautiful, meandering garden, observing a variety of cookers and learning their ins and outs.
We were also joined by a reporter from the East Bay Express, who wrote an article about the workshop and other folks engaged in solar cooking. The article was also converted into a radio segment that appeared on the NPR program The California Report, The link to the article apprears at the begining of this post, and the one to the radio program is below.
http://www.californiareport.org/archive/R201012101630/c
2009 Activities:

Practicing the art of solar cooking has taken us across the State of California during the 2009 solar cooking season. From the intense light rays in Redding to the cool, foggy days of the Bay Area and the scorching heat of the desert, we have taken our collection of solar cookers around the state to achieve new levels of cooking proficiency and to raise awareness of this innovative sustainable technology.
Our journey with solar cooking took us into nature and academia; into back yards and our local county fairs.  We taught classes to kids and adults, and entered a cooking contest at the Marin County Fair and judged a solar cooker construction workshop and contest at the San Mateo County Fair. The highlight of the summer was the 30-day solar cooking diet in July, which inspired many of our summer exploits.
Each of these solar cooking venues introduced a new audience to the concept of solar cooking and has helped us prove to ourselves that solar cooking can be a practical, functional and enjoyable addition to a sustainable life style.
San Francisco Academy of Sciences, San Francisco, CA; April 18, 2009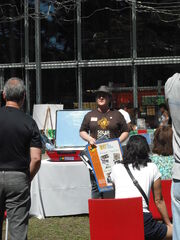 In April, we gave a solar cooking demonstration at the Academy of Sciences in San Francisco during their earth week events.  We had never taught solar cooking in such a prestigious place before.  Despite the labor of lugging a Global Sun Oven, Tulsi-Hybrid and several other styles with pots and food, we gave it our all and received a great response.  The best part of talking about solar cooking with others is that it's fun.  Most of the time, people are amazed at the proficiency of how well a solar oven cooks. 
Mills College Earth Day, Oakland, CA; April 24, 2009
Our solar cooking season started off with a well attended solar cooking demonstration and gardening at Mills College.  This was great opportunity for us to share our knowledge of solar cooking with the students at Mills with hopes that some of the students would try solar cooking in their spare time.  The event was co- sponsored by the Mills College Community Garden as part of the Earth Week program.
I returned in September and did another workshop with a new class of first-year students who are members of the Sustainability Living-Learning Community.
"Cooking with the Sun: For Kids" El Cerrito, Ca; May 2009
This was an 8-week enrichment class for students  1-5 grades.  We covered the history of solar cooking and made solar cookers starting from the Pringles can to making a model of a CooKit.
The 30-Day Solar Diet, El Cerrito, CA; July, 2009:
Forsaking our oven, stove and barbeque grill, Michaela and I challenged ourselves to eat only food that was prepared in a solar oven during the month of July.  We were successful in not using our oven, stove-top, barbeque meal and ordering take-out for 30 days.  The difficulty was magnified by the consistently foggy, overcast micro-climate we experience in El Cerrito.  (see wiki article entitled "30-day solar diet)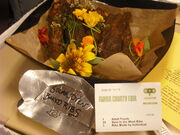 Marin County Fair:  "Best in the West Ribs Contest," San Rafael, CA; July 5, 2009:
Also, during this month we entered the Marin County Fair's "Best of the West Ribs Contest."  We were awarded an honorable mention for creativity for our "Rey's Rambunctious Solar Cooked Ribs," which were the only ribs entered that were solar cooked.
San Mateo County Fair:  "Solar Oven Construction Contest," San Mateo, CA; August 15-16, 2009:
In late August, we were invited to do a workshop and judge a solar oven construction contest at the San Mateo Fair.  We have done large one-day events like the Integrated Waste Management's Earth Day celebration but this was our first time demonstrating at a County Fair. 
About 25 people came and listened to our presentation on Saturday.  The core of the audience was a group of Asian exchange students which was very cool to give the message to people of another country.  We imagine that if at least one person goes back and spreads the message of solar cooking in their country than the weekend was successful.
On Sunday, we hosted and judged our first solar cooker construction contest.  We had five entries that created very efficient solar cookers.  The contest helped us explore our own knowledge of three main components needed the make an efficient design: reflectors, glazing and black surface or pots.  Everyone won award and were very happy.
"The Northside Garden," Berkeley, CA September 19, 2009
One person who attended a workshop we gave last year at the Berkeley Ecology Center called us and asked if we could do a workshop at the garden she oversees.  So we scheduled and planned the workshop but on the weekend day of the workshop, a tropical storm with dry lightening and rain blow in from the coast causing our first ever cancellation due to weather.   
So instead of a full workshop, we needed up doing a presentation the following weekend at the gardens Harvest Festival.  Our goal all along was to encourage people to explore the connection between garden and solar cooker.  So this was a great venue for this message.
We really enjoyed traveling around Northern California teaching the art of solar cooking for different organizations and events.  Our future goal is to reach even more communities, as we take our love for food cooked by the sun to other parts of California and beyond.
See User_talk:RMDaystar.
Community content is available under
CC-BY-SA
unless otherwise noted.