Jurassic World: Dominion Dominates Fandom Wikis - The Loop
Play Sound
Last edited:
8 September 2021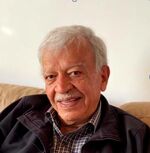 Prof. Rodrigo Carpio is leader of Fundación Inti Uma Ecuador. He has used solar cookers and taught about them since 1990. He participated in a Solar Cookers International field survey in 1992 and hosted the 3rd Latin American Solar Cookers Conference with in 1997.

In 2011 he retired from direct activity with the Colegio Benigno Malo and the University of Cuenca, but continued with other means to promote the use and technology of the solar cooker (stove). He found in some NGOs, social collectives, groups with humanitarian objectives, and defenders of water and the environment, ways of including solar cooking as a complementary part of their projects.
I dedicated more time to the design of collectors appropriate to the equatorial sun, as an application of the presentation that I presented to the International Conference of the SCI in Granada, Spain, year 2006.
News
[
]
September 2021: Alliances update - Rodrigo Carpio reports that through Fundación Inti Uma Ecuador, they have been able to be part of a citizen communication project, through the Digital Portal "Voces Azuayas" and our social networks, where we present a critical journalism program called "Urban Rights". We are allies of "Grupo Strategy / 7" and "Radio Multimpactos" that broadcast and retransmit our program, through Facebook Live, Twitter, YouTube. We have our own property in a rural area, Chocarsí, 23km NE of the city of Cuenca (not yet finished), where we hold workshops with the community, a solar patio (permanent exhibition under construction) and shared housing to accommodate, eventually, guests.
June 2016: Prof. Rodrigo Carpio reports that Fundación Inti Uma Ecuador continues to organize solar cooking workshops for community groups, schools, and universities. They began in earnest in 1990 and are going strong. He feels because the government of Ecuador subsidizes traditional fuels, it makes it more difficult to make the case for solar cooking, but he is seeing a shift in this thinking of "living behind reality". The April 2016 earthquake in Pederanales, Ecuador brought tragedy, but it also showed how off-grid technologies can play a role in meeting the future energy needs of the country.
See also
[
]
Contact
[
]
See Inti Uma.