Last edited:
16 March 2020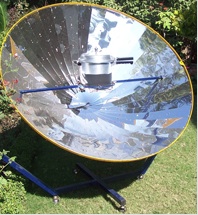 The Rudra SK-14 parabolic cooker is designed for commercial and domestic use. Sturdy construction for use in windy locations. High quality reflective material. Castor wheel arrangement for easy moving. Supplied with a five liter capacity pressure cooker, suitable for cooking for groups of fifteen people. The oven is designed for fast cooking times with a 1.4 diameter reflective dish. Because of higher cooking tempartures that typical box cookers, attention is required when preparing food.
External links
Edit
Community content is available under
CC-BY-SA
unless otherwise noted.