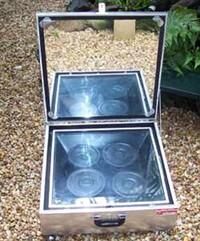 According to Rudra Solar Energy, the Rudra Solar Cooker 2010 is one of the simplest solar box cooker designs, which is supplied at very low price and of export quality. One cooker can save 2 LPG cylinders (14KG) per year.
Type: Rudra make Square Solar Box Cooker having box, top cover, tray & four pots of aluminum material as per IS 13429.
Outer box: Made from aluminum sheet with high glossy finish
Cover plate: Cover plate made of wooden frame and double glazed as per IS 13429.
Cooker Size: 500 (±10) x 500 (±10) x 170 (±10) mm without caster wheel.
Weight: Weight of complete cooker with 4 nos of cooking pot is approx 12.5 Kg.
Mirror: Mirror standard quality and free from bubbles and waviness having minimum 65 percent solar reflectance and its reflecting area not less than the glazing area (size445 x 445) (±10) mm
Cooking pots: No. of pots 4 having diameter 160 (±10) mm, Height 70 (±10) mm made of aluminum.
Caster wheel: Caster wheels having ball bearing (IS 5932) 4 no's.
Insulation: Insulation is provided at side (25 mm) and bottom (50 mm) having thermal resistance (R) 0.96 m2 oC/W.
Cooking tray: Cooking tray made of aluminum with thickness as 0.5 mm and inner surface is powder coated matt black finish with bottom size 325 x 325 (±5) mm and height 70 (±5) mm
Useful cooking area: 375 x 375 (±10) mm
Frequently-asked questions
[
edit
|
edit source
]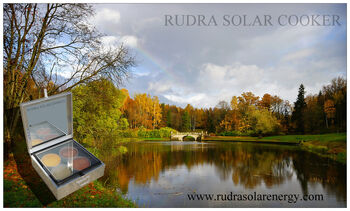 What can be cooked in Rudra solar cooker?
Almost anything, which you can cook in a conventional electric or gas oven, can be cooked in a Rudra solar cooker. You can bake, boil and steam using any of your favorite recipes. You can not fry and you can't make chapatti.
How does the cooked-food taste?
Food cooked in Rudra tastes much better than food cooked over conventional stoves. In slow cooking, natural flavors and fiber retains its shape. Cooked food rises to its full volume and is fluffy. The food is always tender and more palatable.
How long does it take to cook?
Cooking takes 1.25 to 2 hours. Cooking time depends on intensity of sunshine and the nature and quantity of material to be cooked. Hard meat and pulses take some more time to cook.
Does Rudra solar cooker require special utensils?
No, dark pots with lid work best. Black pots absorb heat from sunlight and tight-fitting lids help hold steam in the pot. Dark glass casserole dishes with lids also work well. For baking cakes, breads cookies, and pies, dark cookie sheets and baking tins, work best. Rudra cooker is supplied with Aluminium pots.
Does food require constant stirring?
Solar cooker requires no stirring because there are no hot spots. The temperature rise is gradual. It is difficult to burn food in a Rudra solar cooker, which is well loaded.
Does Rudra Solar cooker require maintenance?
Rudra cooker is virtually maintenance free but the glass requires to be carefully handled. Even if it breaks it can be easily replaced. The only other maintenance required is Re-anodizing of black selective coating if it wears off.
Does Rudra Solar cooker need constant tracking?
If the cooker is placed at the average position of the sun's transit over the sky, tracking may not be necessary. However, if the cooker is aimed at the sun at start a couple of nudges to reposition it over the 1-3 hour period would be desirable.
See Rudra Solar Energy.
Community content is available under
CC-BY-SA
unless otherwise noted.