Last edited:
27 December 2019
| | |
| --- | --- |
| | |
Rwanda is beautiful country of 8 million where 39% live below the poverty line[1]. Five thousand tons of of fuelwood are consumed each day for domestic use (cooking, water heating, etc.). It is expected that by the year 2020 the population will double and the wood use will increase to 10,000 tons/day. The government of Rwanda has major planting and reforestation projects with Rotary clubs involved. Five thousand Acacia seedlings were planted by Rotary clubs on one Sunday. Today cutting of trees without permits and the firing of kilns with wood is illegal. The Environmental Minister, Drocella Mugorewera, at the opening of the Kigali Solar Cooker workshop, quoted the Integrated Cooking Method as one of the best projects for the rural poor and for the protection of the environment. A government committee has been selected to determine the best fuel efficient stoves and fuelwood supplements such as solar cookers with top priorities for study going to the Centre for Research and Technical study located in Kigali.
See also

Events
[
]
NEW: 

15-17 September 2021: Climate Chance Summit Africa 2021 - Registration is open to attend the virtual 3rd edition of the Climate Chance Africa Summit. Three days of sessions on key themes and sectors of climate action hosted by non-state actors engaged in climate change in Africa. There is no charge for attendance, but registration is required
NEW: 

Friday, 17 September 2021 (10:30am CDT, 15:30 GMT): Homeschool program on solar cooking - The Syracuse-Turkey Creek Township Public Library, in Syracuse, Indiana, USA, offers online programs for homeschool students on Fridays at 10:30am. This program is described as learning to build and use a solar cooker. Read more...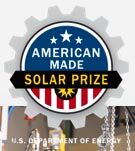 NEW: 

5 October 2021: American made solar competition - The U.S. Dept. of Energy is sponsoring a a multi-part competition to spur solar manufacturing, develop innovative solar solutions and products, and create domestic jobs and opportunities through public-private partnerships. The contest is open to U.S. residents, and the final phase is still open for submittals until 5 October 2021. Much of the attention has been with photovoltaic solutions, and this last phase is structured with two tracks that focus separately on hardware and software components. Solar cooking equipment should qualify as hardware solutions. Read more about the competition...
NEW: 

22-26 November 2021: 2nd National Congress for Solar Drying and Cooking Food - An affiliated group of universities in Mexico will host an online conference relating to solar food drying and cooking, as well as, food safety and energy savings realized with minimal environmental impact. Participants can register to view the presentations, or apply for presentation consideration. The conference will be in Spanish. Registration information... - (English version)
17-23 December 2021: Solar Cooking Awareness Week (Southern Hemisphere) - A loosely organized bid to acknowledge the fun and benefits of solar cooking. Show someone how to solar cook and share a meal.
24-26 January 2022: Fourth International Conference: Advances in Solar Thermal Food Processing - CONSOLFOOD Chairman, Celestino Ruivo, has announced an extended call for abstracts for the upcoming conference in January 2022, which is now planned to be an online event. Advances in solar cooking as well as solar food processing will be considered for inclusion. The event schedule and submission requirements are in CONSOLFOOD 2022 conference information.
See also: Global Calendar of Events and past events in Rwanda
News
[
]
December 2019: Chadia Mireille Mahoro won the Title of Miss Science at the Miss Career East Africa awards ceremony after she presented her project of a solar cooker. The contestants also took questions from a panel of judges testing their knowledge of social-economic issues and to also understand their projects and what they will contribute to society. The top five category winners were all from Rwanda. Read more...
May 2010: As a follow-up to the matching grant between the Rotary Club of Fresno, California, with Wilfred and Marie Pimentel and host Rotary Club of Kigali, with J. Cally Alles begun in 2003, the federal government has adopted the Rocket Stove as the official wood stove. This eliminates the 3-stone fire, which uses much wood, causes lung and eye disease, deforestation, and occasional burns on children. The new stove will be saving 60% to 80% of the wood required for cooking. This is a result of the success of the Integrated Cooking Method, which teaches the benefits of solar cooking, rocket stoves, fireless cookers, and a WAPI (water pasteurization indicator) where unclean drinking water is pasteurized by solar cooker or rocket stove to the pasteurization temperature of 65 °C (149 °F). The association between the Rotary Clubs are also about to start, with J. Cally Alles, a national WAPI program where they will be manufactured in Rwanda.
April 2010: U.S-based True Vineyard Ministries provides sustainable opportunities for widows and children impacted by genocide, subsequent conflicts, and HIV/AIDS in Rwanda. Its "Bake the Cycle" project is helping to break the cycle of poverty by providing solar bakery jobs to 10 widowed women supporting families in Ruhengeri. The bakery provides a variety of breads to local businesses and families. The women use a commercial-sized Villager Sun Oven® that reaches temperatures in excess of 250 °C (482 °F) and can bake hundreds of loaves of bread each day. It has a propane backup system for evening use and during inclement weather. According to True Vineyard Ministries, the project is already having an impact. "For the first time in the widows' lives, they are able to consistently provide food, clothing, shelter, and education for their families."
November 12-15, 2008: Third Annual Conference on Appropriate Technology, Rigali, Rwanda
January 2007: Nearly $6,000 was collected on January 8th at a Fresno Rotary luncheon for the purchase of sewing machines to be used by Women Associations participating in solar cooking, making of hay baskets, rocket stoves, and WAPI's in Rwanda. Contact: Wilfred Pimentel
History
[
]
The CooKit
This small, landlocked, very populous nation occupies a significant role in solar cooking history. In 1994, when a civil war broke out in the nation, millions of people fled to neighboring then-Zaire (now the Democratic Republic of the Congo) as refugees. This exodus, one of the largest in such a short period of time, initially overwhelmed available services, and this situation did not improve for a substantial period of time. The event occurred just as representatives of the solar cooking community from around the world were meeting in Costa Rica at the Second World Conference on Solar Cooking in 1994, which was sponsored by Solar Cookers International. Between sessions, the assembled solar promoters watched hotel televisions and listened to radios as the news turned ever worse, with reports of cholera deaths from unclean water, lack of food, housing, and other services. The event was the impetus for Solar Cookers International to shift from acting largely as an educational and networking organization to one of demonstrating in practice that solar cooking could play a role in areas where access to traditional cooking fuel (electricity, natural gas, and fuelwood) was limited.
Shortly before the meeting, a new inexpensive solar cooker, the CooKit had been devised by Roger Bernard, a longtime solar cooking advocate from France. The CooKit was subsequently adapted by Barbara Kerr, a prominent US-based leader in the solar cooking sector. Concern for the people of Rwanda was the impetus for planning a new phase in SCI's history, made possible for the first time by the emergence of an inexpensive, but efficient, solar cooker.
Rotary Project
In the summer 2003, a team comprised of Rotary groups from the around world traveled to Rwanda, after a long period of planning and consultation, to initiate a project with an emphasis on combining the use of solar cooking with the use of hay box and fuel-efficient stoves. By using solar cooking in combination with heat-retention cooking, the cook can maximize their available solar energy. This is referred to as the Integrated Cooking Method.
Wilfred and Marie Pimentel, long time solar cooking promoters, Margaret Owino and Faustine Odaba of the Solar Cookers International East Africa Office (the East Africa Office of Solar Cookers International was closed in 2012) in Nairobi, Kenya, and for the first time, a representative of the fuel-efficient stove community, Larry Winiarski, aided in the training.
Archived articles
Climate and culture
[
]
Wikipedia article on the climate of Rwanda
Resources
[
]
Possible funders
[
]
Reports
[
]
Discussion groups
[
]
Articles in the media
[
]
External links
[
]
Audio and video
[
]
March 2007: Wilfred and Marie Pimentel are 80 years old but travel regularly to teach solar cooking in Rwanda. They have a partner in Cally Alles, the director of Sorwathe tea factory. Cally has organized the people into local associations and hosts trainings at the factory. Cooking with the sun is simple but people need convincing. Cardboard and aluminum? Just a few hours to cook beans? No stirring and no burning? It's useless to tell a starving man to grow corn and "Don't cut the trees" won't do a thing for the environment when there's no alternative. Solar cooking is the solution in Central Africa where there's plenty of sun and little firewood. But there's another benefit. In the countryside, there are few villages. People live in scattered clay houses miles apart. Solar cooking associations give them a reason to get together. In fact, they were so inspired by Cally's work on their behalf that they wrote a song for him and performed it when we arrived.
Contacts
[
]
The entities listed below are either based in Rwanda, or have established solar cooking projects there:
SCI Associates
[
]
NGOs
[
]
Manufacturers and vendors
[
]
Individuals
[
]
Government agencies
[
]
Educational institutions
[
]
See also
[
]
References
[
]