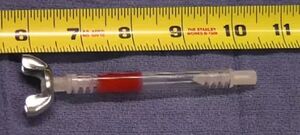 The SPADE WAPI is a simple device used to indicate when water temperature has reached 65°(150°F), is pasteurized, and suitable for drinking. The SPADE is fitted to individual water bottles by drilling a 1/4" diameter hole through the top of the bottle cap. The slender clear tube, with wax at one end, is submerged into the bottle, and secured with a wing nut at the cap. Reaching a safe temperature, the wax runs to the bottom of the tube. A compact approach to providing water pasteurization using existing bottles. To reuse the SPADE, the wing nut is simply used on the identical opposite end of the tube.
To aid the direct solar gain, the designers recommend creating simple A-frame structure from corrugated metal roofing to support the bottles. The corrugated panels need to be no higher than the height of the bottles. Often the bottles are placed directly on existing corrugated metal roofs. See: SODIS. The indicator can also be used in larger containers by balancing the tube in an upright position using the wing nut as the base.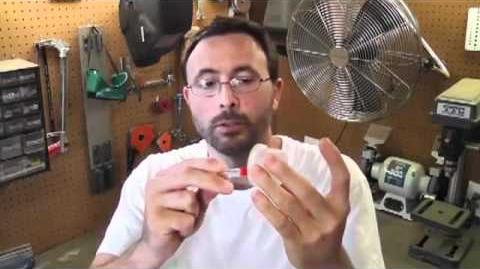 Hydromissions International, LLC
403 Hill Lane
Mauldin, South Carolina 29662
USA
Tel. +1 (864) 967-7865
Email: info@hydromissions.com
Web: http://hydromissions.com
Community content is available under
CC-BY-SA
unless otherwise noted.