Last edited:
31 January 2018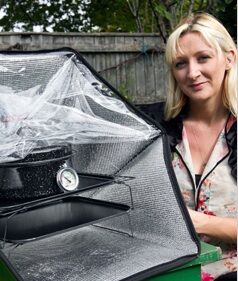 SUNFLAIR solar ovens is the brainchild of Melinda Seller, a former freelance designer in the toy industry. Once highly sought after, as time went on, more and more of her work was outsourced, and at the onset of the recession, her husband lost his job. Not long after, their oven failed. They couldn't afford to repair or replace it. What to do?
This was when Melinda discovered that she could cook with the sun. Although it began out of necessity, she found that the food tasted fantastic! And not only was she saving on the cost of a new oven, her utility bills were lower too.
Now, solar cooking isn't a new idea, but it was new to Melinda, and she started thinking that it might be new to others as well. I mean, who wouldn't want to eat healthier, help the planet, and save money at the same time? Thus, SUNFLAIR Solar Ovens was born.
Supported by her husband, Bill, and her kids, Dawson and Anza, Melinda drew upon her business and design expertise to bring an affordable solar cooking experience to everyone under the sun!
[Text copied from http://sunflair.net/about-sunflair/]
April 2016: At the entrance of my local hardware store, there were grills for sale with 2 big signs saying "Don't Forget Propane." I got a tickle out it, because with a Sunflair® Solar Oven you can "Forget the Propane!" Think of the money saved, time saved...more
In NORTH AMERICA:
Mailing Address:
SUNFLAIR
PO Box 373
La Canada, California 91012
USA

Tel: 818.790.6900 or
1-855-SUNFLAIR (1-855-786-3524)

Web: http://sunflair.net
FacebooK page: https://www.facebook.com/sunflair.net

In AUSTRALIA and NEW ZEALAND:
Tel: +64 22 108 4318
Web: http://ebrightenergy.co.nz
Email: kate@sunflair.net
Community content is available under
CC-BY-SA
unless otherwise noted.