Jurassic World: Dominion Dominates Fandom Wikis - The Loop
Play Sound
Last edited:
11 March 2022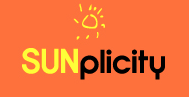 SUNplicity is the name of the company, and after the LIBERTAD 400 sold out in 2018, the cooker was renamed the SUNplicity Solar Cooker, which is a foldable deep parabolic solar cooker designed by Alain Bivas living in Lamillarié, France.
According to the designer, the unit is now all metal and weighs 2.8 kg (6.2 lbs). The reflector, which cleverly folds down to a small flat package, is anodized aluminum with 2 nano-ceramic layers that enhance reflectivity up to 90% and protect from scratches.
News
[
]
August 2019; SUNplicity is awarded the label "1000 efficient solutions" by the Solar Impulse Foundation
August 2019: 3rd International Solar Cooking Day in Sorède France by the Solar Oven Himalaya
December 2017: A revised and improved version of the LIBERTAD 400 collapsable deep parabolic cooker is about to be released, which is more practical, has a longer life span, and is just as tasty. Coming in February or March 2018.
Nov 2016 : The LIBERTAD400 is sold out. A waiting list is open by emailing contact@sunplicity.fr.
July 2016: SUNplicity is now accepting orders for their collapsible parabolic solar cooker.
June 2016: Un four solaire innovant assemblé par l'ESAT de Braconnac - APJH dan le Tarn (English version)
December 2015: The company plans to begin accepting prepayment for a cooker in early 2016 (January-February) for delivery in spring (April-May) 2016. The estimated cost is to be EUR 290 (USD 440).
Product description
[
]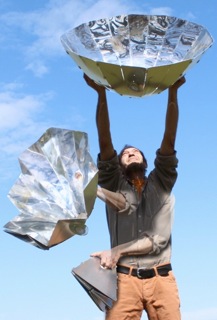 Introduced in 2016 by SUNplicity, LIBERTAD400 the Portable Solar Cooker by Alain BIVAS (France). Now the New SUNplicity Solar Cooker is even better all around, more practical, more accurate, built to last longer, and contains almost almost zero plastic.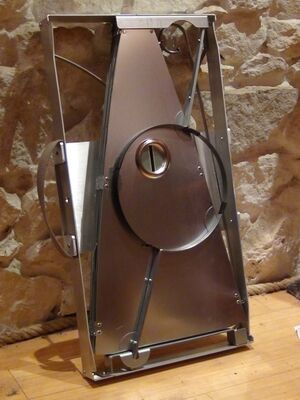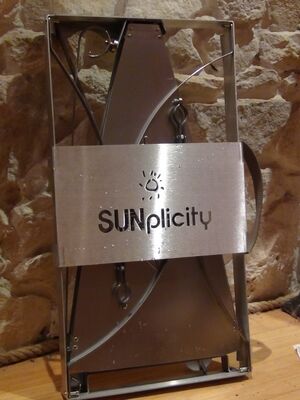 Many years of solar cooking experience have led to this new concept which combines many unique features. 
All metallic, it may be the safest parabolic cooker, designed for surround non burning heat, will cook mostly on top and not stick to the pan.
The SUNplicity cooker takes just one minute to set up with no need for tools or special skills. It can be used anywhere, even on a small balcony. A coloured target makes alignment with the sun simple, and helps you to plan your cooking time. The shape of the mirrors allows you to safely leave your cooking unattended. The specific shape of this mirror can cook for almost 3 hours without turning the cooker. You can set the cooker slightly ahead of the sun's position, and let the sun to do the cooking. During cooking, the mirror remains cool. This prevents spills from drying and sticking – simply clean with a damp cloth or soft sponge.
A unique magnetic system allows the mirror to turn backwards in case of sudden wind, keeping the pot safely stable. We recommend that the base is weighed down with stones or bricks for extra stability. Unlike with other solar cookers, sunglasses are not required, as all cooking can be done from behind the cooker. The pot is safely centered away from the edges of the parabola. This protects children (and adults) by making it hard for them to touch anything hot by mistake. The cooker broils without burning, which makes tasty gourmet cooking very easy.
The cooker converts 65% to 72% of sunlight into heat which is very efficient (photovoltaics only convert 17.5%). The mirrors are made from the best quality aluminum layered with 2 nanolayers of ceramic for durability and maximum reflectivity (over 90%). All the elements are made of non-corrosive metals, which gives it a long lifespan. It is designed for intensive daily use. It can be stored away for a long time without deteriorating. The cooker is also designed with easy recycling in mind. 
When you've finished cooking, the SUNplicity cooker folds up just as quickly to a compact  50cm x 30cm x 4cm thick. This means it is highly portable, and can be stored in a much smaller space than other solar cookers.
Specifications:  Weight: 5 lbs  Dimensions when folded: 50cm x 30 cm x 4 cm Dimensions when set up: 85cm in diameter Cooking power: Approximately 400 watts in full sunshine. Feeds: 2-3 people.
AWARDS
[
]
Alain BIVAS has won :
Has received the label "1000 efficient solutions" from the SolarImpulse Foundation august 2019
Gold Medal at the International Concours Lépine in Paris France 2011
Was 2nd French Inventor of the Year for TV Channel M6, 2012
Was 2nd Personality of the Year for the news paper "La Dépêche du Midi", Tarn edition, 2012
Articles in the media
[
]
Audio and video
[
]
Purchase a SUNplicity solar cooker
[
]
External links
[
]
See also
[
]
Contact
[
]
SUNplicity
Alain Bivas
Les Mordorées , 81120 Lamillarié
France
Tel: +33 05 63 79 12 99
Email: contact@sunplicity.fr
Web: http://www.sunplicity.fr -
Skype: Alain Bivas