Last edited: 31 January 2018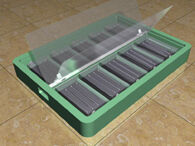 Established in 1996, Hawaii-based Safe Water Systems, Inc. is the inventor and sole supplier of an innovative line of solar water disinfection products.
Combining two time-tested processes, water pasteurization and passive solar water heating technology, Solar Water Pasteurizers disinfect biologically contaminated water without fuel, electricity, chemicals or a pressurized water source.
With more than 1,500 units installed in 50 countries, Safe Water Systems products currently serve communities as stand-alone providers of safe water, as well as adjuncts to health, education and development projects.
A 1998 U.S. Dept. of Energy, National Renewable Energy Laboratory (NREL) study concluded that solar water pasteurization was superior in most regards to competing technologies, e.g., chemical, filter and reverse osmosis. When amortized over the 25+ year expected unit life, solar water pasteurizers are very price competitive, providing safe drinking water at approximately US$0.50 per person per year. Installation is simple, operation is automatic, reliability is high, and maintenance is exceptionally low.
[Text for this article borrowed from http://www.safewatersystems.com.]
Contact
1600 Kapiolani Blvd, Suite 721
Honolulu, Hawaii 96814
USA
Phone: +1 (808) 949-3123
Fax: +1 (808) 949-3103
Email: info@safewatersystems.com
Web: http://www.safewatersystems.com
Community content is available under
CC-BY-SA
unless otherwise noted.