Jurassic World: Dominion Dominates Fandom Wikis - The Loop
Play Sound
This article is about an entity that either no longer exists or that may no longer be active in solar cooking promotion. It is retained here for archival purposes.


Last edited:
30 October 2013
Santa Maria Sense Fronteres is a NGO from Mallorca, Spain, whose interest is to collaborate with the areas of most need in the world. We are a very little organization, and our projects may not be as big as others, but we try to focuse on proximity to people and human touch. Currently, we have developing a project about Solar Cookers and other related technologies for The Gambia, which first results will be available for December 2011.
Recent news and developments
[
]
June 2012
[
]
Two of our representatives we spent 25 days living and working with the Integrated Cooking Method (ICM) in a little community of 400 people in The Gambia. Our main objective was to discover how and how much the ICM can improve the life of the rural communities and the environment. We carried 3 parabolic cookers (K14 type, from www.alsol.es) and built solar ovens, rocket stoves and heat-retention baskets locally.
Talking about solar ovens, we had designed a model specific for Gambia latitude (13º28'N 16º36'W), and it was called WASC (West Africa Solar Cooker) Anyway, once in place, we realized that was too difficult for the local carpenters to do this job. So we decided to simplifly the design, removing angles and making a simple wood box with 30º tilted glass. The boxes had a 5mm thick glass and 3,5cm thick walls, insulated with cardboard. We had also problems with the enclosures: it was really difficult for the carpenters to achieve a good enclosure of the window of the cooker. In despite of these problems, the cookers made like described achieved 100ºC temperature, with 1 reflector. Nearly in the end of our time there, we knew the Solar Project Tiloo, and its Solar Restaurant. There they have good carpenters and make solar ovens that work fine. They showed us his workshop and some of his materials. Now we are looking for improving our design with his help.
Anyway, the work with the rocket stoves and heat-retention baskets was much better, we find good professionals that made good job, always with local materials.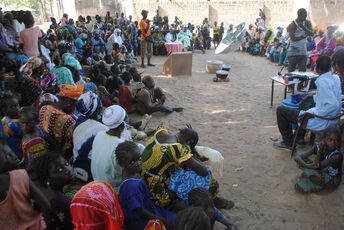 This is a briefing of our work there since now:
Created the "Management Comitee", with 5 local people and 2 NGO people. This comitee takes all decisions about the project.
We learn 3 local recipes of local gastronomy. This was very important, as the focus is not on the technology part, but on how to adapt the technology to the needs of the people.
Identify and train local women leaders in the use of the ICM
We made 2 big meetings with all the people showing the ICM, cooking food, and also making a drama play, which was a really useful tool for explaining the benefits of solar cooking.
We give 1 ICM kit (solar box, rocket stove and heat-retention basket) to each one of 10 families, for testing purposes during 6 months.
We choose and give job to 1 young local women for collecting data for us, about weather conditions and the use of the ICM of the families. She will send us her reports each month and we will know how is the ICM working.
If you want to see more photos, you can visit here.
If you want more info, or know some NGO that is working on the zone,please contact us.
See also
[
]
External links
[
]
Contact
[
]
ONG Santa Maria Sense Fronteres
Plaça Nova nº21A
07320 Santa Maria del Camí
Illes Balears
Spain
Email: ongstamariasensefronteres@hotmail.com or marquitusus@hotmail.com