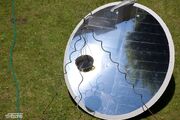 Satellite dishes are only made for two purposes: for perfektly concentrating waves into one focal point and for beeing perfektly easyly adjusted. So this project is extremly simple
No welding necessary
Satellite Dish from Ebay for 60,- € (120cm diameter)
Mirror foil for 9,-€
Simply mounted upside down on a old swivel chair
What do i need to build one?
[
edit
|
edit source
]
A Satellitedish with a diameter of 120cm. This equals 1,13m² of collecting surface. So we recieve over 1000W of sun energy
A reflective foil or a reflective tape or simply aluminium foil + glue
An old swivel chair or simply the foot of a fan
A tripod or something else that is holding the pot
A pot which is sprayed in black
Carefully sand the dish. This was necessary because the surface was so rough that the reflective foil didn't adhere.
Cut the foil into 10cm wide strips
Mount the dish on its frame
[
edit
|
edit source
]
Satellite dishes are made for
perfectly concentrating light into one point
beeing mounted and adjusted easyly
You simply take the dish and mount it upside down on the old swivel chair. By drilling one hole and adding one screw everything will be fixed. (Pictures will be added later)
boils 1L of water within < 10min
makes a big piece of wood burn within 4 sek
even melts aluminum (!)
is perfekt for cooking with a pan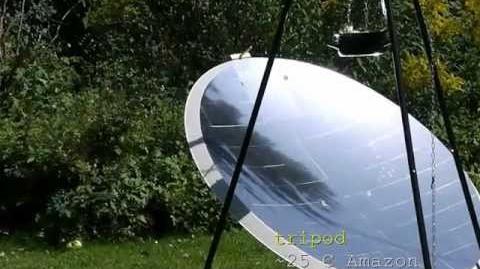 Community content is available under
CC-BY-SA
unless otherwise noted.