Yellowfin Tuna and Crab Legs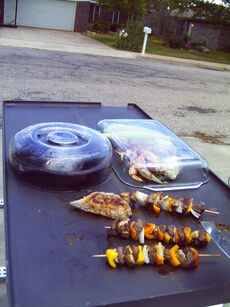 This recipe can be cooked in about any type of solar cooker. The easiest way to cook everything is to use a solar oven. The crab legs are a matter of heat and serve. Corn on the cob is a great companion for this meal. The corn can be placed in an unused area of the oven. The corn can be cooked with the shucks left on. The shucks will protect the corn from a hot metal plate in the cooker and hold the moisture and heat against the corn kernels. The corn should be ready in about an hour. The small fillet of yellofin tuna may about about an hour as well. It would be best if the yellowfin tuna was in a dark container, if possible.
Now, for one of the best tasting food on the planet - Crab legs. If you don't have time to cook, but want to make something special, this is the recipe for you.
All you need is:
1/2 pound of crab legs per person
One pineapple for decorative effect
One bunch of Kale for decorative effect
1/2 fresh lemon per person
2 oz. of butter per person
So, for those of you who are in a real hurry here, you are down to 2 items already. Just grab some crab legs and butter and you are done. Place the crab legs in the oven. Melt some butter in a separate dish. The butter can be put in an oven at the same time and the hot butter might be used as in indicator for when the crab legs are done. Make a bed for the crab legs with a few leaves of kale. Cut along the length of the larger segments of each crab leg with cutting shears. Place the crab legs on top of the kale leaves. Cut a slice of pineapple and place between the crab legs or cut up into triangular shaped pieces and place on one side of the plate. Place a sliced piece of lemon on the other side of the plate. Place a small tub of melted hot butter in the center of the plate. The butter may be placed on the near side of the plate. We just want to keep excess butter drippings under control. Serve and enjoy!!!
|