This article is about a group or individual that may no longer be active in solar cooking promotion. It is retained here for archival purposes.


Last edited:
24 October 2012

The Seat Partnership Foundation is a Czech foundation supporting sustainable development projects in all regions of the Czech Republic. Over 19 years of its existence was supported by grants are of 228 million crowns had to 2 568 projects, NGOs, schools, municipalities and individuals. Together with affiliated foundations in Bulgaria, Hungary, Poland, Romania and the Slovak associations we form part of the Environmental Partnership for Sustainable Development .
Mission Helping NGOs, municipalities and other partners in caring for the environment, stimulate sustainable development, intersectoral collaboration and participation of citizens in public affairs.
Support Its mission is achieved primarily by awarding grants and its own activities under special programs. Furthermore, by organizing internships, training seminars and other educational modules, producing publications, actively linking similar projects at home and abroad, mediation and contacts from the environment and sustainable development.
News and recent developments
Edit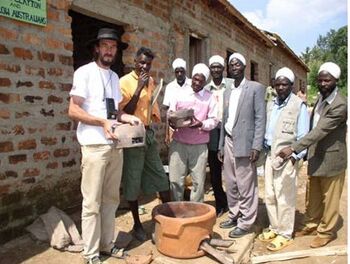 April 2010: Support of the HARMONY Center in Kenya - in Malava village, near the Kakamega forest our associates coodinated with the local governmental organization to build the HARMONY awareness center http://hadeg.org. The project is to contribute to solving the energy crisis in western Kenya due to population growth and inefficient use of natural resources. Along with promoting the planting of trees is necessary to teach the villagers to reduce the consumption of wood for cooking, because cooking is still commonplace on fire with three stones. We therefore support the production and use of clay stoves and solar cookers. It currently offers local people the center HARMONY solar cookers, clay ovens with low consumption of firewood as well as advice on how to fertilizing the soil and tree planting.
External links
Edit
Seat Partnership Foundation
Údolní 33, 602 00 Brno
Czech Republic
Tel.: +420 515 903 111
Email: partnerstvi@nap.cz
Community content is available under
CC-BY-SA
unless otherwise noted.