Jurassic World: Dominion Dominates Fandom Wikis - The Loop
Play Sound
Last edited:
27 August 2017
Sharon Cousins, in addition to being a former board member of Solar Cookers International, builds solar cookers and cooks with sunshine in northern Idaho, at about 47° north latitude and 3160 ft. (1000 meters) altitude. She is a writer and gardener who is actively promoting solar cooking, both in her own region and in terms of getting this wonderful technology into developing nations, where the need is so great. She has had two articles published on the subject and has been interviewed for an article on her solar cooking activities in the "Neighbors" section of the "Moscow - Pullman Daily News". She is available for interviews and to speak to groups in her region who would like to learn more about solar cooking.
In one of her favorite projects, Sharon helped ten excited kids from a local Roots & Shoots club make EZ-3 Solar Cookers. The cookers (plus some extras for guests, plus most of Sharon's extensive collection and a borrowed Global Sun Oven, compliments of The Natural Abode went along to the park to be incorporated into their end of the school year picnic. Participants and guests made individual pots of soup in their cookers and each member received a cookbooklet with tips and fourteen recipes for their small cookers and pots, from soup to chocolate cake. They are all excited by this new potential for summer fun, as well as excited to learn about what a help solar cookers can be in many parts of the developing world, and how much they can help the environment.
Sharon is now is working on turning her cookbooklet from the Roots & Shoots project into a complete book that would help youth (as well as adult singes/couples or anyone who can use an efficient little cooker for up to a quart of food) all over the world make their own small, efficient solar cookers, with construction directions as well as tips and more recipes than the original version. This is taking longer than she had hoped, but new research down in the San Jose area will result in a book that serves a wider geographical region, so it will be a better book when it is done.
In January, 2010, Sharon began a three year term on the board of Solar Cookers International.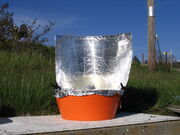 In April of 2010, Sharon began working with Camily Wedende of Sun Cookers International on a project involving middle/secondary age students from a school in Eldoret, Kenya. On Sharon's advice, and with Mr. Wedende's help, enthusiastic students have constructed three different models of solar cookers that can be made from locally available materials and have been observing and experimenting to compare the cookers and see which works best in their location. By taking this approach, students learn science and innovation as well as learning how to cook with the sun. 20 students, who live in refugee camps where there is no fuel and life is very difficult, would like to construct cookers to take home and use. The cookers will be durable (plywood) and the project budget also includes a black pot , oven bag, and booklet on how to use the cookers, as well as a notebook and pen for each student so they can continue their observations and record keeping at home. Mr. Wedende has committed to doing the training and follow-up that makes for a successful project. Sharon has made a commitment to try to raise the needed funds. Contact her if you would like to help or if you would like more information about this project. writersguildgal@moscow.com
News
[
]
August 2017: Sharon has been featured in the August 2017 edition of IDAHO Magazine to share her solar cooking experiences.
February 2016: Sharon Cousins has worked with Camily Wedende in Eldoret, Kenya for a number of years, helping to find ways to promote solar cooking to the local community on a shoe string budget. Sharon has experimented with a number of simple solar panel cooker designs, and her latest effort uses a large reflective bowl as a cooker base with an adjustable curved back reflector. After a recent visit, she sent Camily home with a large stainless bowl that is being used as a form to lay up paper mache copies of the shape using old newspapers. When dry and covered with aluminum foil, it becomes the base for a panel cooker. Students involved with Student Solar Cooking Science Project in Eldoret, Kenya have been eager to help with the construction.
July 2014: Sharon Cousins and Camily Wedende interviewed on radio station during Camily's visit to Idaho in the US. Listen to the interview.
November 2012: Student Solar Cooking Science Projects, USA and Kenya - What began as a pilot project in Eldoret, Kenya has evolved into two sister organizations, Student Solar Cooking Science Project, founded by Sharon Cousins in the USA and a sister organization in Kenya founded by Camily Wedende. Ongoing fundraising goals include renting a small work facility. Because of limited funding, the group is always looking for ways to produce a reasonable solar cooker for US$10 or less. The partnership that led to these projects began when Camily Wedende of Eldoret read about an American youth project advised by Sharon Cousins, and contacted Sharon asking for advice on working with young people. The pilot project, which involved twenty students ages 10-18, was a stunning success. The innovative approach teaches skills that will help the students in many areas of life. They hope to create a replicable model for the harnessing the tremendous energy and enthusiasm of young people for the advancement of solar cooking in their communities and beyond.
February 2011: Student success shows independent spread of solar cooking. The Eldoret Student Projects in Kenya, spearheaded by Camily Wedende and aided by long-distance advisor, Sharon Cousins, who serves on the Solar Cookers International board as well as working as an independent promoter, took an important step in that spread with a student team who not only learned how to cook with sunshine but also learned to take a creative and scientific approach to solar cooking. Students researched existing solar cookers—an assignment made possible by the Solar Cookers World Network site on Wikia—then put their heads together, combined ideas, and came up with new ideas to try. They performed comparative tests on an existing model and two of their prototypes. While all three reached cooking temperatures, one innovation showed the strongest performance at their location. The team has named their new design the

Panel Stove Cooker

. All twenty students built durable Panel Stove Cookers to take home to the camps where they live, where they have been using them to prepare food and [pasteurize water] for their families and keeping records of their progress and experiments, amazing the neighbors who stop by to see food cooking in a stove powered by sunshine, a stove that children in their community helped to invent. The entire neighborhood has become more interested in solar cooking due to this project's success. At an upcoming ceremony, students will receive certificates of achievement and other rewards and honors, to celebrate their successful science project. Some of the local media have said they will attend. Camily and the team hope that other schools and clubs can use the example of their pilot project to help more youth become scientists for solar cooking, to aid in the spread of this bright idea whose time has come.
November 2010: Sharon Cousins of Solar Cookers International, recently gave an update on the Eldoret Student Projects in Kenya. She has been involved as an long-distance advisor to the program. Under the local direction of Camily Wedende, twenty grade school students each constructed a model of a new solar panel cooker design, to take home to the camps where they live, where each cooker will benefit an entire family. They also received the necessary pots and cooking bags as well. Each student has been provided with a notebook and pen to keep records of their progress and further experiments, and Camily will keep in touch to check on their progress. Now a lot more students want to be involved with the project to study solar cooking science, and more adults are taking a fresh look at solar cooking's potential. There is now an album of photos from this successful pilot project.
Summer 2010 Sharon was invited to guest-blog a three part series on solar cooking at Valerie Comer's My Little World blog, as part of the Green Bite Monday series. Sharon's series begins with Solar Cooking: Clean, Bright, and Accessible and continues in Out of the Smoke, Into the Sun. The third post will appear on the last Monday in August.
April, 2010 Traveled to California and participated in solar cooking events at the Children's Discovery Museum in San Jose, CA and at Earth Day at Google's Crittendon Campus in Mountain View, as well as attending board and committee meetings for Solar Cookers International in Sacramento. Began communications with Camily Wedende, of Sun Cookers International, who was looking for advice on doing a solar cooking project with middle/secondary age students at a school in Eldoret, Kenya.
September 13, 2009 Third annual demo at Santa Barter Fair. More details soon.
August 1, 2009 Second Annual International Solar Cooking Holiday event — demo, solar potluck, Berman Creekside Park in Moscow, Idaho. Solar sample and potluck foods included Sunbeam Chicken wings, breads, granola, granola bars, soup, beans, cheesecake, rice pudding, and more. See coverage by KLEW-TV, a CBS affiliate from Lewiston, Idaho.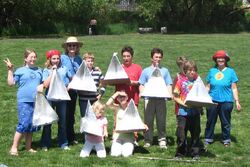 July 2009: Writer and avid solar cook Sharon Cousins helped kids make her "EZ-3" solar cookers as part of a Roots & Shoots club project at Lena Whitmore School in Moscow, Idaho. The students used the cookers to make individual pots of soup at their year-end school picnic. Cousins says the students are "all excited by this new potential for summer fun, as well as excited to learn about what a help solar cookers can be in many parts of the developing world, and how much they can help the environment." The EZ-3, shown with additional front reflector, is completely enclosed in a transparent, heat-resistant bag Cousins says the EZ-3 cooker, which is similar to the Pyramid cooker that ClearDome Solar Thermal used to produce, is an "ideal cooker for youth projects, as it is easy to make, is easy to aim using the shadow, and it works well."

It is made by cutting out the corner of a cardboard box diagonally, lining it with foil, and slipping the entire cooker and pot inside a large, transparent, heat-resistant bag, such as a Reynolds® 19 x 23.5-inch turkey size oven bag. The bag is then closed tightly along the back of the cooker with clips. With this size bag, the length of the cooker's bottom edges can be 12 to 13 inches, and the height can be 17 to 18 inches. (Box flaps can be taped upright if necessary to achieve proper height.) An additional reflector can be added to the bottom front of the cooker, and adjusted up or down to direct more sunlight onto the pot. "This is a surprisingly efficient little cooker for up to one quart of food," says Cousins. "[It] works very well with either small, dark pots or pint or quart cooking jars." Cousins also wrote to thank Solar Cookers International for its work and its Solar Cooking Archive (solarcooking.org), where she discovered solar cooking while researching one of her novels. "That was the birth of my advocacy and what has become my passion for cooking with sunshine."
2009 Accepted position heading up the SCWNet network for Canada/USA/Europe. Continuing work on the EZ-3 Solar Cooker Book, though family crises are making it take a little longer. Extended a visit to San Jose to come up with and test three new EZ-3 models that perform better farther south than the original. Sharon is trying to explore if there are ways solar cooking and solar cookers can help the growing homeless population in the USA and is doing she can to encourage and advise

Malcolm Toriumi

, whose Project Brightside is trying to get solar cookers out to the growing homeless population in the San Jose, CA area, many of them families with children, living in cars with no way to heat or cook food or water. Sharon returned from CA just in time to put together a solar cooking display, sample, and Information table at Washington State University's Earth Day, 4/25/09 (see photo at top).
August 27, 2008: Sharon Cousins spoke on KRFP Radio about the then-upcoming first Solar Cooking Holiday and the relationship of solar cooking to world peace. You can hear a recording of her talk here.
2008 Presentation to Moscow Rotary Club on practical and humanitarian aspects of solar cooking; EZ-3 cooker building and use project with the Roots & Shoots Club from Lena Whitmore School in Moscow, ID; article comparing merits of solar box ovens and solar panel cookers published in the in July/August issue of Back Home Magazine; helped to develop part of the new online alternative energy resources at the website of the Palouse Discovery Science Center;

International Solar Cooking Holiday

event with demo, samples, and information; work in progress on the EZ-3 Solar Cooker Book; distributed information and samples of solar cooked foods at the Moscow Farmer's Market several times; radio presentation/interview on the solar cooking holiday and solar cooking's relationship to world peace on KRFP, Radio Free Moscow; introduction to solar cooking for kids in a joint program between the Nez Perce National Historical Park and the Idaho State Park system; bigger demo with more cookers and more samples at Santa Barter Fair;

more distribution of flyers and other information regarding solar cooking; built more cookers, including refining the EZ-3, developing a super-size EZ-3 (needs a larger, commercial-size oven bag), and prototypes for a new EZ-Baker Solar Oven.
2007 Article in "Community News", solar cooking demonstration with food samples at Santa Barter Fair, Santa ID, widespread local distribution of solar cooking leaflet, interviewed for article on her solar cooking activities by the "Moscow-Pullman Daily News", solar cooking display and information table at showing of "The 11th Hour", built many cookers including two Easy Lid Box Ovens (second is the oven currently illustrating the top of the Easy Lid page) and the prototype for the EZ-3 Solar Cooker.
Audio and video
[
]
See Also
[
]
External links
[
]
Write 'em Cowgirls! Sharon's writers' resource website, which includes a page on "Writing for Change". Take a write on the wild side!
Solar song
[
]
Movements need songs! If you know a good solar cooking song or can create one (Hint: Consider setting it to a tune that people already know), here is a place to post it or post a link to it!
(By Sharon_Cousins… to the tune of "You Are My Sunshine")
Chorus:
We cook with sunshine,
Bright glowing sunshine,
The food is tasty, the power's free.
Clean up is easy, the kitchen's breezy,
When we cook with the sun's energy.
One sunny day, dear,
As I was cooking,
I dreamed the world was cooking too,
Everyone cooking, out in the sunshine,
Under skies that stay clear and blue.
(Chorus)
No wood or charcoal,
No smoke or fire,
No gas or electricity,
No need for forming more global warming,
When we cook with the power that's free.
(Chorus)
When there's a clear day,
With lots of sunlight,
We all can learn to cook with sun.
So we can save trees, and cut pollution,
And 'cause solar cooking is fun!
(Chorus, repeat chorus)
Contact
[
]
1185 Chaney Rd
Viola, Idaho 83872 USA