Last edited:
12 October 2020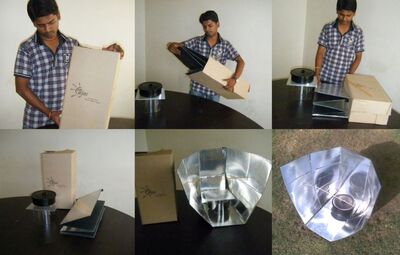 Simplified Technologies for Life is a business located in Jalna, Maharashtra, India whose primary focus is to promote solar cooking technology, and provide appropriate solar cooking products, within India. They are a subsidiary of Bhagyalaxmi Rolling Mill Pvt. Ltd and Vinodrai Engineers Pvt. Ltd. Vivek Kabra is the founder of Simplified Technology for Life, and has been solar cooking himself since 1990, and teaching solar cooking since 2009, having taught over 2,550 people to solar cook. In 2010 they began to manufacture solar cookers. They use the Tejas solar panel cooker, the SK14 parabolic solar cooker, and The Solar Chef in their workshops. On 19th January 2013, the company organized Suryakumbha the world's largest solar cooking class ever offered at one time for middle school students.See the story about the class below.
News
[
]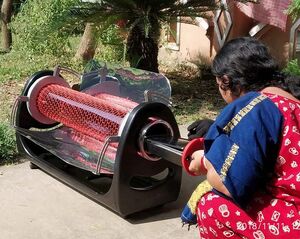 November 2019: SUNWINGS cooker - Simplified Technologies for Life has developed their own version of an evacuated tube solar cooker called SUNWINGS. It uses the largest diameter glass tube currently available, with 3 liters (0.8 gal.) cooking capacity.
April 2017: On April 29, 2017, a solar cooking festival for 500 schoolchildren was held at Kakuma Refugee Camp in Kenya. The idea was originated by three of the participants at the 6th SCI World Conference 2017, put on in January by Solar Cookers International in Gujarat, India. Roger Haines, CEO of Haines Solar Cookers, Ritesh Raithatha, CEO of Simplified Technologies for Life, and Godfrey Mawira Kaburu, an engineer with the World Food Program in Nairobi. At the Gujarat conference, Godfrey presented the results of his study showing that in October, 2016, solar cooking was the second-most preferred method of cooking at the Kakuma Refugee Camp, even though very few solar cookers were available. To create an inexpensive, durable cooker for the festival, Roger collaborated with Sharon Clausson, designer of the Copenhagen Solar Cooker, to design a "Haines-Copenhagen" cooker using Roger's metallized polyester (MPET) foam reflector, and a UV-resistant polycarbonate Haines Cooking Sleeve. The cookers were made in Kakuma by refugees from materials donated by Haines Solar Cookers, and should last 10 years with proper care. Ritesh's company, Simplified Technologies for Life, has produced "Suryakumbh" solar cooking festivals for almost 120,000 participants in India, and holds the Guinness Record for the most people solar cooking at the same time: 7,438. Ritesh and his colleague, Vivek Kabra, provided expertise and leadership for the festival. Godfrey put together a team of experts, including Mwenda Wilkinson, who handled the logistical, financial, and personnel details. The National Council of Churches of Kenya (NCCK) generously donated the services of Raphael Nyabala and Wilson Kinyua and many others to recruit the children and provide facilities and transportation. Funding was provided by Haines Solar Cookers and the San Diego, California, Rotary Club. Additional support and resources came from Solar Household Energy (SHE), a Washington, DC solar cooking organization. Other partners included Eco-Mandate, which sells solar cookers in Chuka, Kenya, the Alliance for African Assistance, a San Diego-based refugee resettlement organization, and the Rotaract Club of the University of California, San Diego, which made 500 Water Pasteurization Indicators (WAPIs) for the Festival participants. Training was provided by Faustine "Mama Solar" Odaba, and her Nairobi NGO, NAREWAMA. Significantly, Ms. Odaba had been one of the trainers in 1995 when SCI first introduced solar cookers in Kakuma. Before the festival, 50 refugee women were trained to use the cookers, and they in turn trained the children. The festival took place at Hope Primary School in Kakuma Camp Four. During the festival, "Mama Solar" set up fifteen cookers and cooked a wide variety of food, including rice, vegetables chicken, eggs, cabbage, ugali, beans and cake. The children sat in neat rows as trainers handed out the cookers, cooking pots, food and water. Each child assembled their own cooker, and successfully cooked delicious noodles before an enthusiastic crowd of family members and relatives. The children were elated and proudly showed off their new cookers. Follow up studies are planned, and Roger Haines is working with a local entrepreneur to offer Haines-Copenhagen solar cookers for sale in Kakuma for a sustainable price of around $25 USD.
February 2017: SuryaKumbh festival again sets record - Vivek Kabra reports: "On 11 Feb, 2017, 7,500 school children created history by participating in the World's Largest Solar Cooking Festival. Trained by 400 trainers and guided by 150 supervisors, each one of them made their own solar cooker and cooked noodles in it. Having experienced the power of the sun first hand, each child took the SuryaKumbh solar cooker back home to share the magic of cooking without fuel." The event this year was organized by the Mira Bhayander Municipal Corporation and held in the Bhayandar - Thane area. More information...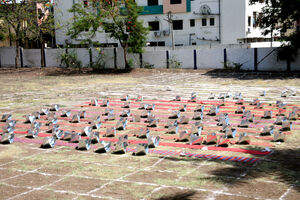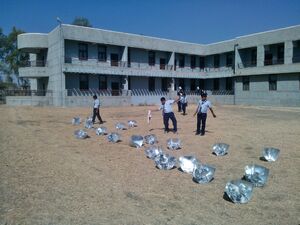 April 2013: Suryakumbha workshop for 218 self help group women was successfully conducted at Nanded, India in association with Bhagyalaxmi Mahila Sahakari Bank. Spanning over three hours, the workshop enlightened the participants on various ways of making a solar oven and the role of every single material used in it, following with the various day to day life materials that can eb efficiently used. The event concluded with participants eating the freshly cooked solar meal.
Feb 2013: Students from Golden Jubilee School, Jalna built their own chhotu Tejas solar oven and then cooked their breakfast, lunch and evening soup using the same. It was a classical demonstration of how you can effectively solar cook three times a day.
January 2013: World's largest solar cooking class takes place in India - On January 19, 2013, middle school students gathered on the grounds of JES College in Jalna, India to be trained in the use of a simple solar panel cooker. After a quick breakfast, and guidance from 205 trainers, a record-breaking 2,044 students each assembled his or her own solar cooker and placed prepared ingredients inside to cook. After speaker presentations, the students were able to enjoy the lunch they had cooked themselves. This event, sponsored by Simplified Technologies for Life, demonstrates that India is quite serious about introducing solar cooking to young students.
Audio and video
[
]
Articles in the media
[
]
See also
[
]
External links
[
]
Contact
[
]
Simplified Technologies for Life
12 Km. Stone, Jalna-Aurangabad Road
Village Dawalwadi
Jalna – 431 203
India
Tel: +91 99606 86393 Tel: +91 97657 57755
Email: simplifiedtfl@gmail.com
Web: https://www.facebook.com/Suryakumbha
Facebook: https://www.facebook.com/CookWithSun
LinkedIn: https://www.linkedin.com/company/simplified-technologies-for-life