Last edited:
31 December 2017
Sizzling Solar Systems is a non-profit concern run by Stan and Jane Cajdler, which actively promotes the use of solar cooking aides in Brisbane - Australia. The groups main function is to design, construct and use solar cooking devices passing gained knowledge on to others. We have a small group of interested parties in Brisbane who occasionally get together to compare notes and offer support for design and improvement of cooking devices. Through public displays interest in this system of cooking has grown tremendously over the past two years especially within the school system. Watching food cook in the outdoors and then tasting the end product is the perfect medium to get the solar energy message across to the general population.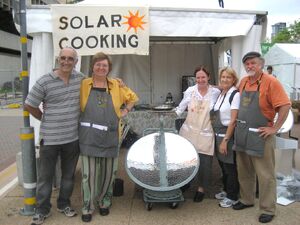 We do not manufacture or sell cookers but encourage and support people in making their own from new and recycled materials. Cardboard, plastic core board, boxes and numerous other building materials can be used to create a cheap, effective cooker.
Our interest is expanding into other devices such as food dryers, wood efficient timber fueled stoves, ovens and non-powered refrigeration systems with a view to provide for a totally sustainable kitchen.
We constantly review designs to maximize efficiency, and want to influence a community lifestyle change based around low energy consumption by education and example.
News
[
]
November 2012: Solar Food Dehydrator - Stan Cajdler of Brisbane, Australia has developed a solar food dehydrator, which significantly reduces the formation of mold spores caused by the nightly cooling of food. Typically, the drying process can last for several days for successful solar food drying. In this design several water containers (for thermal mass) are positioned in the lower chamber of the dehydrator. As the collector plate heats up, it heats up the surrounding air, which rises through the drying chamber. During the day, radiant heat from the collection plates also heats the water containers, which slowly release heat overnight. This overnight thermal air movement through the upper chamber dramatically reduces the formation of mold spores. For more information on Stan's solar cooker designs check out: Sizzling Solar Systems
January 2012: Stan Cajdler reports that the group began teaching solar cooking in 2006, and as of the start of 2012, they have taught over 2000 people to solar cook.
Audio and video
[
]
See also
[
]
External links
[
]
Contact
[
]
Sizzling Solar Systems
Stan Cajdler
135 Frizzell Street
Stretton 4116
Australia
Tel.: +61 417609860
Email: stan@sizzlingsolarsystems.com
Web: http://www.sizzlingsolarsystems.com