Last edited:
16 December 2020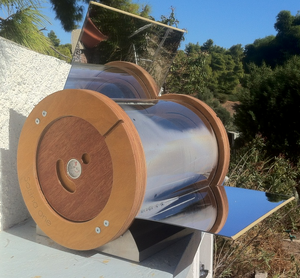 SoLenium technology is design and manufacturing company of solar cooking products located in Musselburgh, United Kingdom, founded by Andreas Teschner. The company has developed a cylindrical style cooker with insulated clear panels, and an adjustable mirrored reflector called the SoLina one.
Typically, tube style cookers have relied on using a double-wall blown glass cylinder for the cooking chamber. A major constraint of this approach is the availability of larger diameter glass tubes. Most are 5" or less. The SoLina one is a trough style design, and offers a larger insulated twin-wall cooking chamber approach, providing more internal space for larger cooking pots.
Other products are available on their website: https://www.solenium-technology.com
SoLenium technology
14 Bush Street
Fisher Row
Musselburgh
EH21 6DB
United Kingdom
Tel: +44 (0)131 665 5656

Email: ateschner@yahoo.com
Web: https://www.solenium-technology.com/
Community content is available under
CC-BY-SA
unless otherwise noted.