Last edited:
19 December 2020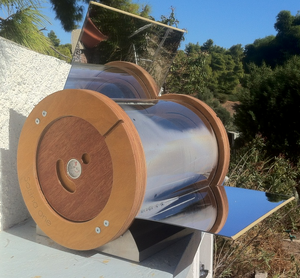 The SoLina one is a trough style solar cooker. It has an insulated twin-wall cooking chamber, with an interior diameter of 30 cm (11.8 in), which provides the internal space for larger cooking pots. It was designed, and is manufactured, by SoLenium technology, located in the United Kingdom.
The internal cooking pot platform is equipped with rollers, so the cook pot can remain level as the reflector position is adjusted.
A cooking chamber thermometer is built into one of the end walls.
Resources
[
]
Documents
[
]
Audio and video
[
]
See also
[
]
Contact
[
]
See SoLenium technology.