Soheil Salimi was born on July 5, 1992 in Shiraz, Iran. From an early age, he has loved the environment and civil engineering. This great passion for engineering has led to an ambition to choose Civil Engineering as his major in academic studies. He entered Fasa University (2010) and achieved many awards during his undergraduate program such as Top Student of the Year Award in Civil Engineering (2011 & 2014) and also was ranked as the Excellent Student of Civil Engineering, Class of 2014. Soheil started his MSc. in Environmental Engineering (2014-2015) at Shiraz University, Iran; and after being awarded "Université Paris-Saclay International Master's Scholarship" Soheil enrolled in the École Polytechnique in Paris to pursue his education in Master of Environmental Mechanics & Physics (2015-2016).
His capability of performing well in group projects as well as having appropriate organization and management skills caused him to establish a variety of organizations and associations. Hence, he was in charge for different tasks in astronomy associations. He founded Engineers Without Borders - Iran to use his engineering and management skills to improve the lives of others through infrastructure development, sustainable design, and the eradication of poverty in poor societies. Soheil is member of an international project called "A Silk Road to Peace" based in Calgary, Canada, which is led by Mr. Jörg Ostrowski, M. Arch. A.S. (MIT), B. Arch. (Toronto) that aims to revitalize some caravanserais along the ancient Silk Road, at the same time building bridges of peace between East and West.
The Silk Road to Peace
A talented international team of architectural, planning professionals and engineers in Canada, Iran and China, working to recycle parts of the ancient Silk Road starting in Iran, into a modern and sustainable Road to Peace between the west and east, through faithful historical preservation and sustainable redevelopment of caravanserai for local people, communities and economies, and also international visitors, ecotourists, scholars and students, as possible future UNESCO World Heritage Sites.The project is led by Mr. Jorg Ostrowski [M. Arch. A.S. (MIT), B. Arch. (Toronto) & President of ASH-Autonomous & Sustainable Housing Inc. and ACE-Alternative & Conservation Energies Inc.]. The group plans to start with rural areas and eventually move into the cities. The vision is to build a chain of satellite institutes with partner universities, governments, NGOs and industries, for the study and research, seminars and workshops, application and promotion of: appropriate technology, energy and resource conservation, energy efficiency and renewable energy. More information...
News

August 8, 2014 Soheil Salimi (Founder/President of Engineers Without Borders - Iran) organized an educational program in a poor region, Tal e Zard village, Abadeh Tashk, Iran. Two active team members of EWB-Iran Razieh Amini nezhad and Fatemeh Rahimi accompanied him during this program too. He lectured how we can make some simple and cheap Solar Cooker models for women, girls and children there. Villagers, specially housewives, were so surprised when found out the remarkable benefits of Solar Thermal Cooking.Then, Soheil talked about "Water Distillation" by Sun since their water has high salt concentration.
April 30, 2014 Soheil Salimi, founder of Engineers Without Borders - Iran, conducted a solar cooking workshop at Hafez high school for girls. Other members of the Energy team included Razieh Amini nezhad, Fatemeh Rahimi, Niloufar Nekueian and Maryam Alipour.
April 2014: Soheil Salimi revisits the site where he planted a tree on Earth Day 2013, and found it growing well on Earth Day, April 22, 2014. Soheil speaks with a positive message and a confident voice.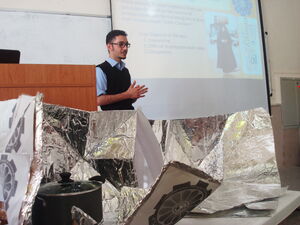 December 2013: Engineers Without Borders - Iran (EWB-Iran) participated in "Research Week" (Dec. 14 - 20, 2013) at Fasa University, highlighting the importance of solar cookers. In this seminar they informed students and professors about the different types of solar cookers and their efficiency. The team included Soheil Salimi (Founder and Lecturer), Razieh Amini nezhad (Food Science and Technology student), Niloufar Nekueian (Mathematics student), and Fatemeh Rahimi (Mechanical engineering student). They tested two types of solar cookers. The Suntastic Panel Cooker, which raised the internal temperature of an empty 4-liter black pot with a clear glass lid to 150° C (302° F) in about 30 minutes, and 3 liters of water heated from 26° C (79°F) to pasteurization point, 70°C (158°F), in about 50 minutes.

They also teseted the Dual-Setting Panel Cooker (DSPL), which has two different settings to better concentrate sunlight according to the sun altitude.

More information can be seen at User blog:Soheil Salimi
Audio and video
See also
External links
Contact
Soheil Salimi
11 - Parnia Apartments- Abrishami Street
Shiraz - Fars Province, 7144718173
Iran
Tel.: +98 917 387 1452
Email: soheilsalimi.ewb@gmail.com
Web: https://www.facebook.com/EWBIran
Skype: soheilsalimi.ewb
Facebook: https://www.facebook.com/EWBIran