Jurassic World: Dominion Dominates Fandom Wikis - The Loop
Play Sound
Last edited:
17 June 2015
This article is about an entity that either no longer exists or that may no longer be active in solar cooking promotion. It is retained here for archival purposes.


A solar cooking facility (Sol-Café) was designed for a 100-children residential school in village Kothara of Kutch district. The area is arid and severely short of fuel wood It has on the other hand, abundance of sun. Commissioned in June 2003, it has been in regular use since. Cooking module consists of two large, specially designed box- type solar cookers; one with an aperture of 0.5 m2 and the other 1 m2. Both are of front-loading type, have double glazed top fixed permanently at 23° angle from horizontal. The angle is nearly equal to the location's latitude. Reflective mirrors are also provided. Cooking module is placed on a platform inside the kitchen. A 3-m wide window on south wall allows the cookers to receive sun. Cook operates from indoors. Length-tow idth ratio of the cookers has been selected to make tracking unnecessary. Cookers need only to be pushed forward about 40 cm for frill sun and pulled back when done. Caster wheels make moving the cookers easy.
The Sol-Café has cut the wood requirement by nearly a half and has enabled the canteen to serve baked snacks, not easily possible before. The entire facility was built at a cost of Rs. 30,000. Such facilities can also be useful to small catering business in hot arid areas.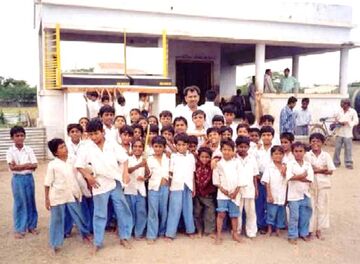 Sol-Cafés are solar cooking units designed for small groups and small eateries along the highways in sun-abundant region of Kutch in north-west India. It was reported earlier that these larger modules were developed after the experience of using smaller box solar cookers for relief during the Kutch earthquake. (2001). the first unit was put-up in a children's school at village Kothara (Kutch). The unit was run by the school cooks, but observed by our engineers for one year daily. A summary of that experience - food cooked, time taken to do the cooking in various months, maintenance tasks - was published in the solar energy journal of India. One alteration was made in the design - glass mirror was replaced by polished aluminum mirror which is equally good, but a lot lighter, and not easily damaged.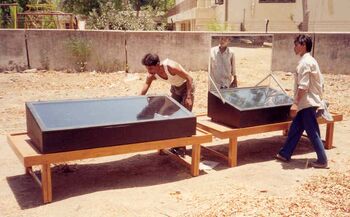 In late 2008 and early 2009, ten new installations were made, mostly schools where the café is used by the staff members. These include: ,
St. Xavier's English School - Jakkhau Road, Naliya (2 modules)
Archana St. Xavier's High School - Nakhatrana (2 modules)
Madarsa Barkate Mustaffa Education and Welfare Trust - Rampur (Abdasa)
Sheth Kmji Ramdas Girl's College - Mandvi-Kutch
Naliya Air Force
G.T. High School Hostel - Kothara
St. Thomas High School - Surendranagar
In addition, one business has started at Junagadh (Gujarat) by a person who bought 20 units via a bank loan and started selling solar cooked snacks including roasted peanuts, khaman, dhokle, etc. locally. This is a very interesting initiative and we intend to keep in touch with the entrepreneur. We have now settled a manufactures who makes on order and installs. Two salt manufactures in the area also took two modules but found these inadequate to meet the needs of lunch for large number of workers. We took the modules back. These will be sold to schools in near future.
Development of the Sol-Café was supported by the Gujarat Energy Development Agency, Vadodara.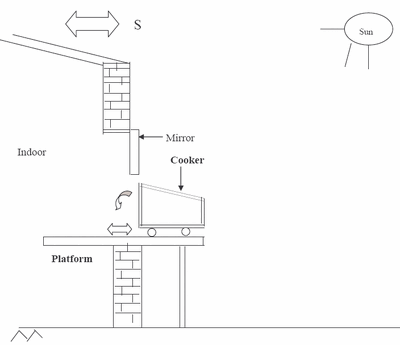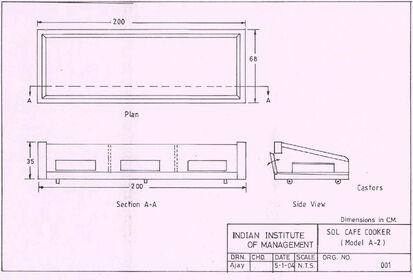 See also
[
]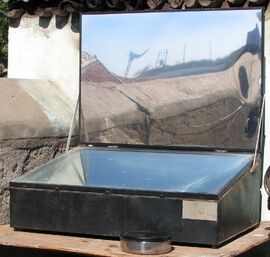 Contact
[
]
See Girja Sharan.