Jurassic World: Dominion Dominates Fandom Wikis - The Loop
Play Sound
This article is about an entity that either no longer exists or that may no longer be active in solar cooking promotion. It is retained here for archival purposes.


Last edited:
9 January 2021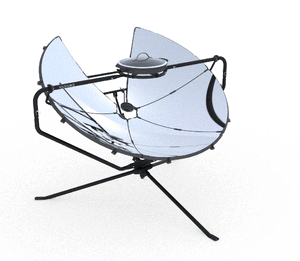 The SolSource parabolic solar cooker was designed by inventors and entrepreneurs, Scot Frank and Catlin Powers. Frank began early design work while a student at Massachusetts Institute of Technology in 2008, and collaborated with Powers, a student at Wellesley College in Massachusetts, USA. The development of this cooker led Scot and Powers, to found One Earth Designs. The company was formed to handle further refinement of the cooker, and develop a marketing strategy to distribute the SolSource globally. The social enterprise is based in Boston, Massachusetts, USA, with contacts in Xining and Beijing, China, and Hong Kong.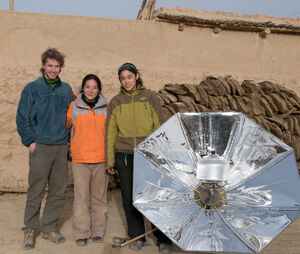 Powers and Frank, both 23 in 2008, and project chief engineer Amy Qian, 20, worked with Himalayan university students to collect direct feedback from villagers across the region to introduce the design, then known as the SolSource 3-in-1. Crowd-sourcing input on the design was particularly important to this project, because although the villagers were already familiar with solar cookstoves introduced throughout the region via various government and NGO initiatives, these devices weren't fulfilling the nomadic communities' unique needs.
The early design goals of the prototype solar cooker included: Reflective nomadic tent material, stretched across a bamboo frame, concentrating sunlight from a large area inward toward a focal point where the user can place a pot stand for cooking, a thermoelectric device for generating electricity (at a lower cost than a photovoltaic panel), a heat module for heating the home, a solar water disinfector for treating drinking water, or a thermal battery for cooking after dark. These interchangeable parts are each about the size of a laptop computer, and the main platform needed to be easily folded and disassembled for portability.
In September 2010, The cooker won the Dutch, Postcode Lottery Green Challenge. The Postcode Lottery Green Challenge award is a startup competition run by the Dutch Postcode Lottery with 500,000 EU ($666,200 US) up for grabs for the winner and 200,000 EU ($260,500 US) for the runner-up. All entries must have the potential to reduce greenhouse-gas emissions in a measurable fashion. From an impressive field of young entrepreneurs, the jury chose 25-year old Scot Frank of One Earth Designs as the winner for his company's SolSource solar oven. More Information...
News
[
]
'January 2021: SolSource has stopped manufacturing their solar cooker.

August 2013: One Earth Designs successfully concluded its Kickstarter campaign to promote the SolSource solar cooker, raising a total of $142,413 out of a goal of $43,000 (331% of the goal) and meeting three stretch goals, with 507 people backing the project.  Delivery of the cookers will happen in December 2013.  Kickstarter page

June 2013: One Earth Designs kicked off a Kickstarter campaign to promote their parabolic solar cooker - backers of the Kickstarter project were offered the special opportunity to purchase for $249 USD, with free shipping in the continental USA. The projected retail price will be $399 USD, so this was a great way to help them out, and get a great deal.  The project runs from June 10 through August 2 and successfully met its funding goal within 8 days of its launch. 
April 2013: Solar cooking advocate, Pat McArdle, and

John Linquist

of One Earth Designs, demonstrated the companies' SolSource parabolic cooker at the National Sustainable Design Expo., held each year in April on the Washington D.C. mall. John had the opportunity to demonstrate the cooker to Jacob Moss, senior State Department coordinator for the Clean Cookstove Initiative. EPA officials who were running the expo. told us that the SolSource is their greatest success story.
November 2012: One Earth Designs (OED) introduces their new parabolic solar cooker - Working with rural communities in western China, One Earth Designs, a Beijing/Hong Kong-based company, founded by Americans Catlin Powers and Scot Frank, has developed the SolSource, a portable parabolic solar cooker designed for use by nomadic communities. The cooker can boil a liter of water in ten minutes. Durable and weather resistant materials ensure a longer lifespan. It has a total weight of 18 kilos including a sturdy base design capable of withstanding the high winds typically encountered in the Himalayas. 
February 2011: A team led by inventor Scot Frank has landed a spot in an entrepreneurial boot camp hosted by a group called the Unreasonable Institute. With the help of sixty world-class investors and entrepreneurs at this summer's institute in Boulder, Colo., Frank hopes to bring the Sol-Source 3-in-1 stove to a mass market. Worldwide, pollution from combustion stoves used indoors sickens and kills more than 1 million every year. Many victims are children. More Information...
Buying a SolSource
[
]
Articles in the media
[
]
Audio and video
[
]
See also
[
]
External links
[
]
Contact
[
]