Last edited:
15 October 2017
SolTrekker is a 501c3 non-profit organization with offices in Portland, Oregon, USA. SolTrekker exists to provide empowering educational experiences designed to help individuals of all income levels realize greater self-sufficiency and environmental sustainability. They do this primarily by creating functioning examples of renewable energy, sustainable building practices and efficient design.
December 2015: "After a relatively dormant period following the birth of my son (at least as far as the organization goes, toddlers are anything but dormant) I'm excited to begin engaging more with SolTrekker and with the Portland community to discern what organizational form we should take and what types of activities we should engage in. I definitely have some ideas and visions swirling around, but have learned that success in this type of organization revolves around building a hefty amount of community support, so that seems like the best place to start..." More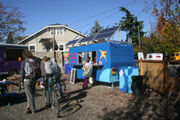 Solar Waffle Works Project: Having opened October, 2009 and located at NE Albeta Street and 23rd in Portland, the Solar Waffle Works is Portland's first solar powered food cart, operated by students in Portland Public Schools' Community Transition Program (CTP). The food cart is an example of sustainability in action using as much solar power as possible, minimizing its ecological footprint, and sourcing food and other materials locally.

RV Greening Project: SolTrekker offers services to help others create their own eco-RVs, including retrofiting existing RVs with green building and renewable energy technologies. The SolTrekker demonstration RV may be "the most eco-friendly motorhome in the universe". It runs on biodiesel, has photovoltaic panels for electricity, and has a composting toilet.

Email: ty@soltrekker.org
Community content is available under
CC-BY-SA
unless otherwise noted.