Jurassic World: Dominion Dominates Fandom Wikis - The Loop
Play Sound
Last edited:
31 December 2017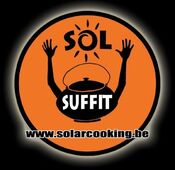 The Belgian NGO Sol Suffit is promoting Solar Cooking in Africa and Europe. They work with a brand new system: SuniCook solar cooker.
News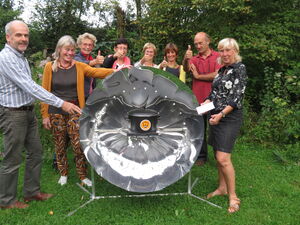 September 2014: A new solar cooker is born--the SuniCook. Our SuniCook is new step towards the development of an easy to use parabolic cooker of good quality, made of durable materials (aluminum and steel) and shows excellent performance. With a diameter of 120cm and highly reflective surface, the Sunicook boils 1 liters of water in 15-20 minutes. The cook pot holder is able to carry up to 10kg and this summer we were able to cook 10 liters of water under a clear sky in Belgium! The Sunicook is able to prepare meals for 10 persons and could easily make 30 liters of safe drinking water a day by pasteurizing it. Our Sunicook is a lightweight cooker (less than 10 kg). The orientation towards the sun is very easy and the risk of blinding is virtually zero. Assembly time is less than 30 minutes. By the end of September, we plan to ship 150 SuniCooks to different projects in Senegal (Dakar, Thies, Joal Fadiouth). Other projects are being studied for Mali and Burkina Faso. The use of a good quality hay basket is strongly advised and will accompany the introduction of the SuniCook. More information on www.Sunicook.com. See also: SuniCook
January 2013: Improvements to the SolarCooker Eco3 - Significant improvements have been made to the SolarCooker Eco3 over the past six months. The cookpot holder will now carry up to 7 kg. (15.4 lbs.) of weight. The reflector support has been modifeid to allow it to position the reflector for nearly perpendicular sun positions. The cooker is now able to boil six liters of water with a reflecting surface of only 1.25 square meters. Evaluation of the earlier solar cooking project in Senegal has begun. Early impressions appear to reinforce the need for long-term education and the continued local presence of dedicated trainers. A new pilot project has started in another area of Senegal, near St Louis in the "Langue de Barbarie". About 250 solar cookers were to be introduced by the end of 2012 (after the rainy season). A second new solar cooking project is underway in Mauritania with the financial support of the United Nations. Read more at Solar Cooking NV Fall 2012 update
December 2011: 630 SolarCooker Eco 3 were shipped to Senegal (so even more than originally planned!). In the next months, they will be introduced in Dakar and in 8 villages next to the national park of the Djoudj. Local volunteers participated in work shops to learn technical skills and correct handling of the solarcookers. They will be guide the introducting in the different villages. Cooking demonstrations were also very succesfull. We also made the trainees familiar with the method of retained heat cooking. We found it quite easy to make good quality hay baskets with cheap baskets(locally made) and empty rice bags filled up with dry hay.
October 2011:

The 5th of October 2011, 630 SolarCooker Eco3s left our warehouse east of Flanders, Belgium headed to Dakar, Senegal. We will distribute them in the region of Djoudj, located at the border of Mauritania and Senegal, an area protected by Unesco. Day to day life for families living in Djoudj is very hard, due the fact that fuelwood and other fossil fuels are virtually unavailable anymore. Deforestation has turned this region into a scary desert. With the help of Sol Suffit, we try to educate local people to change there behaviour and mentality towards nature. The SolarCookerECO3 will help the local people in Djoudj to prepare food using only the radiation of the sun. In that way the children, daily walking around finding wood to prepare food, are capable to go back to schools.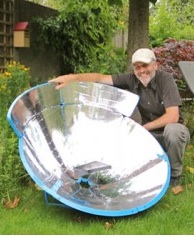 September 2011: SolarCooker Eco3 was a great success at the GLEE fair in Birmingham. The SolarCooker Eco3 was introduced recently on the market during the International Glee Fair in Birmingham UK. The stand had a lot of visitors all over the world. Main interest came from Japan, Australia, Africa and som Asian regions. A distribution agreement was already signed with a company based in Ghana. Several proposals are under investigation for USA Florida, Botswana, Australia, Japan and Israel. We believe the SolarCookerEco3 had a great launch on the fair , the expectations for the coming months are great. Pictures of the fair you can find on our website. For more info about our distributor in Ghana follow this link.
August 2011: The new parabolic SolarCooker Eco3 ("Ecologic,Easy and Economic) is now available on the market. It is sold by a new Belgian company Solar Cooking NV, that supports our project for introducing solar cooking technology in African countries. We are still working on an important pilot project in the north of Senegal (area of the national Bird sanctuary of the Djoudj). We plan to introduce 250 Solar Cookers to local families in November 2011. A reforestation project has also been started in the same villages and another project is under study to introduce fuel-efficient woodstoves. Together with 1Night4dakar, another belgian organisation, a second sample of 100 SolarCookers will be introduced in the capital Dakar and on Ile Gorée to study the acceptance of solar cooking in a urban conditions. Meanwhile, the SolarCooker Eco3 is also undergoing field tests in several countries and we've received some very usefull comments.
January 2011: Sol Suffit is developing a new parabolic solar cooker called the "SolarCooker Eco3". It will be available for sale beginning 1 May, 2011. Pre-orders are currently being accepted on its website http://www.solarcooking.be/_en/hot/soonforsale.htm. The price is not expected to exceed 200 EUR. Exclusive prices will be made available for development organizations with proven operations in the South willing to introduce the SolarCooker Eco3.
February 2010: Sol Suffit is working to bring its super-clean and super-simple solar cooker to developing nations, to replace the environmentally-devastating traditional cooking methods that rely on firewood and charcoal. The project started in the Djoudj National Bird Park, a World Heritage site in Senegal. Project leaders Kristina Naeyaert and Herman Nachtergaele said, based on "the response from everyone who gets to know the project, we're very certain it won't stop there.." They are looking for partner organizations to help with their efforts. Read more at: Solar Cookers Taking Hold in Africa: Want to Help?
Photo gallery
Audio and video
See also
External links
Contact
Sol Suffit
Kristina Naeyaert and Herman Nachtergaele
Rue Normandie 178
8560 Wevelgem

Tel: (+32) 056 40 19 79 ; (+32) 0479 51 43 17

Email: kristina@natuurkoepel.be
Skype: herman.nachtergaele

Web: https://www.solsuffit.be (English version) - http://www.solarcooking.be (English version) - http://www.natuurkoepel.be (English version)
Facebook: Sol Suffit VZW
Twitter: @TheSolarCooker
YouTube: Sol Suffit