This article is about an entity that either no longer exists or that may no longer be active in solar cooking promotion. It is retained here for archival purposes.


Last edited:
26 June 2012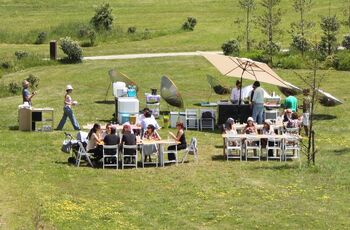 "Sol em Sol" é um restaurante de gastronomia solar, ao ar livre, nómada e temporário, onde comer é também pensar um pouco sobre o planeta em que vivemos. Pensar sobre os pequenos impactos ambientais que este maravilhoso prazer pode ter e sobre os caminhos que temos de seguir para poder apaziguá-los.
Através da gastronomia e do design, e da junção de um grupo de pessoas e dos seus conhecimentos, proporcionamos a descoberta dum conceito gastronómico sustentável, apresentando uma nova forma de encarar uma gastronomia de qualidade e a sua conexão com a natureza, levando assim os nossos clientes a participar numa experiência inovadora no mundo da restauração.
A gastronomia solar baseia-se no conceito da cozinha solar, isto é, uma cozinha que funciona apenas através do calor da luz do sol. Este facto é possível através dos nossos fogões solares de tipo parabólica, feitos de alumínio, que através do reflexo da luz do sol, permitem cozinhar como um fogão normal. Trata-se, com efeito, de uma tecnologia que permite uma cozinha ambientalmente responsável em qualquer local onde haja sol. O "Sol em Sol" traduz-se numa experiência diferente do habitual. A cozinha solar, dando uma textura especial aos pratos realizados pelo chef Zé Pedro Moreno e a sua equipa, proporciona às pessoas uma cozinha diferente e, ao mesmo tempo, observar um show-cooking ao ar livre. O" Sol em Sol" tem carácter incerto e imprevisível. Por um lado, dependendo da intensidade da expressão do sol na atmosfera, obriga o chef a improvisar constantemente as suas receitas. Por outro, em dias em que o sol não coopere, estamos todos obrigados a adaptar-nos a tal situação e a adiar a experiência para o dia seguinte. O Sol é que decide!
Devido à sua estratégia de mobilidade, o restaurante funciona como um "evento", ao mesmo tempo que vai mudando de local onde permanecerá durante curtas temporadas. Por outro lado, devido à sua dependência da meteorologia, o Sol em Sol só pode funcionar em Portugal durante o período de Maio a Setembro.
O "Sol em Sol" inicia a sua actividade na cidade do Porto, no dia 05 de Maio de 2012, no Parque da Cidade.
Para reservas: 93 9041226
Community content is available under
CC-BY-SA
unless otherwise noted.