---
Revision as of 02:32, 23 October 2011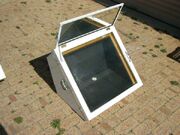 I have tried many solar oven designs over many years and, being a Joiner/Patternmaker by Trade, have developed my patio model which I call a Sola Kooka, as the best user friendly solar oven yet. Its cooking chamber has a yearly average temperature of 167°C. It reaches 200°C constantly (212°C max) with all reflectors focused in high summer here in Western Australia and fries foods because it gets so hot. I have failed to find another "passive" (black collector) that attains the same hight temperatures that this model reaches for its size. Its very user friendly as it sits on a free moving trolley, and is rapidly being taken up by folk who live in the hotter country areas of Australia as well as the city dwellers. The design has been Patent applied for in many countries and can be made in any width (up to 2350mm wide) without compromise of user friendlyness. We make them wider for less sunlit countries like England for example, (1200mm width) with the standard width for Australia being 750mm wide. It can have an electric, gas or flamed fire as a back up, as the design is so useful for multi-tasking.
If any Solar cooker is going to revolutionise the world to use one, it has to be user friendly, get hot and retain the heat, cheap to build and be durable and last. Its this design, because its so user friendly, gets very hot quickly and retains and replaces heat more efficently than any other passive sola oven for it`s collection area. The design can be made for less developing countries, with basic construction for costs, yet not compromise its user friendly facts, or its high reaching temperatures, or can be made from more durable qualities (steel) for the more affluent western countries. Its for these reasons we can see this design beng used through-out the world, both East and West and are doing all we can to achieve this and because of the design, its happening because of it. Its the Solar Cooking oven designs presantly available that are stopping this medium from being captured by humans. Passive solar ovens are all cumbersome and clumsy to use and move if made large, and don't get hot enough, with anoying refector problems if they are small and portable. Active solar ovens (silvered reflecting) are just plain unfriendly and dangerous if large and unfriendly to operate and focus (weather permitting) if small and portable. Not so the Sola Kooka.
Recent news and developments
See also
Contact
Solar Kooka's Ltd
2 Balanus Way Heathridge
Perth, Western Australia
6027 Australia
Tel: +61 (08) 94018541
Mob: +61 0419699910
Email: solakookas@hotmail.com
Community content is available under
CC-BY-SA
unless otherwise noted.