Last edited:
1 March 2010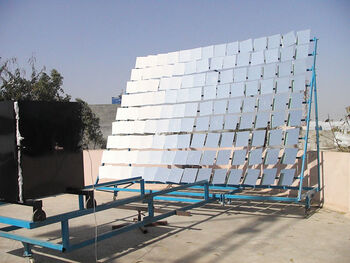 The biggest crop of groundnut (peanut) is in India and particularly in the state of Gujarat in the mid-west. But surprisingly enough peanut butter is not produced here. In response to this a solar oven for peanut roasting has been produced and a peanut butter making machine has been developed to make the butter from the solar roasted peanuts for the first time in India.
The plant consists of the following:
Solar concentrator of 126 glass mirror reflectors of 20cm x 20cm fitted on 9 cross bars, each cross bar having 14 reflectors on inclined frame size 3 mt x 2.3 mt. Each cross bar can tilt on its own horizontal axis to focus against the sun manually. Friction clutch system has been provided on each cross bar so that just desired tilting of cross bar can be achieved just by hand force.
Solar oven effective space 625mm x 625mm x 700mm complete with door on the back and toughened glass on the front and packed with cerawool insulation on all sides. Revolving drum of 500mm dia x 500 mm length made of wire netting is provided inside the oven for uniform roasting of peanut. Roasting capacity 20kg per hour.
Common base frame manually revolving on vertical axis supporting solar concentrator and solar oven on 6 castor wheels.
Peanut butter making machine capacity 10 to 15 kg per hour with 2 hp motor complete.
This complete plant is uniquely folding to a shipment volume of only 2 cu mt.
The technology has been designed and developed by TinyTech Plants.
See also
[
]
Contact
[
]
See Tinytech Plants.