Last edited:

10 June 2021

      
Solar Cookers International (SCI) helps lead global efforts to promote solar cooking. Solar cookers have no emissions and use free solar energy accessible worldwide for cooking and water pasteurization. SCI raises solar cooking knowledge and awareness by organizing and attending international conferences. It also hosts the Solar Cookers International Association, the Solar Cooking Wiki, as well as SCI's organizational website. This work assists in the achievement of the United Nations Sustainable Development Goals.
Tens of thousands of individuals and organizations from around the world have learned about solar cooking through SCI's advocacy, leadership, education resources, and information exchange network. SCI, based in Sacramento, California, USA is a 501(c)(3) nonprofit, non-governmental organization supporting and reporting on the work of hundreds of partner organizations and individuals in 142 countries.
SCI has consultative status with the United Nations Economic and Social Council (ECOSOC).
SCI sponsors the Solar Cooking Wiki (this site), an internationally recognized resource for solar cooking information.
SCI won an Ashden Award in 2002 for their work with solar cookers in Kenya. In August 2006, SCI was the winner of the World Renewable Energy Award[1].
SCI has a 4-star rating from Charity Navigator.
SCI's Worldwide Office is located in Sacramento, California, USA (Map).
In addition to its advocacy, leadership, research, and networking activities, SCI provides grant funding to pilot projects that focus on innovative processes that scale up solar cooking technologies in the regions of the world where the human and environmental needs are greatest.
Solar Cookers International is spearheading the solar cooker Performance Evaluation Process (PEP). Evaluation of the performance, user experience, and quality of solar cookers was identified as a high priority by the attendees of the 5th SCI World Conference in Sacramento, California, USA, 2014. The process and instrumentation was presented and demonstrated at the 6th SCI World Conference in Gujarat, India, January 2017.
If you would like to promote SCI's global work to introduce solar cooking technology to families around the world to improve health, quality of life, and the environment, please make a donation online or to the postal address below. The majority of SCI's funding comes from individual donors and foundations supporting social impact and environmental sustainability.
See SCI's website for detailed information.
Events
Most significant solar cooking projects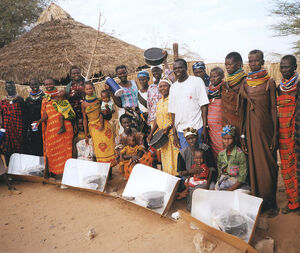 A refugee camp in Kenya was the first to receive a large scale solar cooking project - The Kakuma Refugee Camp was formed in 1972 when Sudanese refugees first arrived in Kakuma, Kenya. Introducing solar cooking to the camp was Solar Cookers International's first large-scale refugee project, beginning in January 1995. Kakuma had considerable refugee turnover, but by 2004, when Solar Cookers International (SCI) concluded the project, the camp had tripled in size to nearly 90,000 refugees. Though rapid growth posed problems for assisting all those who wanted to solar cook, SCI ultimately served over 15,000 families. This project was one of the earliest to use the CooKit solar panel cooker to introduce solar cooking. The program also extended solar cooker technology to schools, especially primary school, through demonstrations, poems, songs and drama.
News
NEW: 

June 2021: Solar cookers and sustainable cooking equipment distributed in Nepal - With assistance from Solar Cookers International, approximately 300 people from especially vulnerable groups from communities in Kathmandu, Lalitpur, Bhaktapur, Kavre, Okhaldhunga, and Solukhumbu districts have received solar cookers, solar dryers, heat-retention boxes, and water pasteurization and safety equipment, as well as the necessary training. These locations in Nepal have limited local resources, and the new appliances help the recipients be better prepared for the challenges facing their communities. Read more in the SCI Summer 2021 Newsletter
April 2021: SCI named as finalist - Solar Cookers International has been named as a finalist in the Keeling Curve Prize for sustainable planet solutions. The award announcement of the ten programs selected for the prize is scheduled to be made 31 July 2021.
March 2021: The Solar Cookers International Order of Excellence annual award for 2020 has been given to the Republic of Kenya for including solar cooking in its Voluntary National Review (VNR) to track progress towards achieving the Sustainable Development Goals (SDGs). The award recognizes the most outstanding people and organizations whose sustained efforts have  contributed most to empowering people to cook food and pasteurize water with solar energy. 
December 2020: SCI presented on solar cooking's positive impacts for women and the environment at the United Nations Climate Dialogues virtual event - Even though the United Nations Climate Conference did not happen in person this year, SCI continued to raise your voice in support of solar cooking at the United Nations Climate Dialogues virtual event which took place on December 2, 2020. In collaboration with The Women and Gender Constituency, SCI discussed solar cooking's positive impacts for women and the environment. Watch video
November 2020: SCI shares successes at the ReEnergy Africa E-Summit - SCI's Executive Director Caitlyn Hughes discusses the impact of solar cooking around the world and shared success stories from Kakuma Refugee Camp, Kenya. Watch video
November 2020: Alan Bigelow, SCI's Science Director, presents at virtual Carnegie Science Center session "DARE to Solar Cook - The Physics of Cooking with Sunshine" - SCI's Science Director Alan Bigelow, Ph.D. spoke at the Carnegie Science Center for their event called Virtual Cafe Sci: D.A.R.E. to Solar Cook - The Physics of Cooking with Sunshine on November 2, 2020.  He spoke alongside SCI Global Advisor Mary Buchenic and SCI Associate Jennifer Gasser. Alan discussed the technical details of solar cooking and incorporating the science of materials and light optics. Mary and Jennifer shared their experiences promoting solar cooking STEM curricula and the collaborations they enjoy with colleagues in Haiti and around the world. Café Sci is the Carnegie Science Center program where anyone interested in science can get together in a virtual setting to discuss today's science issues with experts. Watch video.
October 2020: Solar Cookers International featured in Leaders magazine - Solar Cookers International was profiled in Leaders magazine, a publication dedicated to sustainable living in Indonesia. Highlights include a brief history of SCI, the importance of solar cooking, and SCI's plans to promote solar cooking in Asia. Read more...
August 2020: SCI hosts virtual UN Sustainable Development Goals event - Solar Cookers International (SCI), the Public-Private Alliance Foundation (PPAF) and Konbit pou Developman Commune Kote de Fer (KDCK) held a virtual Side Event showcasing solar cooking as a transformative approach in achieving the United Nations Sustainable Development Goals at the High Level Political Forum (HLPF) 2020. Video...
June 2020: PEP Update -  On a 19 June 2020 video conference, SCI Executive Director, Caitlyn Hughes and Science Director, Alan Bigelow, conducted a basic overview of the different types of solar cookers, explained the various parts of the Performance Evaluation Process (PEP) test station, and the history behind the process. They also shared results and lessons learned from conducting tests on specific solar cookers. You can view the presentation here: https://www.anymeeting.com/678-195-876/EA51D986844838
May 2020: Resource guide -  Solar Cookers International has assembled a number of resources in one location for easy access for interested users. SCI Download Resources includes links to:

Solar Cooking Economic Impact
Promotion Toolkit
Solar Cooking Basics
Adoption Program Evaluations
Publications, and more.

April 2020: Solar Cookers International published The Analysis of the Economic Impacts of Solar Cooking. The document explores that with approximately 3 billion people cooking over open fires, there is tremendous potential for countries to save money by avoiding the environmental and health costs associated with biomass cooking. If people relying on solid fuels for cooking switched to cooking with solar cookers even ¼ of the time, countries can save millions, and even billions, of dollars.
Read the report: The Analysis of the Economic Impacts of Solar Cooking
January 2020: Solar Cookers International featured in Physics World article and podcast - Solar Cookers International was featured in a Physics World article and podcast, Physics World Weekly, with a discussion about SCI's work and the benefits of solar cooking. Article... Podcast...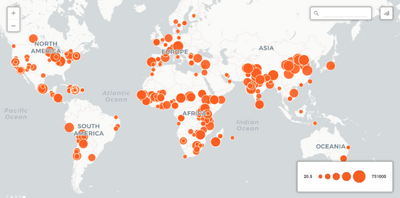 December 2019: Solar Cookers International presents solar cooking to Speaker Nancy Pelosi at COP25 - While attending the United Nations Climate Change Conference COP 25, SCI Executive Director Caitlyn Hughes and SCI Board Member Mike Paparian, had the opportunity to discuss the benefits of solar thermal cooking technology with Speaker Nancy Pelosi and Congresswoman Betty McCollum. More information...
December 2019: Attending the United Nations COP25 conference, Caitlyn Hughes, Executive Director of Solar Cookers International, explained the case for solar cooking. Watch video...
November 2019: SCI to exhibit and advocate at COP25 conference in Madrid, Spain - Solar Cookers International (SCI) will be advocating for increased adoption of solar cookers at the United Nations Climate Conference, known as COP25, in Madrid, Spain on December 2-13. We will be promoting the urgent need for solar cooking with influential government and NGO leaders from around the world. Solar Cookers International will have an exhibit booth during the first week of the conference (Monday December 2 through Saturday Dec 7th). SCI will also hold press conferences on Monday Dec 2, Wednesday Dec 4, Friday Dec 6, Monday Dec 9, and Wednesday Dec 11, each from 11:00 a.m. to 11:30 a.m. Everyone in attendance at COP is invited to visit SCI's exhibit booth and watch our press conferences. Press conferences will also be broadcast to the public by the United Nations, and everyone around the world is encouraged to watch. More information...
June 2019: Solar Cookers International opens new PEP testing center at the University of Nairobi, Kenya - SCI's PEP test allows manufacturers and consumers to know the cooking power of solar cookers without brand bias and to develop a baseline for comparison. PEP testing demonstrates to solar cooker users and investors the power, in watts, they can expect from a specific model of solar cooker. SCI PEP results are trustworthy because the PEP test is based on an internationally accepted protocol for testing and reporting solar cooker performance. SCI also has centers in Lalitpur, Nepal; New York, USA; and California, USA. Having global locations for SCI PEP testing centers is important to advancing the adoption of solar cooking worldwide and affirms SCI's role as the leader within the solar cooking sector. Local testing of solar cookers supports the regional economy, job growth and builds capacity in the sector. [2]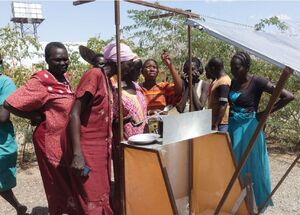 June 2019: Solar Cookers International has recently brought life-saving solar cooking to more than 300 people in the Kakuma Refugee Camp. Before you stepped in, women were often forced to sell their precious food rations for cooking fuel, putting their children at risk of malnutrition. If they dared to journey outside of the camp to collect firewood, they risked violence.
May 2019: 3.3+ Million Solar Cookers and Counting - Solar Cookers International's crowd-sourced impact map now shows there are 3.3 million solar cookers in use globally, directly impacting more than 11.8 million people. More information...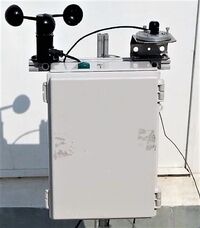 November 2018: SCI's Performance Evaluation Process (PEP) was named as a Finalist in the Massachusetts Institute for Technology (MIT) Climate CoLab "Energy Supply 2018" contest. Judges agreed that solar cooking is an "exciting new approach to tackling climate change-from reducing emissions to shifting public perception to pricing carbon." The MIT Climate CoLab is an online crowdsourcing platform of over 100,000 global members, sourcing proposals on climate adaptation, reducing emissions from buildings and transport, behavioral change strategies, etc. More information...
October 2018: Caitlyn Hughes has been hired as Executive Director of Solar Cookers International. Caitlyn has worked with SCI as Program Director and most recently as Interim Executive Director between July 1, 2018, and October 5, 2018. More information...
Publications
SCI Blog
Annual reports
Resources
Educational materials
Other documents
SCI Digest (Archive)
See SCI Digest.
Solar Cooker Review (Archive)
See Solar Cooker Review.
Articles in the media
Audio and video
Additional audio and video
Donating to SCI
See also
External links
Contact
Solar Cookers International (Map)
2400 22nd Street, Ste 210
Sacramento, CA 95818-2540
USA
Tel: +(1) 916-455-4499 or 916-455-4498
Email: info@solarcookers.org
Organizational website: http://solarcookers.org
Twitter: http://twitter.com/SolarCookersInt
Facebook: https://www.facebook.com/SolarCookers
Newsfeed: http://solarcooking.wikia.com/News
LinkedIn: https://www.linkedin.com/company/solar-cookers-international
US Tax Exemption ID: 68-0153141
References