Last edited:

20 November 2019

      

Solar Cookers International (SCI) helps lead global efforts to promote solar cooking. Solar cookers have no-emissions and use free solar energy accessible worldwide for cooking and water pasteurization. By spreading solar cooking knowledge and awareness through the Solar Cookers International Association and this wiki (as well as SCI's organizational website), SCI assists in the achievement of the 17 United Nations Sustainable Development Goals.
Tens of thousands of individuals and organization from all over the world have learned about solar cooking through SCI's advocacy, leadership, education resources, and information exchange network. SCI, based in Sacramento, California, USA is a 501(c)(3) nonprofit, non-governmental organization supporting and reporting on the work of hundreds of partner organizations and individuals in 138 countries.
SCI has consultative status with the United Nations Economic and Social Council (ECOSOC).
SCI sponsors the Solar Cooking Wiki (this site), an internationally recognized resource for solar cooking information.
SCI publishes the bi-weekly digital SCI Digest announcing solar cooking developments and key events throughout the world.
SCI won an Ashden Award in 2002 for their work with solar cookers in Kenya. In August 2006, SCI was the winner of the World Renewable Energy Award[1].
SCI's Worldwide Office is located in Sacramento, California, USA (Map).
In addition to its advocacy, leadership, research, and networking activities, SCI provides grant funding to pilot projects that focus on innovative processes that scale up solar cooking technologies in the regions of the world where the human and environmental needs are greatest.
Solar Cookers International is spearheading the solar cooker Performance Evaluation Process (PEP). Evaluation of the performance, user experience, and quality of solar cookers was identified as a high priority by the attendees of the 5th SCI World Conference in Sacramento, California, USA, 2014. The process and instrumentation was presented and demonstrated at the 6th SCI World Conference in Gujarat, India, January 2017.
If you would like to promote SCI's global work to introduce solar cooking technology to families around the world to improve health, quality of life, and the environment, please make a donation online or to the postal address below. The majority of SCI's funding comes from individual donors and foundations supporting social impact and environmental sustainability.
See SCI's website for detailed information.
Events
Most significant solar cooking projects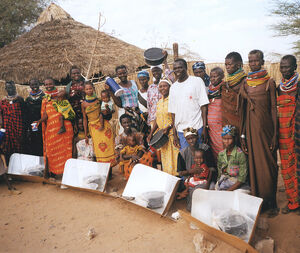 A refugee camp in Kenya was the first to receive a large scale solar cooking project - The Kakuma Refugee Camp was formed in 1972 when Sudanese refugees first arrived in Kakuma, Kenya. Introducing solar cooking to the camp was Solar Cookers International's first large-scale refugee project, beginning in January 1995. Kakuma had considerable refugee turnover, but by 2004, when Solar Cookers International (SCI) concluded the project, the camp had tripled in size to nearly 90,000 refugees. Though rapid growth posed problems for assisting all those who wanted to solar cook, SCI ultimately served over 15,000 families. This project was one of the earliest to use the CooKit solar panel cooker to introduce solar cooking. The program also extended solar cooker technology to schools, especially primary school, through demonstrations, poems, songs and drama.
News
November 2019: SCI to exhibit and advocate at COP25 conference in Madrid, Spain - Solar Cookers International (SCI) will be advocating for increased adoption of solar cookers at the United Nations Climate Conference, known as COP25, in Madrid, Spain on December 2-13. We will be promoting the urgent need for solar cooking with influential government and NGO leaders from around the world. Solar Cookers International will have an exhibit booth during the first week of the conference (Monday December 2 through Saturday Dec 7th). SCI will also hold press conferences on Monday Dec 2, Wednesday Dec 4, Friday Dec 6, Monday Dec 9, and Wednesday Dec 11, each from 11:00 a.m. to 11:30 a.m. Everyone in attendance at COP is invited to visit SCI's exhibit booth and watch our press conferences. Press conferences will also be broadcast to the public by the United Nations, and everyone around the world is encouraged to watch. More information...
June 2019: Solar Cookers International opens new PEP testing center at the University of Nairobi, Kenya - SCI's PEP test allows manufacturers and consumers to know the cooking power of solar cookers without brand bias and to develop a baseline for comparison. PEP testing demonstrates to solar cooker users and investors the power, in watts, they can expect from a specific model of solar cooker. SCI PEP results are trustworthy because the PEP test is based on an internationally accepted protocol for testing and reporting solar cooker performance. SCI also has centers in Lalitpur, Nepal; New York, USA; and California, USA. Having global locations for SCI PEP testing centers is important to advancing the adoption of solar cooking worldwide and affirms SCI's role as the leader within the solar cooking sector. Local testing of solar cookers supports the regional economy, job growth and builds capacity in the sector. [2]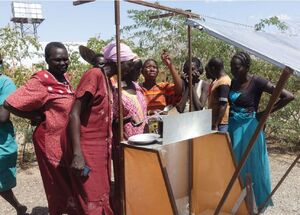 June 2019: Solar Cookers International has recently brought life-saving solar cooking to more than 300 people in the Kakuma Refugee Camp. Before you stepped in, women were often forced to sell their precious food rations for cooking fuel, putting their children at risk of malnutrition. If they dared to journey outside of the camp to collect firewood, they risked violence.
May 2019: 3.3+ Million Solar Cookers and Counting - Solar Cookers International's crowd-sourced impact map now shows there are 3.3 million solar cookers in use globally, directly impacting more than 11.8 million people. More information...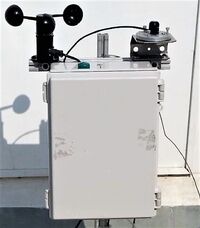 July 2018: SCI Science Director visits Haiti - Dr. Alan Bigelow worked in Haiti with SCI Associate Rose Bazile to share solar cooking technology and the Performance Evaluation Process. They discussed water pasteurization, types of solar cookers, and integration with biogas with University Notre Dame Hinche students, professors, and graduates during their Science Day presentation. They also worked with the local group Haitian Adolescent Girls Network (HAGN) to educate young girls about the benefits of using solar cooking for entrepreneurial opportunities.
May 2018: Solar Cookers International is now offering a service to measure the standardized cooking power of solar cookers (in Watts) at testing centers in Nepal, California, and New York, USA. SCI's performance evaluation process (PEP) uses a test station that automates the ASAE S580.1 protocol for testing and reporting solar cooker performance. The ASAE S580.1 protocol harmonizes with ISO/TC 285 standardization in the field of clean cookstoves and clean cooking solutions. Test results provide a single measure of thermal performance, so customers may compare different designs when selecting a solar cooker. The standardized-cooking-power specification for solar cookers is akin to the miles-per-gallon (or kilometers-per-liter) specification for automobiles, which helps guide consumer choice. With this testing service now available, SCI is keen to promote and partner with projects using solar cookers that have been tested according to SCI's PEP. SCI has posted some of the preliminary PEP result reports from its 2017 pilot study on the Performance Evaluation Process. SCI will post official PEP results as they emerge during the 2018 testing season. SCI welcomes manufacturers to have their solar cookers tested, even during the design and prototype stages of development to reduce the number of costly redesigns. Please contact SCI at info@solarcookers.org to arrange to have your solar cooker tested. To hear more about SCI's testing program, listen to an interview with SCI Science Director and Representative at the United Nations Alan Bigelow, Ph.D. See also Testing.
April 2018: Update on SCI project in Tanzania - Thanks to Solar Cookers International (SCI) supporters, 60 more women received solar box cookers, retained-heat baskets, and Water Pasteurization Indicators (WAPIs) in March. The solar box cookers were made locally by artisans in Tanzania, which supports the local economy. And local repairs and maintenance are available. The women received two days of training and cooked ugali, rice, meat, makande (maize mixed with beans), and vegetables. These are the foods this community eats. Locally made solar cookers that cook local foods; these solar box cookers are a good match for families in this corner of Tanzania. The trainers were women who were part of an earlier 2010 project and Phase 1 of the solar cooker project in 2016. Tapping the expertise of local cooks and trainers is an important part of making solar cooking a reality. This project is Phase 2 of the original SCI project that empowered 30 Tanzanian women with solar cookers in 2016. Results to date: As with Phase 1, the women in the community will use the Solar Cooking Adoption and Impact Survey, developed by SCI, to track the value that solar cooking is having on their lives. In Phase 1, the women were collectively able to save 556 kg (1223.2 lbs) of charcoal (28% savings), 1,955 bundles of wood (24% savings), and 25% of their fuel costs, in only 10 months.
April 2018: Solar cooking in Puerto Rico after Hurricane Maria - In February and March, MSA Renewtech Foundation (India) and the United Clergy Task Force (UCTF) (US) responded to requests from ten faith-based communities in rural Puerto Rico for community-sized solar cookers. With private funding, coordination by UCTF, training by Mr. Pranav Gadhia of MSA Renewtech, and bilingual technical instructions, curriculum, and survey tools from Solar Cookers International (SCI), ten faith congregations of more than 100 people each are being trained in the assembly and use of the PRINCE-40 parabolic dish solar cooker in rural Puerto Rico. In late April, Ms. Anne Patterson, an SCI Global Advisor, will deploy 25+ Solavore solar ovens from Punta Santiago to the Toro Negro rain forest and Morovis. Most of these places are still largely without power and families spend a lot of money on fuel for generators. Monitoring and evaluation are incorporated into this project to track results. The evaluation tools used in these projects can be downloaded from http://www.solarcookers.org. Also available in Spanish from SCI.
March 2018: Alan Bigelow, Julie Greene, Caitlyn Hughes, and Justin Tabatchnick reported on global solar cooking gains, including developments with the Performance Evaluation Process (PEP), data sharing, and global solar cooker distribution figures at CONSOLFOOD 2018, (View the presentation)
February 2018: Performance Evaluation Process featured in Public Private Alliance Foundation newsletter - Solar Cookers International's Performance Evaluation Process (PEP) was featured in the February 9th, 2018 issue of the Public Private Alliance Foundation (PPAF) newsletter. PPAF states that "the PEP provides public accountability among manufacturers and provides users (individuals, government agencies, etc.) with information they need to select appropriate solar cooking devices. The units are low cost and portable, with open source components. Testing stations have been set up so far in New York, California and Nepal." Read more...
December 2017: Solar Cookers International is a FINALIST in the MIT Climate CoLab "Energy Supply" contest - The MIT Climate CoLab is an online crowdsourcing platform of over 90,000 members from around the world, sourcing innovative proposals on how to address climate change. Topic areas range from climate adaptation, reducing emissions from buildings and transport, behavioral change strategies, and many more. After reviewing nearly 300 proposals over 2 evaluation rounds, judges chose SCI as 1 of 5 finalists in the 2017 Energy Supply contest, selected for providing an "exciting new approach to tackling climate change — from reducing emissions to shifting public perception to pricing carbon." From now until January 15, 2018, you can support SCI by casting your "Popular Choice" vote on the MIT Climate CoLab website. The proposal with the most votes will be named as the Popular Choice Winner, and, along with the contests' Judges Choice Winners, will be eligible for a $10,000 Grand Prize. And here is the link to SCI's proposal: https://www.climatecolab.org/contests/2017/energy-supply/c/proposal/1334030
Publications
Annual reports
SCI Digest (Archive)
See SCI Digest.
Solar Cooker Review (Archive)
See Solar Cooker Review.
Educational materials
Other documents
Articles in the media
Audio and video
Additional audio and video
Donating to SCI
See also
SCI Digest - An electronic newsletter published by Solar Cookers International
External links
Contact
Solar Cookers International (Map)
2400 22nd Street, Ste 210
Sacramento, CA 95818-2540
USA
Tel: +(1) 916-455-4499 or 916-455-4498
Email: info@solarcookers.org
Organizational website: http://solarcookers.org
Twitter: http://twitter.com/SolarCookersInt
Facebook: https://www.facebook.com/SolarCookers
Newsfeed: http://solarcooking.wikia.com/News
LinkedIn: https://www.linkedin.com/company/solar-cookers-international
US Tax Exemption ID: 68-0153141
References
Community content is available under
CC-BY-SA
unless otherwise noted.