Last edited:
2 August 2013
After completing successful projects in Nairobi and Nyanza Provinces, Solar Cookers International officially and legally closed its East Africa Office in 2012. Solar Cookers International Worldwide Office, based on Sacramento, California USA, continues its solar cooking activities in Kenya through collaborative partnerships with community-based organizations. The material below regarding activities conducted out of SCI's former East Africa office is provided for historical reference only.
This article is about an entity that either no longer exists or that may no longer be active in solar cooking promotion. It is retained here for archival purposes.


For more than a decade, the Solar Cookers International East Africa Office managed solar cooker field projects that served tens of thousands of families in various East African countries.
Partners 2005-2010
(Numbers represent solar oven counts)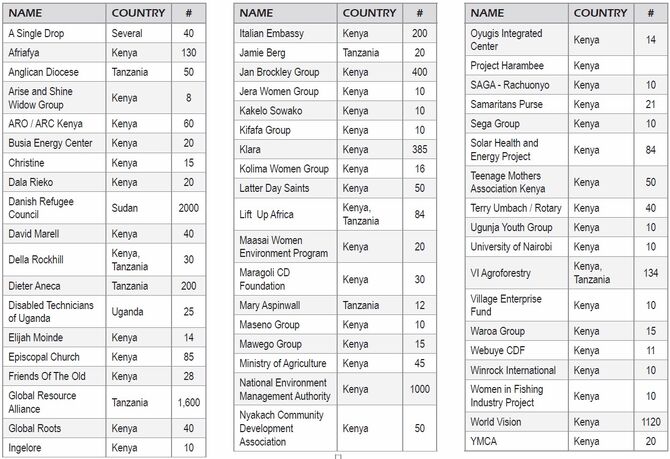 News and recent developments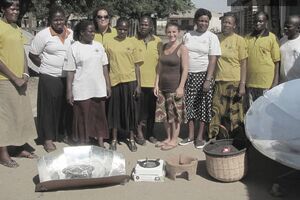 March 2011: Light Gives Heat visits Solar Cookers International demonstration in Kisumu, Uganda - Light Gives Heat is a non-profit promoting grass-root economic sustainability and creative endeavors in Africa. Ugandan Director, Amberle Reyes and a staff member recently visited a demonstration of sustainable cooking methods sponsored by Solar Cookers International. It included traditional fixed and portable earthenware stoves, called upesi in Kiswahili, which more efficiently use charcoal or wood as fuel, CooKit solar panel cookers, and Heat-retention cooking baskets. They were most interested in solar cookers and fireless baskets. Locals were initially attracted to solar cooking not because of the possibility of saving money by buying less fuel, or the health benefits of indoor smoke reduction, but because solar cookers can bake cakes. Cake is seen as a "rich person food", and LGH saw an entrepreneurial opportunity: Cakes are sold for weddings and birthdays. Most people cannot make high quality cakes because of the irregular temperatures of charcoal and wood stoves, but solar cookers bake perfect, moist cakes with very little worry of burning or overcooking. At the end of March, SCI staff will bring CookIts and fireless baskets to Jinja and demonstrate first-hand their effectiveness to all their employees. Light Gives Heat has received an 8,000 USD grant to supply their Uganda Artisans with these solar cookers. More Information and photos...
January 2011: African solar cooking partnership project visited by Dr. Jill Biden, wife of the U.S. Vice President. Lift Up Africa is a strong believer that partnering and sharing resources is a key to successful implementation and sustainability. This project was designed to introduce solar cooking and related technologies to ten communities in Kenya. The partnership relied on Africa HEART, a Kenyan-based NGO recently visited by Vice President Biden's wife Dr. Jill Biden, to identify three community groups in each district, the fifty trainees in each community, and training venues. Africa Heart covered expenses and handling logistics related to transport for the solar cooking equipment, distribution venues, and follow-up on usage and other needs. Solar Cookers International East Africa Office (SCI-EA) provided the trainers and supplies, written reports, and conducted the training. Lift Up Africa provided a grant to cover direct expenses related to equipment purchase and SCI-EA's travel, partnership connections, and worked with Africa Heart on follow-up and project evaluation. This project was a success and 150 families, approximately 1,200 people, have benefitted from their new training and solar cooking equipment. This project demonstrates the value of independent organizations working together, each providing their area of expertise, to achieve substantial results. Hopefully, this will be a continuing pattern for projects initiated by members of the Solar Cookers World Network.
November 2010: (Emuhaya) Early this year, Solar Cookers International East Africa Office, using funds from Goldman Foundation, piloted the Safe Water project in Emuhaya District. This involved identifying vulnerable families and making them aware of the status of their water, by testing their water source, interpreting the results with them and then training them how to make it safe for drinking. One hundred households were selected by the community to be part of the pilot project. Safe water storage is becoming part of life for these pilot families, and a reduction in water borne diseases as well as more productive lives by the people of this community is expected. Another one hundred families are in the process of receiving their water treatment training.
November 2010: (Nyanza) Since HABITAT invited Prof. Bob Metcalf to train its staff on point source water testing using the portable micro lab (PML), the community of Bondo have become a sensitive lot in regards to their drinking water. It is common for community members to ask for a testing kit so that they can be sure their water source is safe. Councellor Opondo Jabungu of Nyawita Ward, has been selling piped water to the community – all believing that it was safe – alas! Recently he decided to test it and to their dismay, there were 17 ecoli, counts in a 1 mil petrifilm, too dangerous to drink. He decided to call for a meeting of the users in his home and educate them to treat the water. The participants, even though they were using piped water, found their children were often sick, having diarrhea and vomiting - a clear case of unsafe water. This is a great breakthrough, it is a case of adoption and a call for indicated that behavior change. As an elected leader, this councillor is leading from the front, enlightening his people and urging them to treat their water, using water guard, and solar pasteurization.
November 2010: Leonida Bodo, an energy entrepreneur, in Kawino location of Kadibo division says, "The message is getting home! We have been on our toes, talking, discussing and even singing about the dangers of smoke and in – door air pollution and offering alternative ways and technologies that reduce or eliminate indoor air pollution! We are offering a basket of choices to the communities: solar cookers, fireless cookers, gas, rocket stoves, upesi stoves with eve spaces, KCJs and now we even have an ethanol stove – moto poa!" "Beyond these we also offer for sale the d.light, a solar lamp that charges during the day and is replacing kerosene lamps for use at night while also charging cell phones" She says that awareness is very high in the area. During the last season, many parted with grains in exchange for an improved stove and eve space. This was a worthy sacrifice. Through behavior change and technology adoption, these villages are tackling global warming issues while reaping health benefits. USEPA in partnership with Solar Cookers International East Africa Office and Practical Action, are targeting 3,000 households by the end of 2010.
July 2010: Awareness is rising amongst the residents of Machakos District, in the Eastern Province of Kenya. that one can cook using direct solar energy. In July, during the annual agricultural fair, the Mayor of Machakos witnessed the sun cooking and tasted the food, he exclaimed; "Wonders will never cease - you mean to tell us that all these foods were cooked out here in the sun without any fire or smoke!?" "Definitely Sir." replied Stella, the Solar Cookers International project Officer of the province. The guest of Honor was the Assistant Minister for Agriculture, Hon. Mututho, who on seeing the cooked food said "This would be very brilliant for the IDPs in Naivasha who are causing havoc on the environment."
October 2009: Kenya: Entrepreneurs Cashing in on Green Campaign - Business Daily (Nairobi)
February 2009: The photo on the right shows a community group in the Siaya District of western Kenya that just had a demonstration by the Solar Cookers International East Africa Office. The demo was given in a local market place with local authority figures present and these wonderful "guardians" of nearly 350 orphans. More information...
2008: Moto uko wapi? "Where is the fire?" This is the question asked by people experiencing solar cooking and solar cooked foods for the very first time. Dieter Aneca, from Belgium, and Calvin Chikawe assisted by two local women are causing a stir solar cooking in Morogoro, Tanzania. Deiter writes; "In 2007 I finished my studies in Belgium in the environmental sector. Before coming to Tazmania, I came in contact with Sol Suffit, who have solar cooking projects in Senegal. They gave me two cookers to use in Tazmania, to test solar cooking myself. Following up with Sol Suffit, we decided to start a project here and named it Sola Sufuria. In this project we plan to make solar cookers available in and outside of the Morogoro region. Solar Cookers International (EA) has assisted us in sourcing for reflective aluminum foil papers and plastic cooking bags as well as leading us to a supplier for the correct glue. We are grateful to SCI (EA) and will continue to work with them as we plan for a permanent production center to meet the growing demand.
Fall 2006: The Kenyan government is gradually warming up to the potential of solar energy in complementing conventional energy sources. In a two day fair at the KICC, the government called together solar thermal and solar photovoltaic promoters as well as government officers from the districts to discuss the possibilities. SCI (EA) gave a short presentation emphasizing that solar energy does not only heat water and give light but that it also cooks! Outside the conference center, a big solar cooking exhibition stole the show. Seeing water boil and foods cook and tasting a solar-baked cake was a dramatic confirmation! The Minister for energy himself was on hand to cut the solar Valentine cake and try his hand at cooking naturally! Three more solar energy fairs were planned for Central, Coast and Nyanza provinces later in the year.
Newsletter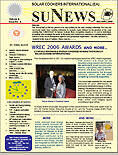 suNews was published twice a year by Solar Cookers International East Africa Office:
See also
Contact
Community content is available under
CC-BY-SA
unless otherwise noted.