Jurassic World: Dominion Dominates Fandom Wikis - The Loop
Play Sound
2018
[
]
October 2018: Solar Cookers International held a solar oven demonstration at the San Diego Clean Energy Fair. The event also featured several clean energy-related workshops and presentations on topics including solar energy, energy storage, and electric and hybrid vehicles. Read more...
July 2018: Julie Greene steps down as Executive Director and Caitlyn Hughes becomes interim Executive Director.
July 2018: SCI Science Director visits Haiti - Dr. Alan Bigelow worked in Haiti with SCI Associate Rose Bazile to share solar cooking technology and the Performance Evaluation Process. They discussed water pasteurization, types of solar cookers, and integration with biogas with University Notre Dame Hinche students, professors, and graduates during their Science Day presentation. They also worked with the local group Haitian Adolescent Girls Network (HAGN) to educate young girls about the benefits of using solar cooking for entrepreneurial opportunities.
May 2018: Solar Cookers International is now offering a service to measure the standardized cooking power of solar cookers (in Watts) at testing centers in Nepal, California, and New York, USA. SCI's performance evaluation process (PEP) uses a test station that automates the ASAE S580.1 protocol for testing and reporting solar cooker performance. The ASAE S580.1 protocol harmonizes with ISO/TC 285 standardization in the field of clean cookstoves and clean cooking solutions. Test results provide a single measure of thermal performance, so customers may compare different designs when selecting a solar cooker. The standardized-cooking-power specification for solar cookers is akin to the miles-per-gallon (or kilometers-per-liter) specification for automobiles, which helps guide consumer choice. With this testing service now available, SCI is keen to promote and partner with projects using solar cookers that have been tested according to SCI's PEP. SCI has posted some of the preliminary PEP result reports from its 2017 pilot study on the Performance Evaluation Process. SCI will post official PEP results as they emerge during the 2018 testing season. SCI welcomes manufacturers to have their solar cookers tested, even during the design and prototype stages of development to reduce the number of costly redesigns. Please contact SCI at info@solarcookers.org to arrange to have your solar cooker tested. To hear more about SCI's testing program, listen to an interview with SCI Science Director and Representative at the United Nations Alan Bigelow, Ph.D. See also Testing.
April 2018: Update on SCI project in Tanzania - Thanks to Solar Cookers International (SCI) supporters, 60 more women received solar box cookers, retained-heat baskets, and Water Pasteurization Indicators (WAPIs) in March. The solar box cookers were made locally by artisans in Tanzania, which supports the local economy. And local repairs and maintenance are available. The women received two days of training and cooked ugali, rice, meat, makande (maize mixed with beans), and vegetables. These are the foods this community eats. Locally made solar cookers that cook local foods; these solar box cookers are a good match for families in this corner of Tanzania. The trainers were women who were part of an earlier 2010 project and Phase 1 of the solar cooker project in 2016. Tapping the expertise of local cooks and trainers is an important part of making solar cooking a reality. This project is Phase 2 of the original SCI project that empowered 30 Tanzanian women with solar cookers in 2016. Results to date: As with Phase 1, the women in the community will use the Solar Cooking Adoption and Impact Survey, developed by SCI, to track the value that solar cooking is having on their lives. In Phase 1, the women were collectively able to save 556 kg (1223.2 lbs) of charcoal (28% savings), 1,955 bundles of wood (24% savings), and 25% of their fuel costs, in only 10 months.
2017
[
]
September 2017: Webinar: Solar Cooking Sector Updates Refugee Working Group Call - SCI sponsored the refugee working group phone conversation on 21 September as part of the Sector Updates webinar. Godfrey Mawira submitted a summary of current projects in Kenya from the Eco-mandate Group. Eco-mandate efforts in Kenya - Godfrey Mawira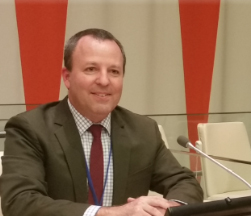 September 2017: Dr. Alan Bigelow addresses the UN - Alan reached a large audience on 25 August in New York with his message to learn, support, and partner with the solar cooking sector. We need to take advantage of this zero-emission technology, and scale the solar cooking sector together.
July 2017: Update from the SCI UN Team - "Too slow," I thought, "as I listened to sustainable development presentations on the SDGs at the UN #HLPF2017 this week. Presenters talked about indicators, ecosystems, and metrics — all important to track progress on the global sustainable development goals. But for the sake of our health and our planet, we need to act effectively. Fast. When we follow sustainable practices, we thrive. So many people want to improve the way we use our global resources. These are exciting changes; they improve our health, our happiness, and our environment. We have the creativity, knowledge, and drive to make these transitions. Solar cooking is of course my favorite step to include sustainable energy actions into our daily lives. Not only is solar cooking my personal favorite sustainable activity, solar cooking helps achieve all 17 SDGs. Compared to other technology sectors, our solar cooking sector is small. Our compact size means that we are nimble and highly connected to each other. We can dream big, test small, and iterate, iterate, iterate. When we share our results, failures, and successes, we speed up the absorption of solar cooking into our many cultures. The SCI Digest is designed to help you, our solar cooking partners and stakeholders, share your knowledge, connect to partners, and commit to action. Learn more ways you can help accelerate the global solar cooking movement in this and every edition of the SCI Digest. – Julie Greene, Executive Director and SCI Digest Editor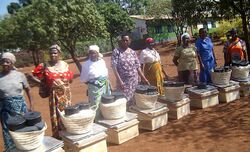 July 2017: Solar Cookers International is partnering with local organization Macedonia Ministry to provide 90 women with solar box cookers and training. Macedonia Ministry was recommended by project expert Jack Anderson who has worked with Macedonia Ministry on solar cooking projects previously. The women will meet once a month to discuss solar cooking and track their fuel savings using the recently created Solar Cooking Adoption and Impact Survey. The women also received heat retaining baskets. Rose Shangarai, one of the leaders in Rau village where the project is taking place, learned about solar cooking from Solar Cookers International's Order of Excellence Recipient Darwin Curtis. The first phase involved 30 women and the second phase is planned to involve 60 women. Sperancea Gabone, the Macedonia Ministry leader of this project, will exchange ideas on developing a solar cooker business with another solar cooking partner in Uganda. Sperancea Gabone and Caitlyn Hughes (SCI Program Manager) presented results from this project at the 6th Solar Cookers International World Conference 2017 in India.
July 2017: The United Nations is where the world gathers. SCI's advocacy team will work to include clean solar cooking solutions in the SDG Voluntary National Review (VNR) documents at the High Level Political Forum 10 – 19 July 2017 at United Nations, New York, USA. More than 40 nations are reviewing these documents that show progress toward achieving the 17 Sustainable Development Goals. Adopted in 2015, the global community is eager to begin seeing and measuring progress toward these 17 global development goals. Twelve percent of global air pollution is caused by cooking fires. This is the moment to provide the evidence to many nation leaders that solar cooking can help reduce global air pollution. SCI's advocacy plan includes seizing input opportunities to the VNRs, inputs through Major Groups, social media, media, networking and presenting at Side Events. SCI's advocacy team for this 11-day event will include SCI Global Advisor Dr. Mrs. Janak Palta McGilligan, SCI Science Director Dr. Alan Bigelow, SCI Executive Director Julie Greene, SCI board members Wyldon Fishman and Mike Paparian, and volunteer UN reps Ernestina Williams, Liliya Pinkasov, Jannis Jakob Buerger, Prabhat Supekar, Choudhury Ahmed, and P. A. Gallett. If you will be in New York 10 – 19 July 2017 and would like to be part of the advocacy team, contact info@solarcookers.org.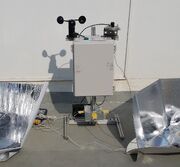 June 2017: Solar Cookers International (SCI) launches pilot solar cooker testing centers in California and New York - The purpose of this pilot project is to check the repeatability, reliability and reproducibility of results from SCI Performance Evaluation Process (PEP) testing stations for solar cookers, irrespective of location. SCI's pilot testing centers are located at different latitudes and at different elevations. The two locations also experience different weather conditions. The solar cookers, the cookware and the testing instrumentation, however, are the same at both locations. This pilot project is testing sets of three types of solar cookers: reflective-panel cookers, box ovens and parabolic reflectors. The PEP results provide cooking power measured in Watts, which is only one of many ways to evaluate solar cooker performance. In June, weather conditions at SCI's pilot testing centers are well suited for testing solar cookers according to the ASABE S580.1 protocol for Testing and Reporting Solar Cooker Performance. This protocol requires that outdoor ambient temperature must be between 20 - 35 °C (68 - 95 °F). This temperature range is generally available at both SCI pilot testing centers between the vernal (spring) equinox and the autumnal (fall) equinox. Testing days within the required temperature range should also be clear days with consistent solar energy. SCI welcomes others to join this pilot solar cooker testing project to validate the reproducibility of the SCI PEP testing stations. By using the same instrumentation, results have a consistent format for data comparison. Potential project partners can access the assembly manual for the SCI PEP testing station, available as open-source content online at SCI's PEP web page. To join SCI's pilot solar cookers testing project, email info@solarcookers.org
May 2017: Contribute your data: Drive solar cooking results - Solar cooking contributes to long-term progress from cleaner, more efficient, sustainable cooking solutions worldwide. It is crucial to convey the positive health, economic, and environmental impacts of solar cooking to government agencies and other stakeholders. To help build this case, SCI is reaching out to all solar cooking partners. SCI invites your input in the form of data on baseline information, number and type of solar cookers, number of years of the project, location, outcomes, etc. With your help, we can work to include solar-thermal cooking in national energy and sustainability plans. You provide:
Number of solar cookers
Type
Location
Time period
Distributed
Sold
Manufactured
Submit your solar cooking data by filling out a simple form on the Solar Cookers International website or email info@solarcookers.org.
May 2017: Haiti: Response to call for data - SCI thanks all who have replied to the call for data needed for advocacy for solar cooking in Haiti. Nine responses were received from the USA, Nepal, Canada and Chile. Combined with SCI's research thus far, the total number of solar cookers deployed in Haiti is 9,283. SCI will submit its feedback to the Global Alliance for Clean Cookstoves by 15 May 2017. At stake is whether solar cooking will be part of the Action Plan for the Transformation of the Cookstoves and Fuels Market in Haiti. If you and/or your organization has been involved with solar cooking projects in Haiti, SCI would like to hear from you. SCI welcomes your data on baseline information, number and type of solar cookers, number of years of the project, location, outcomes, etc. Please submit your Haiti data to SCI by 10 May 2017 at info@solarcookers.org.
April 2017: United Nations update - Cooking is now one of four main topics in the Sustainable Energy for All (SEforALL) Global Tracking Framework (GTF) — a shift to high-level visibility for cooking. GTF launched last week at a three-day SEforALL meeting in Brooklyn, New York, USA and was attended by SCI's science director, Dr. Alan Bigelow. Online version of GTF is available at http://gtf.esmap.org/
April 2017: SCI closes its online store - When SCI opened its doors in 1987, there were few places one could buy a solar cooker. In 2017, with growing demand for solar cookers and growth in solar cooker manufacturing worldwide, there are more ways for people to buy solar cookers than ever before. Therefore, SCI will close its online store in the autumn of 2017 to focus on crucial programs that will promote the global solar cooking industry. SCI will continue to build support and work with manufacturers and vendors as partners together to achieve SCI's mission: to solve inadequate household energy facing nearly three billion people on our planet.
April 2017: Solar Cooking Social Campaign - Help celebrate SCI's 30th anniversary and show the world how you solar cook. Send a short video that is less than 30 seconds long, and say your name, what country you live in, and how you solar cook. Email your video files to info@solarcookers.org. The videos will be combined into one to demonstrate the global impact of solar cooking. See an example video by SCI Vice President Monica Woods.
March 2017: SCI is nominating a team of solar cooking experts for the UNHCR Energy Expert Roster to provide solar cooking consultancy to refugee camps.
January 2017: Several important commitments grew from the 6th SCI World Conference 2017 for solar cooking in camps for refugees and internally displaced persons. After Solar Cookers International (SCI) led discussions with experts and those implementing solar cooker projects in Bhutan, Nepal, Chad, Uganda, and many other locations, several plans and commitments occurred: 1) SCI formed a refugee working group to strategize for more solar cooker project implementation in camps and informal settlements; 2) A new partnership formed, leveraging the skills of a crowdfunder with on-the-ground experience in refugee settlements in Uganda; 3) A strategy to educate humanitarian aid donors who choose solar cooking for camps; 4) A data-driven target for solar cooker interventions to decrease wood fuel use by 10% (data indicate that solar cookers can save 40-50% of the wood fuel supplied to camp residents).
January 2017: Solar Cookers International (SCI) connected five organizations with solar cooker restaurant experience at its 6th SCI World Conference 2017. Said Rocio Maldonado: "Pierre's experience with a solar cooker restaurant in France will be very useful to us in Bolivia." Representatives from several countries expect to create guidelines for starting solar cooking restaurants, which they will share with international partners.
2016
[
]
December 2016: Solar Cookers International Executive Director explains the importance of solar cooking 
October 2016: Julie Greene, SCI Executive Director, was nominated for the Outstanding Women Leaders Award for Vision by the National Association of Women Business Owners, Sacramento Valley. More info...
October 2016: Solar Cookers International joined Peace Boat Int'l to demonstrate solar cooking in New York, NY on 20 October 2016.
September 2016: Kenyan households receive CooKit solar cookers -  Solar Cookers International will empower another 1,000 households near Lake Victoria, Kenya, with solar cookers by April 2017, thanks to the support of the Erik E. and Edith H. Bergstrom Foundation. This will bring the total number of solar cookers distributed in the Lower Nyakach to 2,406 since 2013.
August 2016: At its annual meeting on November 20, 2015, the S.T.E.V.E.N. Foundation board assessed the results of its major project for the year: free distribution of up to 20 square feet of aluminized Mylar plastic film, also with shipping free of charge in USA. With our own publicity and help from Solar Cookers International, we received dozens of requests, and were able to send out 32 rolls of the plastic, to just about every corner of the country.
April 2016: Janak McGilligan has been appointed to the Solar Cookers International Advisory Council. SCI noted; "Your depth of knowledge and considerable contributions to the global understanding of solar thermal and related technologies is respected worldwide." - The Free Press Journal
February 2016: Solar Cookers International releases its Annual Report 2015.
January 2016: The United Nations recently accepted Solar Cookers International's written statement to the Commission on the Status of Women. SCI is urging the World Bank to replace fossil fuels and electricity with solar energy as true modern fuel. In the spirit of the December 2015 Paris Agreement, the world is shifting the way we think about energy. An abundant, sustainable energy source is available at our fingertips. Solar Cookers International relies on your support to help solar cooking to become 'the way people cook'. Visit SCI's website to view the full statement.
2015
[
]
Receive the SCI Digest - The digest is an approximately monthly email newsletter with relevant updates regarding the global solar cooking community. It includes feature articles on topical solar cooking issues; grant, employment, and volunteer opportunities; upcoming event information; advocacy efforts at the United Nations, Solar Cookers International Network partners' projects; tech talk, and more.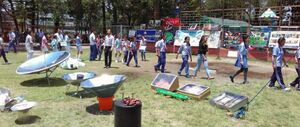 May 2015: SCI accounces an open position:
Director of Communications
The ideal Director of Communications will ensure that Solar Cookers International is viewed as the primary source, disseminator, and conduit of information within this diverse global network and constituent base. Reporting to the Executive Director, and working closely with a senior peer group, the Director of Communications will set and guide the strategy for all communications, website, and public relations messages and collateral to consistently articulate the mission of Solar Cookers International (SCI). This is a full-time, career position for the worldwide office of Solar Cookers International, located in Sacramento, California.
April 2015: Solar Cookers International has produced a new video called The Solar Cooking Solution which explores how solar cooking can help minimize deforestation, improve the health of those who cook indoors with traditional cook stoves, and reduce reliance on non-renewable fuels, specifically in developing countries. Watch The Solar Cooking Solution.
2014
[
]

April 2014: Afzal Syed wishes to report that he has received Verizon's Employee Environmental Excellence Award, for his volunteer work for starting recycling at Dar Alnoor mosque in Manassas,Virginia, USA, and for voluteering to promote solar cooking. Thanks go out to the congregation at Dar Alnoor, members of Solar Cooking International, Solar Household Energy, STAR TIDES at NDU, and family and friends for their support.
March 2014: Pat McArdle was interviewed for the feature story in this month's edition of the TIDES (Transformative Innovation for Development & Emergency Support) newsletter. She describes her role, and that of Solar Cookers International, to introduce solar cooking to, as Pat puts it, "people in sun-rich countries in the developing world who were running out of wood to burn." Solar cooking was unknown in this part of the world at the time. Many of the early projects were started in the late eighties. She also explains how solar cooking is a key component of the practical integrated cooking method. Read the interview...
2013
[
]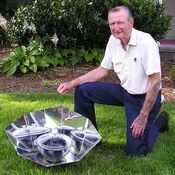 Darwin Curtis receives SCI Order of Excellence 2013 - In the 1980's, Dar Curtis made his own solar box cooker from SCI instructions in the Sonoran Desert. Inspired, he began volunteering for Solar Cookers International. Together with SCI volunteer Louise Meyer, they created a new model of solar cooker: the HotPot. Together with Louise, Dar cofounded Solar Household Energy, Inc., (SHE), which is a public charity dedicated to introducing solar cooking where it can add quality to life and alleviate stress on the environment. Today, Dar works with SHE in developing and demonstrating the effectiveness and practicality of solar cooking technology, as well as training thousands of solar cooks.
September 2013: Inspiration from Solar cookers International fosters a CooKit introduction project in Malawi - Claudia Sansone, whose interest in solar cookers began when she met with current Solar Cookers International board member, AJ Lederman, and then SCI board member Pat McArdle, at a UN Commission on the Status of Women in New York in 2011. Sansone says that after she read McArdle's novel Farishta, she was convinced that solar cooking could be successfully introduced in Malawi. With guidance from SCI executive director Julie Greene in Sacramento, California, USA, Sansone purchased several CooKits. She used these cookers to make templates, and then produced a number of the solar panel cookers to distribute. Traveling with her family to Malawi, she hosted classes and demonstrations on solar cooking with the CooKits. With a friend, she taught the women at Elizabeth Chikoya's Women's Development Center and members of the Gogo Grandmothers how to make more solar cookers with locally available materials. Read more at: Malawi and Solar Cookers International
August 2013: Partnering in Nepal to promote integrated cooking Solar Cookers International began a partnership with the Foundation for Sustainable Tchnologies (FoST), in Nepal in August 2013. Like SURE and FOTO, FoST benefits stressed families living in environments that are deforested. The FoST program empowers single mothers, and children in orphanages, in Kthmandu and Lalitpur with skills to make and use solar cookers, dry foods with solar cookers, retained-heat cooking, and manufacture of fuel briquettes from biomass wastes to use when the sun isn't shining.
July 2013: Julie Greene, SCI Executive Director, interviewed on The Renewable Energy Hour - Julie Greene discusses Solar Cookers International's mission and the effect of solar cooking in developing countries. Visit the show page or listen to the interview.
June 2013: A roundtable discussion helps smaller organizations to share ideas - Julie Greene, the Executive Director of Solar Cookers International, took part in a virtual roundtable discussion on May 30th with leaders from three other organizations, to share ideas ranging from communication techniques to fundraising approaches. Even though the groups have different missions they face similar hurdles getting their message out. Julie describes how solar cooking can help solve the mostly unrecognized problem of respiratory illness faced by the three billion people on the planet cooking over open fires. Often their cooking takes place indoors with little or no ventilation. Listen to the roundtable discussion.
May 2013: Safe water packages helping in Kenya - Solar Cookers International released information on the their latest efforts to offer safe water packages to low-income families in Kenya. The package contains all the necessary components to use the integrated cooking approach, which means using the solar panel cooker to heat water and kill pathegins when it is sunny, and use an efficient fuel stove when it is not. A heat retention basket is included to keep cooked food warm, and to extend cooking times. Working with their partners, who provide the training and follow-up, they have distributed 212 safe water packages from November 2012 through April 2013. These packages have provided over 1,000 people a virtually cost free way to maintain a healthy water supply and prepare their meals. SCI has set a goal to increase the number of packages they fund from 35 per month to 100 per month through the fall of 2013. Please consider donating to SCI to help reach this goal.
April 2013: Again, SCI wishes to thank the many volunteers that have recently provide support. Read more about upcoming events and requests in the SCI Volunteer Newsletter, April 2013. We are looking for volunteers to demonstrate solar cooking at events in the Sacramento, CA area. There have been requests for solar cooking demonstrations, but not enough trainers to meet the need. julie@solarcookers.org
January 2013: SCI Executive Director and SCWNet Administrators attend the 2013 ETHOS Conference - Julie Greene, SCI Executive Director, and Tom Sponheim and Paul Hedrick, SCWNet Administrators, attended the recent ETHOS Conference in Bellevue, Washington, USA. The national conference is held to exchange design technologies and promotion strategies for fuel-efficient wood and biomass cookstoves. It is encouraging that there seems to be more acceptance of solar cooking in this traditionally fuel-burning cookstove community, and that combining various cooking approaches will ultimately help more people and the environment. Julie was asked directly if Solar Cookers International would be interested in preparing a presentation for next year's conference.
2012
[
]
December 2012: SCI Executive Director Julie Greene gives TED Talk on the promise of solar cooking
November 2012: "Anywhere under the Sun" is a recently released solar cooking eBook featuring recipes from around the world. Heather Stevens, Australian solar enthusiast and editor of the book invited solar chefs from around the world to submit their favorite recipe, photos and comments on solar cooking. The book is a visually stunning and comphrehensive, with recipes from around the world. The book can be downloaded as an eBook for $1.99(AUD) from http://www.thesunskitchen.com. 100% of the sale price is donated to Solar Cookers International to assist with their work encouraging solar cooking in the developing world.
Former SCI board member Pat McArdle is interviewed on Emerald Planet - During the interview Pat McArdle discusses the history and mission of Solar Cookers International, the importance of increasing access to solar cooking technology, Bob Metcalf's Portable Microbiology Laboratory for testing water in remote locations, the work of Jewish World Watch in Chad, and more.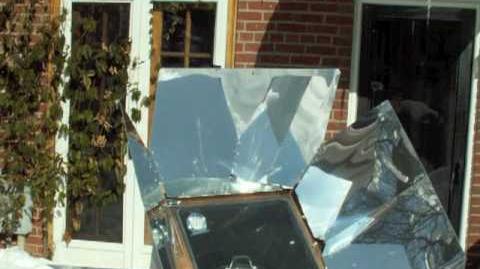 October 2012: Recent natural disasters abound: Bangladesh floods and landslides, June 2012; Assam floods July, 2012; Haiti floods and mudslides August, 2012; India floods September, 2012; Vietnam, Philippines, Southern China typhoon, October 2012; Eastern United States hurricane October, 2012. All of these natural events disrupted people's lives, even changing them forever. In the recovery stages after natural disasters, people's basic needs don't change: they still need clean water, food, safety, and shelter. In the bleakest situations, solar thermal power can begin to meet two important needs: a solar oven can pasteurize water and cook food. If you are an experienced solar cook, please contact people in your circle of influence in these affected areas. Share your knowledge of solar cooker construction and use with people who need it most. This YouTube video shows solar cooking done in the snow after power was lost in northern Virginia in a February 2010 storm.
October 2012: SCI has initiated two new partnerships, one with Friends of the Old (FOTO) (Dinah Chienjo and John Amayo are on the ground in Kenya), and the other with the Natural Resources and Waste Management Alliance (NAREWAMA) (Faustine Odaba is the point person in Kenya). These community-based organizations work to provide solar cookers and

safe water packages

to elders and grandparents, many of whom are raising orphaned grandchildren. SCI's collaboration will dramatically expand the reach of these programs.
March 2012: For almost twenty years, Solar Cookers International has supported branch operations in Kenya. Our field projects have served tens of thousands of families in various East African countries. Due to the overwhelming logistical and financial challenges SCI has encountered in its efforts to effectively manage and restructure an operation 9,000 miles away from its home office in California, the Kenya operations have now been suspended. We are confident that SCI's many years in that country have educated and inspired individuals and organizations in Kenya to continue with the very important work of spreading the use of solar cookers throughout Eastern Africa.
2011
[
]
October 2011: Patricia McArdle, of Solar Cookers International, demonstrated solar cooking with Afzal Syed and volunteers, Sherry and Cecily, at the TIDES exhibit on the campus of the National Defense University. Afzal brought several pots of raw ingredients for Pakistani dishes that were prepared by his wife Samina, including: masoor dall, spiced potatoes, okra, and chawal rice. Patricia baked a loaf of banana bread, which was consumed in less than five minutes. They used the parabolic SK10 (similar to the SK12), purchased from Deepak Gadhia several years ago, to keep a pot of water boiling from 9 a.m. in the morning until the event ended at 5 p.m. There were a number of senior military visitors from other countries. Several have expressed an interest in learning more about solar cooking technology and how it can be used in their countries. The most surprising visit yesterday was from a Vietnamese general, the most senior Vietnamese military officer to visit the U.S. since before the war with Vietnam started in the sixties. Several 'very important people' who came to the demonstration assumed that it would take us 10 to 12 hours to cook food in a panel or box cooker. They were astounded that the food was cooked in less than three hours--in October-- in

Washington D.C.

--which is 40 degrees north of the equator.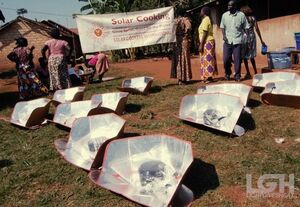 July 2011: The Solar Cooker Project from Light Gives Heat is moving full-force ahead. Just recently, John and Julius from the Solar Cookers International in Kenya, traveled to Jinja, Uganda to continue the training on the maintenance of the solar cooking products and creating outlets for our Suubi women and Epoh tailors to sell products to their friends and local community.
July 2011: Solar ovens, renewable energy offer hope for Afghanistan (Reuters) - At first, she noticed Afghan children hauling brush. Then, in Afghan family compounds, she noticed women tending small fires and trying to cook over them. But it wasn't until U.S. diplomat [and Solar Cookers International Board Member] Patricia McArdle realized how often it was sunny in Afghanistan that she put it together with a youthful memory of cooking with solar ovens and realized this was a low-tech option offering long-term hope to the war-torn nation, which is preparing for a draw-down of U.S. troops. At first, she noticed Afghan children hauling brush. Then, in Afghan family compounds, she noticed women tending small fires and trying to cook over them. But it wasn't until U.S. diplomat [and SCI Board Member] Patricia McArdle realized how often it was sunny in Afghanistan that she put it together with a youthful memory of cooking with solar ovens and realized this was a low-tech option offering long-term hope to the war-torn nation, which is preparing for a draw-down of U.S. troops. Read more...
July 2011: Light Gives Heat on their solar cooking workshop in Uganda: "We have given up any notions that we can bring about health simply by stumbling upon it in the same way that we stumbled upon destruction. There must be changes in the way that we think and live. To bring about these changes we teamed up with Solar Cookers International (SCI). With the help of SCI we are enabling the SUUBI and EPOH artisans to cook their food and boil their water with the free power of the sun. This reduces the emissions of charcoal that the women would normally use, benefiting the women monetarily and environmentally. One artisan reported that she spends $5 a week on charcoal. With the help of LGH, she can make a one-time purchase of a solar cooker for about $5, and save on the weekly expense of charcoal." Read more...
June 2011: Solar Cookers International is now an official Partner in the Global Alliance for Clean Cookstoves - SCI works with the Global Alliance on its goal of enabling 100 million households to adopt clean and efficient cooking solutions. The zero emissions solar cooker is an excellent clean cooking solution to alleviate the household air pollution afflicting the nearly three billion people who eat food cooked over open fires.
June 2011: Solar Cookers International is proud to partner with the Aprovecho Research Center and join their Summer Stove Camp "Fuels of the Future" on the grounds of the Aprovecho Labs in Cottage Grove, Oregon, USA. Those committed to improving the use of fuel for cooking will gather to spend one week learning, innovating, and creating improved designs and prototypes. Event details...
May 2011: Proceeds from plastic bottles or aluminum cans in Truckee, California will help purchase solar cookers for people in economically disadvantaged countries, thanks to the efforts of Sierra High School seniors. "Sierra High School requires all seniors to participate in a service learning project," explains principal Jane Loomis. "The school has a long history of service learning that has benefited our community over the years including the Humane Society, Tahoe Forest Hospice, a student clothing bank and literacy awareness." This year's service learning project is a community effort that benefits Solar Cookers International (SCI). Seniors are asking local businesses, agencies and schools to participate in the program by placing recycling containers at their site. Proceeds derived from the recycling will go to SCI, which will in turn purchase solar ovens for needy countries such as Haiti, Pakistan, India, Africa. The SCI website explains that refugees and other displaced people frequently lack access to sufficient cooking fuels and safe drinking water. When infrastructures are in ruins and no energy or gas is available, solar cooking utilizes the sun to cook hot food. Additionally, when fuel is scarce, cooking with the sun offers a clean, workable solution. Importantly, solar cookers fight cholera by heating water to pasteurization temperatures. And finally, using a solar cooker requires only the sun, and does not necessitate searching for other forms of fuel. "It's really convenient for Truckee businesses to participate," Loomis said. "A senior is assigned to each site. They are responsible for delivering the recycling box to each business, monitoring and collecting the contents." Sierra High School seniors are actively searching for businesses and public entities that have room for a 32-inch by 18-inch recycling container. Those interested in participating should call Sierra High School at +1 (530) 582-2640.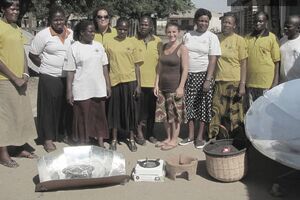 March 2011: Light Gives Heat visits Solar Cookers International demonstration in Kisumu, Kenya - Light Gives Heat is a non-profit promoting grass-root economic sustainability and creative endeavors in Africa. Ugandan Director, Amberle Reyes and a staff member recently visited a demonstration of sustainable cooking methods sponsored by Solar Cookers International. It included traditional fixed and portable earthenware stoves, called upesi in Kiswahili, which more efficiently use charcoal or wood as fuel, CooKit solar panel cookers, and Heat-retention cooking baskets. They were most interested in solar cookers and fireless baskets. Locals were initially attracted to solar cooking not because of the possibility of saving money by buying less fuel, or the health benefits of indoor smoke reduction, but because solar cookers can bake cakes. Cake is seen as a "rich person food", and LGH saw an entrepreneurial opportunity: Cakes are sold for weddings and birthdays. Most people cannot make high quality cakes because of the irregular temperatures of charcoal and wood stoves, but solar cookers bake perfect, moist cakes with very little worry of burning or overcooking. At the end of March, SCI staff will bring CookIts and fireless baskets to Jinja and demonstrate first-hand their effectiveness to all their employees. Light Gives Heat has received an 8,000 USD grant to supply their Uganda Artisans with these solar cookers. More Information and photos...
January 2011: Solar Cookers International exhibition and reception at the United Nations a success! Representatives from non-governmental organizations and interested supporters attended the three-hour, open-house event on January 18th. The concept of solar cooking is so important, that representatives from Nigeria, the Middle East, Pakistan, Bangladesh, and Somalia made it through freezing, blowing rain to attend the exhibition. A wide variety of solar cookers were on display with informational material accompanying the cookers. Video loops played throughout the evening showing real people around the world cooking with the sun and training others to do so. There was a real urgency at the exhibition that the message of solar cooking be strong, unified, and be present in global discussions of development and progress for people around the world.
January 2011: Clean Currents Donates 100 Solar Cookers to Primary Schools in Port-au-Prince Joining the movement to train primary school students and provide them a solar cooker is

Clean Currents

, a Mid-Atlantic green energy provider. Announced on Jan. 12th, it will be purchasing 100 solar cookers to benefit schools in Port-au-Prince, Haiti. Solar Cookers International will be distributing the solar cookers and will provide on-site training through its network of staff and volunteers in Haiti. "Reaching students in their classrooms and teaching them a new lifestyle habit like solar cooking is a positive and accessible way to improve lives and the global environment," said

AmyJo Mattheis

, former Executive Director of Solar Cookers International.
January 2011: Haiti - One year later: Haiti continues to benefit from solar cooking. Solar Cookers International (SCI) and

International Child Care Ministries

(ICCM) are working to expand a project in the schools around Port Au Prince to integrate solar cooking into the 5th grade science curriculum. The goal is that each student will receive a CooKit to use each day in preparing and cooking their lunch, all the time learning about science. Training and certification of teachers continues, as do SCI's efforts to secure funding to provide 2000 more CooKits for this school project. To date, SCI has provided 200 CooKits, pots and Water Pasteurization Indicators (WAPIs) for four schools. With your help, we will achieve our goal of 2000 more! Reaching students in their classrooms, teaching a new lifestyle habit, while at the same time providing environment education is a winning program. Background: SCI, in collaboration with Sun Ovens International and ICCM, distributed over 400 CooKits in Haiti immediately following the devastating earthquake there. Near the community of Pigeon, 135 Haitians were trained in solar cooking by

Programme Energie Solaire

. Each participant received a CooKit, a pot and a WAPI, giving these earthquake survivors a method to cook their food and pasteurize their water without need of scarce and expensive fuel. Solar cooking is technology that offers relief in disaster situations: 1) When infrastructures are in ruins and no energy or gas is available, solar cooking utilizes the sun to cook hot food; 2) When fuel is scarce, cooking with the sun offers a clean, workable solution; 3) Solar cookers fight cholera by heating water to pasteurization temperatures (65°C or 150°F); and 4) Using a solar cooker requires only the sun, and does not necessitate searching for other forms of fuel. Families can stay together and remain safe. SCI thanks you for your ongoing support for solar cooking in Haiti.
2010
[
]
December 2010: Coming in the new year, there will be 'An Afternoon of Darfur Awareness' on Sunday, January 30, in Port Washington, New York from 1:30-4:30 p.m. The Community Synagogue and the Port Washington Public Library are pleased to co-sponsor a special event to raise consciousness about the Darfur situation in Sudan. The acclaimed documentary film "The Devil Came on Horseback" will be shown at the library at 1:30 PM. The film will be followed by a presentation by Susan Burgess-Lent, Program Director of Darfur Peace and Development Organization, Washington, DC who has recently returned from her fifth mission in Darfur. A question and answer period will follow her presentation. Information on the part solar cooking is having to help in the area, and a display of solar cookers, will be provided by Solar Cookers International.
November 2010: Sharon Cousins, board member of Solar Cookers International, recently gave an update on the Eldoret Student Projects in Kenya. She has been involved as a long-distance advisor to the program. Under the local direction of Camily Wedende, twenty grade school students each constructed a model of a new solar panel cooker design, to take home to the camps where they live, where each cooker will benefit an entire family. They also received the necessary pots and cooking bags as well. Each student has been provided with a notebook and pen to keep records of their progress and further experiments, and Camily will keep in touch to check on their progress. Now a lot more students want to be involved with the project to study solar cooking science, and more adults are taking a fresh look at solar cooking's potential.
November 2010: At 15, Noah Kwicklis has invented a solar water desalinator that recently won an innovation award from the nonprofit Climate Change Leadership Institute, located in Santa Fe, New Mexico, USA. CCLI is an all-volunteer group devoted to raising funds and designing action projects to help the environment. It was noted that, "Your project brilliantly demonstrates an integrated solution to two of the most vital needs of our society — access to drinking water and clean energy deployment,". Kwicklis said he was surprised by the award. He plans on donating the money to Solar Cookers International, which provides inexpensive solar ovens to villages in developing nations. More Information...
November 2010:

Clean Currents

, a mid-Atlantic states provider of wind power through the electric grid, announced it is partnering with Solar Cookers International for its annual holiday giving campaign. From now through January 12, 2011, which is the one-year anniversary of Haiti's devastating earthquake, they will donate a portion of proceeds from every residential wind power enrollment to the purchase and distribution of solar cookers in Port-Au-Prince, Haiti. According to the Pan American Health Organization (PAHO), only 12% of Haiti's population had piped, treated water before the earthquake, and now the situation is worse. Access to pasteurized drinking water is the most effective deterrent to cholera, which is spreading quickly throughout Port-Au-Prince's slums and displaced persons camps. Solar cookers are an effective way to provide water safe for drinking, off-grid, and without fuel other than abundant sunshine.
June 2010: We have a Haiti update! First, we want to thank all of you who have donated so we could train and equip displaced families with solar CooKits, pots and Water Pasteurization Indicators (WAPIs) in Haiti. So far, $16,000 has been raised, securing 400 CooKits for the earthquake relief effort. Thank you again! The journey was long for the first shipment of solar cooking kits: the freighter took about a month to arrive in Haiti, and a month was lost due to a backlog of supplies at customs. Nevertheless, the kits you funded were distributed as soon as it was possible. The CooKits are benefiting displaced families living in the community of Pigeon, Haiti. As a part of our project, 135 people were taught proper use and care of solar cookers. During the training, solar meals were prepared by the new solar cooks using CooKits and Global Sun Ovens. Trainings were led by a team of three Haitian solar experts and a representative from a partner agency, Sun Ovens International. Over a period of time, each recipient family will document its solar cooker use, emphasizing reductions in charcoal use and expense. This type of data is valuable when explaining the benefits of solar cookers to families and community leaders. Much of Haiti's extreme deforestation is due to trees being used for cooking fuel, and we believe that expanded and continued use of solar CooKits will help to keep more trees in the ground. Our next shipment of CooKits to Haiti will be used in schools run by the Free Methodist Mission. Teachers at these schools are working to incorporate solar cookers into the curriculum. Students will learn how to cook food and pasteurize drinking water — potentially life-saving skills — using free, clean solar energy. With new solar cooking kits provided with your funds, these students will be able to pass skills and fuel savings on to their parents, benefiting entire families. We understand that Haiti relief is a long-term commitment, and are working with our funders and partners for a sustainable solar cooking culture in Haiti. We are also working to create a stronger presence that will not only promote solar cooking but also create employment opportunities for the local community. Your help and support will be needed to ensure the success of this program.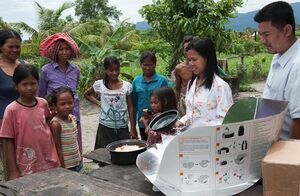 May 2010: A pilot project has begun in Tamoung Pha-em, Cambodia to introduce CooKit solar cookers to the local community. Similar to many other regions, residents have relied on wood for cooking. The area once surrounded by jungle, has mostly been turned into palm oil fields, leaving scarce wood for cooking. Families have started to rely on kerosene, or walk long distances to get wood. The project will be a joint effort of Solar Cookers International and Global Roots.

Patrick Firouzian

recently traveled to Tamoung Pha-em with the first cooker to demonstrate it's potential. Dany Pan, a village school teacher, will use the cooker regularly and experiment to adapt local food recipes.
April 2010: The April 2010 issue of Solar Cooker Review is now online.
2009
[
]
October 2009: The long awaited solar cooking training for the Zalingei refugee camp in Sudan took place. Faustine Odaba and

Simon Ogutu

flew from Kenya and conducted a training for fifty trainers. Assisting them was Kharama who had been trained here in Kenya in 2007. The whole experience was heart lifting as the sound of music was heard once again amongst the refugee women who has suffered so much due to the civil war in Sudan. materials. In the end everyone received a certificate and a UNHCR representative presented each trainee with a solar cooker. These trainers were expected to train others and disseminate the remaining 1,750 CooKits. Solar Cookers International appreciated the efforts of the Danish Refugee Council, the sponsors, as well as UNHCR.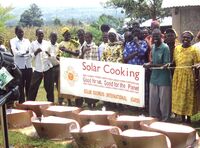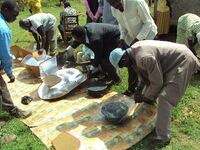 August 2009: The Workers Education Association of Zambia sent Victor Phiri to be trained as a trainer in solar cooking and expose him to other cooking energy technologies. This was in recognition that they needed to build the capacity of at least one trainer, and afford him a hands-on experience and a to visit on-going projects so that he could learn more, both in theory and in practice. This training was a lead up to a training of trainers, in Shapi village, Mansa. The weekend of November 20-21, 2009 was a busy one for the selected trainers. A training of trainers was facilitated by Solar Cookers International trainer, Faustine Odaba assisted by Victor Phiri, National coordinator of the Workers Education Association of Zambia. A total of 46 men and women were trained. The following foods were solar cooked; Isima (Ugali) groundnuts, cabbage, rice, meat stew and solar water pasteurization. They also learned how to use fireless cookers and how to recycle plastic waste materials into useful items.
April 2009: National Geographic covers the work of Solar Cookers International and others:

March 2009: As Solar Cookers International (SCI) expands its reach in eastern Africa and beyond, it must grow and strengthen its collaborations with community-based and nongovernmental organizations (NGOs), as well as governmental entities. During a trip to eastern Africa in January Karyn Ellis was fortunate to meet with a number of like-minded organizations, nurturing valuable relationships in SCI's efforts to expand its influence in the Lake Victoria region. She also met extensively with SCI's Nairobi staff, led by Margaret Owino, about goals for the year and plans for project expansion out of SCI's new Kenya offices in Kisumu, Kakamega and Machakos. While in Nairobi I attended two inspiring solar cooking demonstrations: the first was in the Kangemi slum outside Nairobi, where children from the Hamomi Children's Centre were served a solar lunch — their first lunch in many months; the second was for a women's group in the new SCI community of Machakos, where young mothers learned to use the sun to cook food and save money normally spent on cooking fuel.
February 2009: The photo on the right shows a community group in the Siaya District of western Kenya that just had a demo by the Solar Cookers International East Africa Office. The demo was given in a local market place with local authority figures present and these wonderful "guardians" of nearly 350 orphans. More information...
2008
[
]
2008: As part of the Safe Water Project, SCI worked with a group of women putting on the African Women and Water Conference at the Greenbelt Training Center in Nairobi. This conference trained a group of 30 women from East, West, and South Africa who took this knowledge back to their countries and the environmental institutions where they work.
December 2008: WISER Brings Solar Cookers International to Muhuru - The

WISER

Muhuru Bay Advisory Board recently hosted Solar Cookers International for a full day solar cooking demonstration for the community. In just two hours, the team had cooked an entire meal full of fish, ugali, eggs, potatoes, beans, peanuts, vegetables and even a cake for more than 250 people in attendance with simply the sun. Solar cooking is easy, convenient, environmentally friendly, and in area where there is no electricity or running water, will literally save lives in Muhuru.
November 2008: Solar Cookers International's (SCI) recent collaboration with Uganda's Solar Connect Association (SCA) was inspired by 13-year-old Max Ozimek, an 8th grader from Ohio, USA. Last year, Max researched solar cookers for a science fair project, and learned how the simple devices can make a huge difference for people that lack cooking fuel. Max volunteers at a hospice, where he befriended Father

Alexander Inke

, a priest from Obia, Uganda. While listening to Father Inke's stories of life in Obia, Max was reminded of the African communities he had learned of while researching solar cookers and SCI's projects abroad. Max thought solar cookers could help the women of Obia, many of whom must walk several miles to gather cooking fuel and household water. Max felt the need to help the small village of Obia, so he and his mother, Mary Lou, began raising funds and contacted SCI about how to proceed. Per SCI's suggestion, Max and Mary Lou contacted SCA, which has promoted solar cookers in Uganda since the mid-1990s. SCA agreed to provide a five-day integrated cooking training for 22 women that Father Inke identified as community leaders capable of teaching others. Kawesa Mukasa and Olivia Kanyesigye instructed the group (and dozens of onlookers) how to build and use solar cookers and how to cook effectively with the least amount of fuel possible by supplementing solar cookers with fuel-efficient stoves and Heat-retention cooking retained-heat devices]] when the sun isn't shining. Longtime SCI friend and supporter

Mark Cotham

volunteered his time to assist with this effort, and also provided a much-needed vehicle to be used for further trainings in Uganda. Max and SCI staff tested five local water sources in Obia. Participants were shocked to find that most of their water sources were contaminated with Escherichia coli and unsafe to drink. SCI taught them how to cheaply and effectively pasteurize the water with a solar cooker and a Water Pasteurization Indicator (WAPI). Some of the new solar cooks had already initiated small trainings in their regions just weeks after the workshop. Max is working to ensure these efforts continue by raising funds to purchase materials for extended trainings in Nebbi district, and keeping in close contact with SCI and SCA for follow-up visits over the next few years. SCI and SCA plan to team up again on an integrated cooking and safe water workshop in 2009.
November 2008: Solar Cookers International (SCI) plans to assist with efforts to bring safe water and integrated cooking methods to the central town of Copargo. The pilot project is being initiated by Gabriel Kpadonou, sanitation and public hygiene officer at the Ministry of Health in Cotonou, and executive director of the nonprofit organization

Environmental Engineering Group

(EEG). Through increased visibility and furthered collaborations with health and water professionals in neighboring countries such as Niger, Togo and Burkina Faso, SCI hopes that this opportunity will provide a gateway to increased activities in

West Africa

. The coming year looks to be an exciting one, with the expansion of programs to three new countries and the inclusion of integrated cooking methods and water testing into current and future projects. Trees in rural areas cannot replenish themselves as quickly as they are being cut down for fuel, and contaminated water cannot purify itself at the rate that microorganisms are causing disease, and so our mission continues.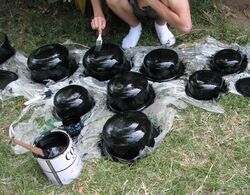 November 2008: Solar Cookers International recently collaborated with the upstart solar organization TanzSolar to provide a comprehensive solar presentation to 20 local professionals in Musoma. Founded by Marianne Walpert of California, USA, TanzSolar provides affordable photovoltaic solar panels to rural internet companies, individuals and small businesses in northern Tanzania, and is interested in working with SCI to spread solar cooking and solar water pasteurization in northern Tanzania. SCI's eastern Africa staff members are currently planning a five-day solar cooking and water treatment workshop at the TanzSolar facilities in Musoma, as well as future collaborations in the region. In addition, TanzSolar has become a distributor of solar lanterns that SCI hopes to utilize in some of its project areas in the future.
August 2008: Solar Cookers International is seeking experienced solar cooks to conduct solar cooking demonstrations in communities across the U.S. as part of the ASES National Solar Tour the largest solar energy event in the world. Saturday, October 4, 2008. More information
August 2008:

Susan Corbett

writes, " A few pictures from the New Energy Station at the Democratic National Convention in Denver. We had about 10 ovens, perfect weather for solar cooking and lots and lots of people. The SunEdison aprons were donated from a local company along with the cookie dough. I wore my Solar Cookers International T- shirt and the yellow SCI hat from Kenya that Bob Metcalf sent to me. Patty and I talked a lot about SCI.

Barbara Stribling

(the one in the blue cowboy hat), one of SCI's early founders, also came to help. We had about 6-8 volunteers every day from 10am to 4pm. SCI provided water and snacks for the volunteers and will be picking up some of the food demo costs. The first Sunday was by far the most crowded with well over a thousand people. The rest of the week, we had several hundred a day go by. Lots and lots and lots of SCI cards, brochures, and newsletters were given away."
June 2008: Solar Cookers International (SCI) has begun the Safe Water Project in Kenya led by SCI founder and board president Dr. Bob Metcalf, a professor of Biological Sciences at California State University, Sacramento. Bob's development of a Portable Microbiology Laboratory (PML) will allow rural health workers and community members to test water quality in the field by assessing levels of Escherichia coli contamination. The revolutionary PML can be used anywhere by practically anyone, and it will liberate government ministries in charge of water analysis who have had difficulties gauging water quality in rural areas due to travel limitations and technical expenses. Anticipated outcomes from the project include significant reductions in the incidence of waterborne diseases in over 20 communities, and broader community awareness of simple and effective water testing and water pasteurization techniques. A training was begun in June 2008 with officials and representatives from the Kenya Water Resources Management Authority and the Kenya Ministry of Health. This is the first time that these two government ministries have collaborated on a project like this, and we are thrilled to have their participation and support. Major funding for this program has come from the Richard and Rhoda Goldman Fund, for which we are very grateful! See August 2008 article in Solar Cooker Review. A photo blog of this project is also available.
June 2008: SCI was recently honored by the Center for African Peace and Conflict Resolution (CAPCR) at California State University Sacramento (CSUS) for bringing the benefits of solar cooking and water pasteurization to over 30,000 African families. Bob Metcalf, president of the SCI Board of Directors and professor of microbiology at CSUS accepted the award at the center's 17th annual Africa Peace Awards dinner. Other honorees included Jeanette Ndhlovu, consul-general of South Africa; Pastor Daniel Gebreselassie, a prison reform advocate from Addis Abba, Ethiopia; and Faye Kennedy of the Sacramento-area Black Caucus/Center for Collaborative Planning. CACPR was established to provide conflict resolution and reconciliation services for agencies, governments, organizations, businesses communities and groups through training, education, research and intervention.
February 2008: SCI was contacted by two members of the

Convoy of Hope

, a U.S. based NGO in Nairobi. As a result of that visit, the following took place as reported by Margaret Owino and Faustine Odaba: Faustine and the Convoy of Hope members went to the Limuru Police Station which was the temporary home of six thousand refugees. The space is small and there was congestion everywhere. People in the camp were from the BATA shoe factory, and the tea farms and they belong mainly to the Luhyia and Luo communities. The camp was organized on the basis of area of origin, for example Luos from Siaya, from Kano, Luhyias from Kakamega, from Bungoma etc. There were many missionary groups working there and pastors ministering to camp residents as well. Food donations were available and accessible and group cooking took place, in huge cooking vessels using firewood by volunteer cooks. There was a great spirit of cooperation in the camp and leaders for food distribution, leaders of water, non food items (clothes) distribution etc. Faustine and the volunteers arrived with 25 CooKit sets at 10:30 A.M. and used six CooKits for rice, seven for cabbage, two with French beans and one with water. The demonstration according to Margaret was for the leaders and other interested people. All the foods cooked by 3 P.M. Only the French beans were not well done and everyone was shocked that foods can cook without using charcoal or firewood.
2007
[
]
November 2007: Solar Cookers International (SCI) will undertake a two-year pilot project to increase water quality awareness and introduce the Portable Microbiology Laboratory and the Safe Water Package to communities in western Kenya. The effort will be led by SCI founder and board member Dr. Bob Metcalf, professor of Biological Sciences at California State University, Sacramento. (More information.)
2006
[
]
August 2006: Solar Cookers International (SCI) is partnering with The KoZon Foundation, a Dutch charitable group, to assist Darfur refugees living in Chad. In 2004, KoZon volunteer Derk Rijks trained fifteen women in the capital, N'Djamena. He returned in early 2005, after getting approval from the

United Nations High Commissioner for Refugees

(UNHCR), to start a solar cooker demonstration project at Iridimi refugee camp, one of the camps hosting Darfur refugees. Marie-Rose Néloum, one of the previously trained women, took the plight of the refugees to heart and joined Rijks to train refugee women to use solar CooKits and teach others, starting in early 2005. Women responded very enthusiastically and those who learned to solar cook fulfilled their promise to teach others. CooKits were soon assembled on-site by refugee women, who earn an income through this activity. A production workshop was completed in early 2006. The workshop is located in a neutral zone of the camp, close to the offices of the camp administrator,

CARE

. Refugee women from each of the camp's ten zones take turns training new groups of five to six people. The refugee women at Iridimi camp, as well as head trainer Néloum and two other staff, have persevered in promoting solar cooking even as the security situation has grown increasingly unstable since April 2006. As of July 2006 Iridimi camp had 32 certified solar cooking trainers, 21 CooKit assemblers, 566 trained families, and 1200 CooKits distributed, two to four per tent. Fifty-four women were interviewed in July 2006. Thirty-nine of them solar cook every day; twelve solar cook five to six days a week; and three solar cook two to four days a week. To minimize their reliance on firewood, many families would like to maximize use of all their CooKits. However, about a quarter of the families have sold one or more of their cooking pots in exchange for precious food. SCI and The KoZon Foundation are working together to provide supplies to make CooKits, training, monitoring and accountability to brighten the lives of Darfur refugees at Iridimi camp in Chad. Groups and organizations such as the

Darfur Assistance Project

and Jewish World Watch, both based in southern California (USA), and many individuals have donated to SCI in support of this project. Additional logistical and communications support from UNHCR and

CARE International

is invaluable in continuing project operations. Barring significant disruptions, each Iridimi camp household will have two or more CooKits by early 2007.