Last edited:
31 December 2017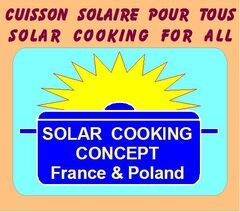 Solar Cooking Concept is a continuation of activity known as the Virtual Laboratory of Solar Domestic Applications, founded in 2002 by Sophie, Margot and Andrew Kotowski. Our object is to promote domestic applications of solar energy.
Our main activity
Project preparation, prototyping and testing the operation of new solar cookers.
Analysis of the functioning of existing solar cookers and proposals for improvement.
Distribution of information about solar cooking.
News
To see all our innovations: Innovations Andrew Kotowski
See also
External links
Contact
Email: solar-cooking-concept@orange.fr
Web: http://fr.solarcooking.wikia.com/wiki/Concept_de_Cuisson_Solaire_(Accueil)
Web: http://pl.gotowanie-i-suszenie-solarne.wikia.com/wiki/Koncept_Gotowania_Solarnego_Wiki