Jurassic World: Dominion Dominates Fandom Wikis - The Loop
Play Sound
Last edited:
31 July 2020
Solar Cooking KoZon initiated solar cooking programs in Eritrea in 2004 as Solar Cooking Netherlands. A few years later, they began projects in Ethiopia, Uganda, and Somalia/Puntland. In 2015, it merged with the KoZon Foundation and assumed its current name.
From their website's introduction; "Solar Cooking KoZon's main objective is to promote integrated solar cooking and the use of clean energy at the lowest possible cost. To achieve this, we choose a business approach, whereby women are encouraged to participate in the local economy." They have also sponsored Togo Tilé, a Mali-based business, with establishing a flourishing enterprise promoting and selling solar cookers.
The introduction of the CooKit was the start of Solar Cooking KoZon projects. As weather conditions varied, it gradually became clear the CooKit needed to be combined with other wood saving technologies, such as hay basket, heat-saving ovens, the more expensive solar box cooker, and the parabolic cooker for collective community use. Together with water pasteurization this is referred to as Integrated Sustainable Solar Cooking (ISSC) [aka Integrated Cooking Method]. Solar Cooking KoZone is involved as well in the development of a high temperature cooker to bake injera (a type of flatbread).
SCN-KoZon will stimulate quality of life for poor African women and
In the same time contribute to environmental protection
SCN-KoZon will create possibilities for local initiatives and entrepreneurship through introduction of solar cooking and other sustainable resources of energy for cooking, food cultivation and water purification for mother and child
With this all SCN-KoZon give support to diminish the deforestation in this African countries.
SCN-KoZon tries to reach the mentioned goals through:
focusing on the families with the lowest income
developing strategies and resources of Integrated Sustainable Cooking, food processing and water purification
News
[
]
December 2019: Newsletter update summary (text borrowed from Solar Cooking KoZon December 2019 newsletter):
Solar Connect Association: Apart from its own sales results (in the Biharwe and Kampala areas), SCA also benefits significantly from deliveries to the two independent partners, in particular the one in Kamuli. Moreover, as in the previous year, SCA sold a large number of parabolic cookers, hay baskets and solar dryers to a Sudanese partner. In Uganda, parabolic cookers are too expensive for most people, but thanks to an external sponsor, SCA was able to outfit a whole village in North West Uganda with parabolic cookers.
This summer SCA opened a solar cooking restaurant at their production site in Biharwe. We have put on hold the request for financial support (for further fittings). At this stage we need more information and a better picture of the viability of this unique concept.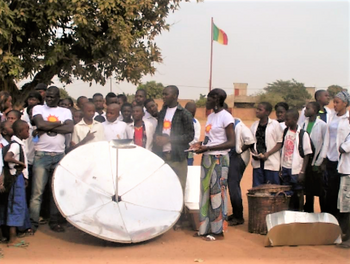 May 2017: Solar Cooking KoZon (SCK) stimulates ISC private enterprises - In 2014, Solar Cooking KoZon granted Togo Tilé, a Mali-based solar cooking business run by Seydou Coulibaly, an initial subsidy of 13,300 €. Two years later, it's a thriving business with 30 staff members, five points of sale nationwide and an average monthly business volume of 9,000 €. The environment constitutes an important incentive: at sales demonstrations, at schools and universities, close attention is paid to the environmental aspects of solar cooking. For Seydou a contribution to the environment does not end with the sale of the product. Togo Tilé continues to support its customers for some time after the sale, to ensure that the products are truly integrated in daily cooking, to provide a lasting positive contribution to the environment. After extensive analysis of the business, Togo Tilé was selected by a government programme in Mali focused on stimulating private enterprise. A business expansion plan was established that included the construction of a bigger workshop and the acquisition of a saw and a welding machine. Expenses: close to 47,000 €. Togo Tilé paid 5.000 €, and the Mali government and Solar Cooking The Netherlands KoZon paid half each. Now Togo Tilé can meet the increasing demand for solar cooking appliances in Mali.
January 2017: Clara Thomas says goodbye - Solar Cooking KoZon reports: "To our regret Clara Thomas, member of the board and country coordinator East Africa, has decided to give up her activities after 13 years Solar Cooking The Netherlands (SCN) and Solar Cooking KoZon. Her departure is a great loss to us and to our partners in Africa. In 2004 Clara Thomas founded SCN. Until the merger [with the KoZon Foundation], she was president and project leader, first in Uganda and later on in Ethiopia. Thanks to her boundless dedication and expert knowledge, she made a very important contribution to the dissemination of solar cooking means and techniques in East Africa. Not only was she active in Africa, but also through her many contacts both nationally and internationally she successfully advocated the need to use sustainable energy, and in particular solar cooking. She contributed extensively to the preparations for the merger. During this past year she has transferred her knowledge and experience to our project coordinators and she has fully coached her successor, Alewijn van Asperen. We will miss Clara. But it is good to know, for Clara as well as for us, that Solar Cooking The Netherlands – KoZon is, also thanks to her, a new, sound and strong foundation that is ready for the future."
September 2016: Solar Cooking KoZon reports that a sturdy solar box cooker developed by Henk Blok together with students of the Free University and the University of Amsterdam continues to be popular at the Togo Tilé retail store. Henk and Marjan Blok paid the start-up costs for the experiment with these boxes in Mali. Piet Sluimer, a member of the Techniques Work Group, has developed a cheaper cardboard solar box cooker (the smaller box on the right) which is also selling well.
September 2016: The Solar Connect Association (SCA) visited the Nakivale Refugee Settlement in Uganda where they met with the Assistant Camp Commander, Mr. Kintu Khalid. SCA instructors trained 20 people from different villages to be instructors themselves. The training dealt with solar CooKits, Water Pasteurization Indicators, heat-retention cooking, improved combustion stoves, and the maintenance of same. Continued efforts at Nakivale, and also at the Oruchinga Refugee Settlement, will be the priority for SCA in 2017. At Nakivale, SCA is currently working with the Julu camp that has about 22,000 refugees. They have distributed 60 solar cookers and 14 improved combustion stoves. In the Oruknga Refugee Settlement, they have distributed 70 solar cooker cookers and 12 improved combustion stoves. SCA plans to sell 1000 solar cookers in the two settlements by end of August 2017. Solar Cooking KoZon has contributed additional funding to help with the projects at Nakivale and Orukhinga.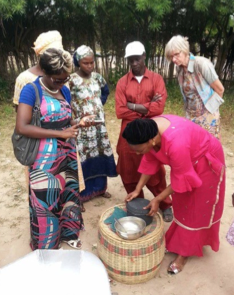 October 2016: Pilot project in Diouloulou, South Senegal - In Casamance, the southernmost region of Senegal, a solar cooking pilot project has been launched with assistance from Solar Cooking KoZon. CooKit and hay basket demonstrations were conducted and received with such enthusiasm that a local core group has begun production of the solar panel cookers and hay baskets for marketing in Diouloulou and neighbouring villages.
September 2016: Solar Cooking KoZon has released its Annual Report for 2015
September 2016: In July 2016 Solar Cooking KoZon was given the opportunity to present themselves at a meeting in the Ministry of Economic Affairs (EZ) in The Hague, Netherlands. Read more... - (English version)
September 2016: Mali women with disabilities receive assistance with access to solar cooking - Sixty women from Bamako and Sikasso, Mali, attended a workshop organized by Solar Cooking KoZon in August. With limited ability to gather wood for fuel, the solar cookers and hay baskets have reduced their wood use by 60 to 70%. Read more... - (English version)
January 2016: Since 2007 Wilde Ganzen and Solar Cooking KoZon have supported the Solar Cooking project in Uganda, implemented by Solar Connect Association (SCA). Mid-2013 a business plan was decided on, including a schedule of Integrated Solar Cooking (ISC) activities during the following five years. In the course of 2014 it became clear that the objective of financial independence had been achieved. The business expanded from Mbarara in the South West. In 2014 construction of the Renewable Energy Centre with larger ISC production, training and distribution facilities was started with financial support from Wilde Ganzen and SCN-KoZon. In its beautiful location on the main road between Uganda, The Congo, Tanzania and Rwanda, the building, fitted out with solar panels, is ready to continue and expand its activities. In short, SCA is the owner of a social Solar Cooking business for the production, marketing and sale of solar and other energy-saving cooking appliances. The small Solar Cooking enterprise is doing well. In 2014 it sold 5,460 CooKit sets, 2,540 hay baskets and 5,040 wood-saving cooking appliances. A promising development. In the year ahead solar lamps and very small solar panels will be sold as well. SCA is investigating which other energy-friendly appliances could best be marketed and included in the assortment of clean energy cooking appliances. In the coming years serious efforts will be made as well to expand the market into other regions in Uganda.
January 2016: Solar Cooking The Netherlands - KoZon reports: "We have carefully continued this trend in the latest project together with the Association des Femmes Ingénieurs du Mali (AFIMA) in Tiby, in the Segou area. Eight hundred and fifty Women have been trained. From this group, four cooperatives have been created. They were to continue as businesses that would disseminate solar cooking while being coached by AFIMA. However, our partner has decided that it prefers to continue with other charitable projects. We are therefore going our separate ways The new Renewable Energy Centre near Mbarara ISC information and promotion in Ethiopia for the time being. It is regrettable because AFIMA has been of great value in the dissemination of ISC in Mali. To ensure that the cooperatives will be able to continue, we are attempting to link them to the Togo Tilé project."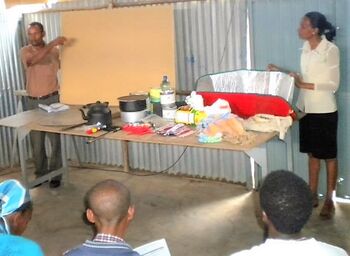 January 2016: Solar Cooking The Netherlands - KoZon reports: "An extensive EU Renewable Energy Technology project (RET) was started in Ethiopia in 2001 of which Integrated Solar Cooking (ISC) is part. In total 20 RET workshops have been built in six provinces across Ethiopia. Production and distribution (sale) of solar, biogas and wood-saving cooking appliances started at the end of 2015. In 2014 and 2015 large-scale public promotion and training of local employees took place. At the same time a start was made with the marketing of solar lamps and small solar panels (to charge cell phones, radios). The Horn of Africa Regional Environment Centre and Network (HoA-ReC/N), a department of Addis Ababa University (AAU) in Addis Ababa manages the project. Solar Cooking The Netherlands (SCN-KoZon), as a partner in this project, is since 2011 responsible for the transfer of ISC and has contributed financially on a yearly basis. In 2011 SCN-KoZon appointed Fikirte Regassa Beyene as its representative and solar cooking expert in Ethiopia. Today Fikirte R.B. is still in office as project officer and member of HoA-ReC/N's Energy staff. In 2012 a Solar Cooking business was set up in the community of Awura Amba (North Ethiopia). Its implementation is in the hands of the NGO ORDA in collaboration with the village's staff. A large ISC workshop was built in 2013. Currently a lot of effort is put into the marketing and sale of ISC cooking appliances." Read more...
January 2015: SCA in Uganda continues to increase its sales of Integrated Solar Cooking (ISC) products. The objective is to distribute 10,000 ISC cooking appliances per year. This includes parabolic reflectors! SCA operates independently from SCN-KoZon. New construction in Biharwe continues to be delayed. SCN-KoZon is sponsoring this new construction. HoAREC works together with 6 NGOs on the construction of 20 centres. In six of the 20 centres, CooKits, hay baskets and WAPIs will be produced. Nine centres have been completed of which six are ready to start. Fikirte Regassa, SCN-KoZon's representative at HoAREC's is making tremendous efforts in assisting the work of the NGOs. This includes training sessions that she organises in the provinces where the centres will soon start production and sales. She also carries out many coordination tasks. Awara Amba has now produced enough ISC products to start focusing on sales. NGO ORDA is currently finalising its advisory tasks, including the organisation of a meeting with all Awara Amba authorities that will in future support the market development efforts.
Audio and video
[
]
Documents
[
]
External links
[
]
See also
[
]
KoZon Foundation (Information on KoZon Foundation prior to merger Solar Cooking Netherlands)
Contact
[
]
Solar Cooking Foundation Netherlands — KoZon
Secretariat:
Forel 288
3824 LG Amersfoort
Netherlands
Tel. + 31 (33) 472 31 38
Email: secretariaat@solarcookingkozon.nl
Web: http://www.solarcooking.nl
Contact Form: https://solarcookingkozon.nl/contact (English version)

Partners in Burkina Faso:
Association Duddal Leydi Men (DLM)
Director: Mrs. Ba

Association Ecologiste pour le Développement Social (AEDS)
Director: Joseph Bazié

Association Le Bon Samaritain pour la Protection de l'Environnement et le Développement Social, Tanghin (ABSPEDS)
Président: Jean-Marie Koalga