Solar cooking around the world
International conferences

NEW: 

6-7 April 2019 (Altötting): EG-Solar is sponsoring a solar cooking conference in conjunction with local students. The conference language will be German. Contact Bernhard Müller if interested in more information.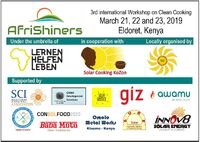 NEW: 

21-23 March 2019: AfriShiners (Eldoret): The AfriShiners 3rd International Workshop is taking place in Eldoret, Kenya. (Unfortunately, registration is full for this event). More information...
13-14 April 2019 (New Haven): 16th Annual 'Unite for Sight' Global Health & Innovation Conference - The conference will include over 2000 professionals and students from around the world, and also aims to encourage changemakers, and participants from all sectors of global health, international development, and social entrepreneurship to attend. More information...
NEW: 

1-30 April 2019 (Dodgeville): The BIETR, etc. exhibit by Joel Goodman will be on display throughout April at the Iowa County Courthouse in Dodgeville from 8:30 a.m.-4:30 p.m. weekdays. It will include solar collector and storage building studies for heating and cooling, solar kitchens for the tropics, reused wind blades, PV pergolas, and various other works.
See also
March 2019:
---
February 2019:
---
January 2019:
---
December 2018:
---
November 2018:
---
For older news and new content log, please see the Solar cooking news archive.
Contact
The Solar Cooking Wiki
Solar cooking basics
See all...
Teaching and promotion
Solar cooking in depth
Related technologies