Last edited:
9 December 2019
Solar Foods is a pioneering, ecofriendly food company in Khartoum, Sudan. It uses automated industrial solar energy dryers for drying organic vegetables, fruits, and meats.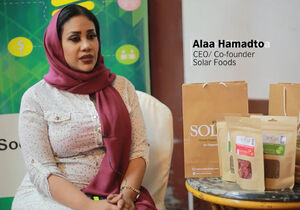 In 2015, Dr. Alaa Hamadto deviated from her career as a dentist to carry on her father's legacy with Solar Energy Enterprises, and by 2017 had creating her own brand, Solar Foods. The main thrust now [December 2019], according to Dr. Hamadto is to work with various NGOs to set up similar moneymaking enterprises in other parts of Sudan and in other countries.
The company's 25 employees work with solar dryers to prepare, dry, and package fruits, vegetables, and meats, which are sold in supermarkets in Sudan and Saudi Arabia and which are sold wholesale to local restaurants in Khartoum.
The company's goal is to fulfill all of the United Nations Sustainable Development Goals relevant to their industry:
No poverty: Solar foods has a partnership with the Italian cooperation (AICS) and is working with them in the poverty reduction projects

Zero hunger: Working with communities outside Khartoum and teaching them about drying techniques.

Gender equality: 80% of its managers and employees are female.

Clean and affordable energy: Free solar energy as the main source of energy

Industry, innovations and infrastructure

Responsible consumption and production
Tel: +249 91 293 4450
Email: info@solar-foods.com
Web: http://www.solar-foods.com
Facebook: https://www.facebook.com/pg/Solarfoodssd
Address: Map location
Community content is available under
CC-BY-SA
unless otherwise noted.