Line 6:
Line 6:
 
 
 

== Contact ==

 

== Contact ==

−

[mailto:giogavir@yahoo.it Giorgio Gaviraghi]

+

[mailto:giogavir@yahoo.it Giorgio Gaviraghi]

 
 
 

<!--Source: Solar Gourmet email, 9/19/2009-->

 

<!--Source: Solar Gourmet email, 9/19/2009-->
---
Revision as of 19:32, 12 October 2009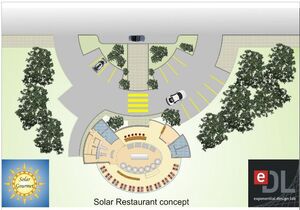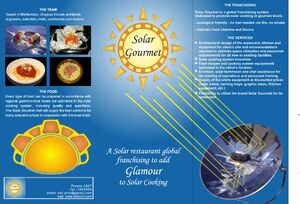 Solar Global Gourmet is a restaurant franchise for a business utilizing solar radiation for cooking food. Solar Gourmet is a new brand dedicated to promote and give glamor to solar cooking which represents a system of ecological friendly and healthy food preparation at gourmet levels.
Solar Gourmet was founded in Montevideo, Uruguay by Maria Adela Gimenez. Giorgio Gaviraghi of Exponential Design Lab developed the architectural concepts. Renzo Ghio, a science professor, developed the technological concepts and Renato Martinelli, a well-known local chef, developed the gastronomical offerings. The team includes nutritionists, doctors, several college professors even an archeologist. (It has been discovered that Precolombian American Indians used to solar cook on stones.) A marketing group is being organized.
Contact
Community content is available under
CC-BY-SA
unless otherwise noted.