Last edited:
25 February 2020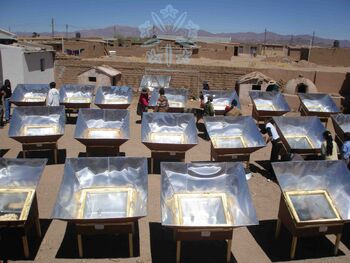 Solar Inti is a French-Argentine project for the development of ecological and solar ovens provided to low-income families in the northwest region of Argentina.
News
[
]
February 2020: Solar Inti organizes a construction workshop
December 2015: Solar Inti now offers the Horno MALAMBO fuel-efficient woodstove.
November 2015: Solar Inti reports that it has distributed more than 3000 "ecological cookers" and plans to expand to cover all of Argentina.
June 2008 - December 2013:


2500 ecological cookers (solar cookers, biomass cookstove, heat-retention cookers, ecological oven, ecological shower) were distributed in northwestern Argentina.
Participatives worshops qualified families to build and repare her own solar cooker
More than 8000 people take advantage of solar and low cost energy to cook and to heat water.
Daily use will allow them to save 2500 tons of CO2 every year.
Pulmonary and ocular diseases are reduced due to the lack of smoke. Back problems are reduced from not needing to carry a weekly load of firewood. diarrhea (especially affecting children) is combated with the pasteurisation of the water.
Audio and video
[
]
October 2016: "COCINAS ECOLÓGICAS PARA LA PUNA" ("GREENER STOVES COOK FOR PUNA" Listen to Pierre Herrouët from Solar Inti explain how they are working to distribute solar cookers in the rugged Puna region of Argentina. Listen to the radio interview (Spanish)
External links
[
]
See also
[
]
Contact
[
]
Pierre-Yves Herrouet
General Coordinator of SOLAR INTI
Skype: pierives
Email: solarinti.salta@gmail.com (Salta, Argentina) - solarinti.argentina@gmail.com (Argentina) - solarinti.france@gmail.com (France)

Web: http://solarinti.blogspot.com (English version) (French version)
Facebook: https://www.facebook.com/SolarInti
Twitter: @SolarIntiARG
YouTube: https://www.youtube.com/user/CineSolar