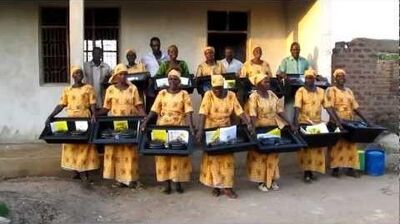 Solar Liberty Foundation is dedicated to assisting people in rural areas of less developed nations with renewable energy resources. Our goal at Solar Liberty Foundation is to harness the power of the sun to provide people in need with solar electrification, solar water filtration, and solar cookers.
We are concerned about people living in extreme poverty and want to do something that will not only impact people's lives today, but for generations to come. We believe that all humankind must be treated with dignity and respect. Because we have the ability to improve people's lives, we have the responsibility to do so.
We distribute solar cookers to use the power of the sun to cook food and to sterilize water. Advantages include:
Solar cookers allow people to cook without the need for kindling or fuels.

As such, they cost nothing to operate.

And they eliminate the indoor concentration of health-damaging pollutants.

Training is offered to educate and instruct people on how to cook in the solar cookers and to help overcome cultural acceptance issues.
[Text borrowed from the Solar Liberty Foundation website]
January 2010: Haitian student heads home to help - UB Reporter
August 2010: The devastating 2010 earthquake crippled the fragile infrastructure of the Haitian capital leaving millions with no way of preparing meals and no solution in sight. Fortunately, Solar Liberty Foundation was able to provide help. The foundation provided a shipment of solar cookers to the Haitian Bouske organization. More Information...
Email: Contact page
Web: http://www.solarliberty.org
Twitter: @SolarLibertyFDN
Facebook: https://www.facebook.com/Solar-Liberty-Foundation-302929945096/
Community content is available under
CC-BY-SA
unless otherwise noted.