Last edited:
6 October 2021
The partnership of The Methodist Church of Haiti and The United Methodist Church has evolved over 10 years as a 501(c)(3) non-profit organization called Solar Oven Partners UMC. Based in Brookings, South Dakota (USA), HSOP is a teaching/training program that distributes high-quality solar box cookers only to trained individuals, typically women in Haiti.
The teaching is all done in the native Kreyol language by a highly motivated Haitian husband-and-wife team, Montas and Ramonde. Montas is the Country Director and Ramonde is the Director of the cooking seminars. The project is also assisted in Haiti by Milcar, who assembles ovens independently as well as with the United Methodist Volunteers In Mission teams that travel to Haiti three times per year. Our purpose is to help mitigate the systemic problems of hunger, poverty, and environmental destruction caused by deforestation. Solar cooking, solar baking, solar water pasteurization, and environmental awareness make up the core curriculum of our seminars.
The recent trip to Haiti in March was a great success and the hospitality our team received from the Haitian people was amazing. A young man named Pierre who has roots within the area of recent solar oven distribution, has been instrumental in helping provide the logistics of housing, food, and laundry for the teams at the work sites. Pierre has also been instrumental in organizing the seminars.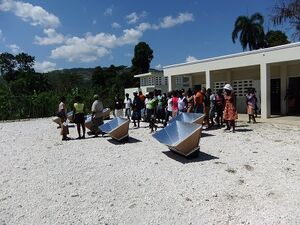 When we arrived at Flamand, our warm welcome was not limited to those working with us; we were graciously welcomed into the community by everyone. We were continually stopped as we walked about the community by people who recognized us from the work site and were anxious to engage us in conversation. Time and time again we were greeted with, "We are so happy that you are here!"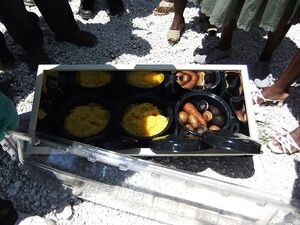 It is always interesting to see the talents that exist in these communities. Next door to the place we were staying was a young man who did wood working. We needed to have more of a certain wood piece used in the process of oven assembly and this neighbor was able to make us two of these pieces built to our specifications. Some of us were blessed with an opportunity to tour this young man's father's wood working shop farther down the road. The artistry of his work was very impressive. We saw examples of his work ranging from ornate wood framed mirrors to coffins.
The community of Flamand is located somewhere on the way to Cote de Fer. I say somewhere as we were never able to gain consensus among Haitians as we looked at a map, to determine where exactly we were. Flamand is located in a large charcoal production area. We saw several examples of charcoal burns being set up to produce charcoal. We were told that the going rate for a large bag of charcoal was approximately $17. With the price of charcoal being what it is, participating in our training program and receiving a high-quality solar oven for a nominal fee of $12.50 makes great sense on a purely economic basis. We are interested in more than the economics though; with each charcoal burn, more of the limited number of remaining trees are eliminated and most likely not replaced. This leads to a host of negative environmental problems such as the continued loss of topsoil with no root systems to hold it in place when the rains come.
Our work site was set up on the grounds of a local Baptist school. Montas, the Haiti director taught seminars in the church on-site, Raymonde gave participants hands on cooking experience with ovens set up in the large open field behind the school, and the assembly of the ovens took place beneath the welcome shade of a large tree just inside of the wall of the school compound. Milcar, the Haitian assembly expert helped the members of the team learn how to do things right. With Milcar's guidance we were able to assemble 200 solar ovens during our stay in Flamand.
People who had not been part of the seminars, but had seen the wonderful food prepared by Raymonde and the seminar participants, were anxious to know when and where the next solar cooking seminars would be held. Montas will be teaching and distributing ovens in Les Cayes in April. Milcar has already begun to assemble ovens for these seminars with another anticipated distribution of 200 ovens.
The next team of volunteers from the United States will be leaving for Haiti in July. The dates of the July trip have been confirmed as July, 6 through July, 17. The location of the work site of the July team is yet to be determined.
One of the difficult things in working within a place like Haiti is the nature of assessing progress. Over the years Haiti Solar Oven Partners has made every effort to collect statistics on solar oven use, but the language barrier on top of a host of other issues that come with working in the developing world, make it difficult to gauge our impact.
On Friday, March 2, 2012 HSOP will take further steps in obtaining useful feedback from solar oven recipients by sending a team to Haiti with the specific task of interviewing solar oven cooks. Montas has worked to bring together 200 solar cooks to take part in a survey. HSOP has always used this survey, but now HSOP has teamed up with Assistant Professor of French, Molly Krueger Enz, Ph.D at South Dakota State University's Modern Language Department along with some of her students to present the surveys in French and Creole. This will be the first time that a team has been sent to Haiti with the sole purpose to gather statistical data for the program. It is our hope that they will gather useful information that will assist us in finding ways to best serve the people of Haiti.
Last year the number of solar ovens distributed since the program's inception surpassed the 5,000 mark. HSOP has pursued a goal for years to distribute 1,000 solar ovens per year and the goal was accomplished for the first time in 2011 with 1426 having been distributed. The numbers of solar ovens distributed are impressive, but HSOP is still playing catch up to the devastation caused by the January 12th, 2010 earthquake in Haiti. Our estimates indicate that of the total number of ovens distributed between 2000 and 2010, 35% to 40% may have been destroyed given the area of solar oven distribution and location of the epecenter of the 2010 earthquake. HSOP has hired an additional staff person to meet the goal of 2000 ovens distributed between June of 2012 and June of 2013.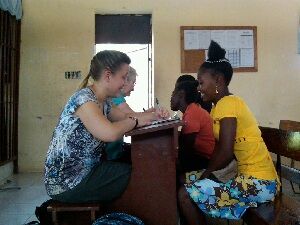 For more information, please browse our web site: http://www.umcmission.org/Give-to-Mission/Search-for-Projects/Projects/418812
News
[
]
April 2018: United Methodist Volunteers introduce solar cooking in Monte Cristi - Solar Oven Partners UMC is based in Brookings, South Dakota (USA), and their history includes nearly two decades of solar cooking introduction in Haiti. They began a similar program in rural heavily deforested areas of the Dominican Republic in 2016. The team helps residents modify their approach to cooking to be able to cook traditional foods. Workshops participants who sign up to receive a solar cooker must pay $1,000 pesos, or about USD 20. Slowly, people are warming to the benefits of solar oven cooking. On a recent trip in March, 70-80 interested participants registered for the workshop, while that number had typically been 10-20 people. 162 solar ovens were sold at the workshop, a new record. Read more...
August 2016: Solar Oven Partners seeks new director - The remarkable story of Solar Oven Partners—and its positive impact on the people it serves—has been told by our many volunteers, friends and supporters for over 16 years. Under the guidance of Rick Jost, SOP's missionary and director, and in partnership with all those who have cared about this ministry's work, thousands of solar ovens, and empowering training, have been provided to families in need. Rick has decided to retire from SOP's director position.
February 2016: Solar Oven Partners has published its February 2016 newsletter which details their recent solar cooking work in the Dominican Republic. Read more...
December 2015: Shipping container full of solar ovens arrives in Dominican Republic ready for Solar Oven Partners project. Read more...
November 2014: On their Facebook page, Haiti Solar Oven Partners reported that they built 50 solar cookers during a workshop that was attended by 85 students.
August 2014: A group of volunteers from First United Methodist Church of Jamestown recently traveled to Moffit, N.D., to help fabricate solar ovens to be used in Haiti. The Moffit workshop is located at the home of Dave and Renae Silbernagel. Each year hundreds of volunteers fabricate and package solar oven parts in the Moffit and Volga, S.D., workshops, preparing them for shipment to Haiti. Teams of volunteers, under the direction of Jost, travel to Haiti each year to live in communities that have invited them. For 10 days, these volunteers work with Haitians to build ovens and educate people about solar cooking under the direction of the Montas and Raymonde Joseph of Haiti. Their goal is to deliver 2,300 solar ovens plus hands-on training to Haitian families every year.
September 2013: Haiti Solar Oven Partners will be traveling North Dakota, USA with its Haitian leaders, Montas Joseph and Raymonde Joseph, to spread the word about solar-powered ovens utilized in the poverty-stricken nation of Haiti, and to bolster potential volunteers for the cause. Montas Joseph, Haitian director of HSOP, and Raymonde Joseph, HSOP training director, will visit 29 United Methodist churches in North Dakota and South Dakota throughout September. Read more about the project.
November 2012: Haiti Solar Oven Project board members and partners met the last weekend in October to set goals for 2013. In the next fiscal year, HSOP will provide 2,280 units to Haitian families participating in training and ownership of a solar oven.
February 2012: The Haiti Solar Oven Partners report that they have met their goal of 5000 solar cookers, by distributing 5607 solar ovens in total to date.
May 2010: So far, 3,600 solar ovens have been distributed to trained solar cooks. Experienced, passionate Haitian leaders have been directing the program. Positive feedback and frequent use of ovens for cooking, baking and water pasteurization has been reported. In March, the self-motivated Haitian trainers and Assembly Lady completed series of three seminars, with the assembly and distribution of 241 ovens. In April, another 80-85 participants completed a seminar. Solar Oven Partners hope to reach a total distribution of 5,000 solar ovens in near term. More Information about helping...
March 2008: For nearly a decade, Solar Oven Partners has been providing Haitians with needed relief from wood-fueled cooking in the form of solar ovens. Volunteers in Brookings, South Dakota (USA) use donated or discounted raw materials to build numerous solar oven components, which are then boxed up and shipped to Haiti for final assembly. The wooden, box-style solar ovens cost about $60 to make with volunteer labor, and are based on one of Richard Wareham's SunStove® designs. Each solar oven is packaged with three black cooking pots, a Water Pasteurization Indicator (WAPI), and a recipe booklet. Haitians pay a modest fee for the ovens, which they receive upon completion of a training course. Last July, a team of SOP volunteers visited Haiti for the 22nd time. They assembled 74 solar cookers and trained 80 families how to cook and pasteurize water with solar energy. Throughout the year, Haitians Montas and Raymonde Joseph conduct additional SOP trainings and sell solar ovens. They historically relied on the volunteer teams to come to Haiti and assemble cookers, which was not always sufficient to meet demand. In response, SOP has contracted with a young Haitian woman named Italis Jeanne Milcar to assure that enough ovens are available for the trainings. In just a few short months, Milcar had already assembled nearly 350 cookers and 100 WAPIs! Two years ago, SOP converted a 12.2-meter sea container for use as a storage facility for solar cookers in Haiti. They recently purchased a second container, and after 10 months of hard work, were able to fill it to capacity with components for an additional 1000 cookers, soon to be shipped to Haiti.
August 2006: Solar Oven Partners, has been active in Haiti for years, where it has distributed thousands of solar cookers. In a recent edition of their newsletter, Solar Oven Partners presented the results of a survey of 15 Haitian solar cooks. Asked how many days they would use their solar cookers during a 10-day sunny period, seven said every day, two said seven to eight days, and the remaining six would solar cook two to five of the ten days. Solar meals have included meat, macaroni, cake, rice, beans, fish, vegetables, bread, eggs, and cornbread. Eleven of the 15 surveyed said they had explained solar cookers to others who then became interested in acquiring their own. On average, families indicated that charcoal now lasts two to three times longer than it did before solar cooking. Solar Oven Partners plans to distribute 1,000 more solar cookers during 2006.
Audio and video
[
]
Articles in the media
[
]
See also
[
]
External links
[
]
Contact
[
]
Solar Oven Partners
928 4th St. #2
Brookings, South Dakota 57006
USA
Tel: +1 (605) 692-3391
Email: rjost@brookings.net
Web: http://www.haitisolarovens.org/
Facebook: https://www.facebook.com/solarovenpartnersumc/
Twitter: @HaitiSolarOvens