Last edited:
31 January 2018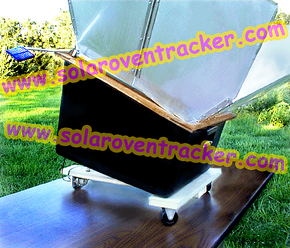 The Solar Oven Tracker addresses the issue of needing to manually adjust a solar cooker during the day. The user places their solar oven on the "lazy susan" platform and it follows the sun to maximize cooking efficiency throughout the day. The device is powered by a small solar panel connected to a motor that spins the platform. The manufacturer offers a 10 year unconditional guarantee.
Nityam Privette
Reflections
P.O. Box 1163
Rough & Ready, CA 95975
Tel: +1 (530) 273-9378
Email: solarovens@photomagnets.com
Website: http://www.solaroventrackers.com
Community content is available under
CC-BY-SA
unless otherwise noted.