Last edited:
30 April 2017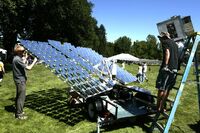 Solar Roast Coffee
is a family-owned Limited Liability Company (L.L.C.) owned by Michael and David Hartkop. With their 7 m
2
concentrator called
Helios 3
they can roast 2.5 kg of coffee grains in 22 minutes. Using Helios 3, instead of a gas-fired conventional roaster, about 2 tons of CO
2
emissions are prevented. The company started selling their exclusivly organic, fairtrade, solar-roasted coffees in 2004. Solar Roast Coffee is pleased to announce the opening of its first ever Café, in Pueblo, Colorado. The doors opened and solar espresso started to steam on February 26, 2007.
Purchasing coffee
See also
Contact
Michael Hartkop
4070 Willow Springs Rd.
Central Point, OR 97502
USA
Tel: +1 (541) 231-6947
Email: info@solarroast.com
Web: http://solarroast.com
Facebook: https://www.facebook.com/Solar-Roast-Coffee-11518369075
Twitter: @solarroast