Jurassic World: Dominion Dominates Fandom Wikis - The Loop
Play Sound
Last edited:
11 June 2016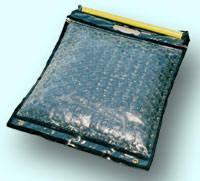 Solar Solutions (also Solar Clean Water Solutions) was established in 1996 by inventor and entrepreneur, Frank Husson. The company, based in San Diego, California, is currently involved in developing solar thermal technologies utilizing advanced designs, techniques and materials. We are dedicated to creating useful and affordable products that will be environmentally friendly while providing viable solutions to critical humanitarian needs.
Currently our efforts are concentrated on solar water purification. We have developed an extremely low cost solution that will provide clean, pure and safe water to the earth's population who don't have a reliable source of uncontaminated drinking water. The product is the AquaPak.
If the contamination of the water is from biological pathogens (bacteria, viruses, etc.), which is the leading cause of waterborne illness in most rural environments, then the most energy efficient and reliable method is pasteurization, which is able to eliminate the living organisms. The AquaPak is a convenient low cost solar water pasteurizer. Please visit website to learn more about this unique and much needed versatile product.
We are driven by a commitment to improve the world's environment and the health of its people by developing and promoting the use of solar energy and other appropriate technology. Solar Solutions will donate any profits realized from the sale of solar water purifiers to individuals in need in developing countries through NGO's and humanitarian organizations. We also offer free water purification designs on our website.
News
[
]
June 2016: Solar Solutions is searching for international manufacturing partners, entrepreneurs, to set-up a factory in tropical developing countries to manufacture AquaPaks.
November 2011: Solar Solutions reports the AquaPak water pasteurizer has now been introduced in 70 countries. The unit can be fabricated locally in developing countries with a target price of $2 US.
Construction plans
[
]
See also
[
]
Contact
[
]
Solar Solutions
10080 Willow Creek Road
San Diego, California 92131
USA
Tel: +1 (858) 695-3806 x4703
Fax: +1 (858) 348-1123
Email: support@solarcleanwatersolution.com
Web: http://www.solarcleanwatersolution.com/