December 2011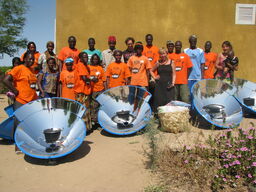 Solar Cooking NV and Sol Suffit ship 630 solar cookers to Senegal - The project is a joint venture between

Solar Cooking NV

in the Netherlands, and Sol Suffit, a long time promoter of solar cooking in Senegal. The SolarCooker Eco3 cookers will be introduced in Dakar and in eight villages next to Djoudj National Park. Local volunteers participated in workshops, and will be training others in the surrounding villages. Trainees were also made familiar with the method of heat retention cooking. They found it quite easy to make good quality hay baskets with inexpensive baskets(locally made) and empty rice bags filled with dry hay.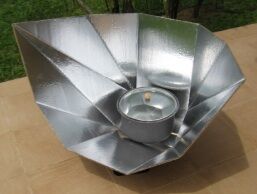 A simple panel cooker makes advances in design - The Sun-Funnel cooker, designed by Teong Tan, is similar to the Fun-Panel cooker, but with a different panel fold. The intent is to have a panel cooker that will be strong enough to support a cooking pot when the cooker is tipped back for better orientation to the sun. It also uses a stick placed through the cooker base to allow the pot to remain level while cooking.
November 2011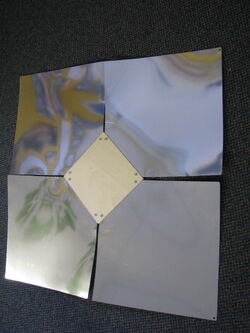 Small, compact, and inexpensive solar panel cooker - The Copenhagen Solar Cooker Light is featured as an example of a nicely conceived solar panel cooker. It is flexible in it's design, as well as in the number of ways it can be configured. The components include a flat base plate, which flexible reflective panels are bolted to. Then using simple clamps, the cooker can be configured with a low open front and high back, or with more vertical sides for cooking when the sun is directly overhead. The designer, Sharon Clausson, states that the curved shape of the cooker is more stable than typical panel cookers in windy conditions.
Patent landscape report on solar cooking - The World Intellectual Property Organization commissioned an extensive report on the state of solar cooking, prepared by Scope e-Knowledge Center Private Limited based in India. The report validates the viability of solar cooking, a technology well-suited for a growing portion of the world's population. It also provides a number of examples of various designs that have applied for patents. Read the report.
Celebrity chef José Andrés makes an impassioned plea for improved cookstoves and solar cookers to benefit the world's poor.
October 2011
TED Talks on solar cooking - Louise Meyer was joined by José Andrés and Marcela Valladolid for a TEDx WashingtonCircle presentation titled Food & Communication: Recipes for Development. Louise Meyer is a founding director of Solar Household Energy, and a tireless and inspirational advocate of solar cooking technology. She has taught solar cooking in the refugee camps of East Africa and in villages from Zimbabwe to Mexico. José Andrés is an award-winning chef and restauranteur, who has made a substantial commitment of his time and resources to provide access to solar cooking in Haiti. The event was open to the public, and took place at the International Food Policy Research institute. You can watch the on-demand broadcast here.
Bolivia Inti-Sud Soleil reports a decade of success - Bolivia Inti-Sud Soleil reports they have distributed more than 20,000 ecological appliances since 2000. From these 20,000, 14,000 have been solar cookers, mainly distributed in the South American countries of Peru, Bolivia, Chile, and Argentina. Additionally, 5,000 Rocket Stoves were distributed in the African countries of Benin, Chad, and Guinea, as well as to the South American countries. Besides solar cookers and stoves, they have also provided fireless cookers, solar food dryers and solar showers. On November 5, 2011, the organization is sponsoring a national conference addressing deforestation in Africa to be held in their hometown of Nantes, France. Registration and program information. This project is included among Most significant solar cooking projects.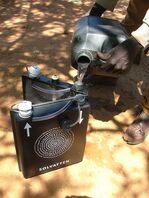 Water pasteurization system changes community health in Kenyan village - Solvatten is a compact, portable solar water pasteurization appliance about the size of a small suitcase. A recent follow-up study of new users in the Bungoma district in western Kenya showed a marked improvement in family health and student attendance. Before Solvatten use, 67% of the children in the families had irregular attendance at school as a result of being sick, often with waterborne diseases. After purchasing Solvatten the overall attendance of children at school has increased by an average of 87 percent, as stated by the parents. Before using the system the typical family had someone ill three to four times per month, and that has changed to only .03 times per month. Since waterborne diseases have all but disappeared, people are saving money on medicines and medical services.
September 2011
August 2011
New solar grill uses latent heat storage - Students at MIT are working on a case study for a new type of solar powered outdoor grill. Based on the technology from MIT professor

David Wilson

, this grill will collect thermal energy from the sun and store it to allow cooking times for up to twenty-five hours at temperatures above 230°C (450°F). Wilson's technology uses a Fresnel solar reflector to harness the sun's energy to melt down a container of lithium nitrate. The lithium nitrate serves as a solar battery. Due to its phase change reaction, the thermal energy is able to be stored for longer periods of time and at higher temperatures, by means of latent heat storage. Heat is then redistributed through convection, which allows for outdoor cooking. A Solar Grill Prototype for a Greener Tomorrow - BarbequeLovers.com
July 2011
Solar ovens, renewable energy offer hope for Afghanistan (Reuters) - At first, she noticed Afghan children hauling brush. Then, in Afghan family compounds, she noticed women tending small fires and trying to cook over them. But it wasn't until U.S. diplomat [and Solar Cookers International Board Member] Patricia McArdle realized how often it was sunny in Afghanistan that she put it together with a youthful memory of cooking with solar ovens and realized this was a low-tech option offering long-term hope to the war-torn nation, which is preparing for a draw-down of U.S. troops. At first, she noticed Afghan children hauling brush. Then, in Afghan family compounds, she noticed women tending small fires and trying to cook over them. But it wasn't until U.S. diplomat Patricia McArdle realized how often it was sunny in Afghanistan that she put it together with a youthful memory of cooking with solar ovens and realized this was a low-tech option offering long-term hope to the war-torn nation, which is preparing for a draw-down of U.S. troops. Read more...
July 2011 - June 2012: International opportunity for testing solar cooker designs - Originally announced as a one-time event Oct. 11-13, 2011 with a related conference, the solar cooker competition has been cancelled, and instead there will be a year-long opportunity for having solar cookers and fuel stoves tested free. India's Promoters and Researchers in Non-Conventional Energy (PRINCE) group has updated standards for solar cookers, developed in conjunction with input from SCWNet members. These universal testing standards will be used to evaluate the cookers by simulating real world conditions. Designers, manufacturers, NGOs and individuals are invited to submit solar cookers for testing, and need not be present for the tests. While there will be no cash prizes, solar cookers will be rated on thermal performance, cost of manufacture and transport, and user convenience. Send cookers anytime between now and June 2012 to: Prof. Ajay Chandak, PRINCE, Shamgiri, Opp Swagat Lodge, Agra Road, Deopur, Dhuli – 424005, Maharashtra, India. Include your usual instructions for consumers. If you wish your cooker returned, please arrange to cover return shipping costs. After testing, entrants will be contacted with results, and have the option of omitting their information in the publicly listed ratings. No reply from entrants within two weeks or so after receiving their results will be taken as consent to publish. Other questions? Email: renewable.india@gmail.com.
July 2011: Solar cooking expo at northern Virginia mosque - Solar cooking in Islamic countries is on the rise, but its wide-spread acceptance as a significant way to reduce the damage caused by smoky cooking fires will need greater support from the international development community. Solar Cookers International (SCI) board member Patricia McArdle and Afzal Syed of the Dar al Noor Mosque congregation contributed to this goal by hosting a well-attended solar cooking demonstration at Syed's mosque in Manassas, Virginia on Saturday July 9. Solar Household Energy (SHE) co-founder Louise Meyer and two SHE volunteers from Washington DC also participated in this event. A popular DC radio show interview with McArdle about her novel Farishta two days before the event, drew large crowds from around the northern Virginia/DC metro region.
Solar Cooking in the Sahel - A Goedhart Film production, TAHA CHAMCHIHA Solar Cooking in the Sahel, documents daily life for the Sudanese refugees living in camps in bordering Chad. Tchad Solaire has trained over 12,000 women in the use of simple solar panel cookers. These CooKits have provided the women additional free time normally spent searching for scarce firewood. Within each camp there is a workshop center where cookers are made for distribution to the other residents. Though the cookers are somewhat fragile, the women have appreciated being involved with the process of making the simple CooKits. The film also shows how the companion Guffah heat-retention cooker baskets are being assembled to use with the panel cookers to keep the food piping hot for dinner, served in the early evening.
Global Resource Alliance receives generous grant from the Ferguson Foundation - The Global Resource Alliance will use this grant to offer 50 solar cooking workshops in the Mara Region of Tanzania and over 1,000 subsidized solar CooKits. This, in addition to a grant from WeForest and Deliotte Belgium to plant 130,000 trees over the next two years, will help restore this heavily deforested area and prevent many health problems and deaths related to smoke inhalation.
United Nations report predicts growth in renewable energies based on the success of small-scale projects. - "The rapid growth of small-scale renewable energy applications in developing countries should underpin the continued expansion of the global renewables sector, despite a slump in investment levels at the start of this year. That is the view of Professor Ulf Moslener of the Frankfurt School of Finance and Management, the academic body that produced today's United Nations Environmental Programme report into green energy investments, who predicted that unconventional renewable energy technologies such as systems designed for cooking and food processing will drive future investment in the sector." - Business Green (Read more...)
June 2011
Heat storage offers the possibility of solar cooking even when the sun isn't shining - Research is underway around the world using high-tech and low-tech means to accumulate heat during the day for cooking at night or early in the morning. See our article on Heat storage for more information.
Voice of America interviews Patricia McArdle about her novel Farishta - Solar Cookers International board-member Patricia McArdle discusses her award-winning novel in which solar cooking in Afghanistan is featured. Audio available here.
Solar Cookers International is now an official Partner in the Global Alliance for Clean Cookstoves - SCI is delighted to be working with the Global Alliance on its goal of enabling 100 million households to adopt clean and efficient cooking solutions.
United Nations seeks public input on solar cooking - The UN Framework Convention on Climate Change is asking for public input on methodological issues for solar cooking projects under the Clean Development Mechanism. Input is welcome from June 3 until July 3, 2011. Log in and give your input on this page of the UNFCCC site.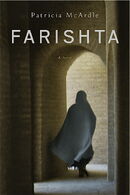 Listen to NPR's Scott Simon interview SCI Board Member Patricia McArdle - Audio here. The newly released novel Farishta by Solar Cookers International Board Member Patricia McArdle tells the compelling story of diplomat Angela Morgan. Stationed at a remote British Army outpost in northern Afghanistan, Angela becomes frustrated at her inability to contribute to the country's reconstruction. Slipping away disguised in a burka to provide aid to refugees, Angela becomes their farishta—or "angel" in the local Dari language—and discovers a new purpose for her life. Farishta draws on the author's experience as a diplomat in Afghanistan and her commitment to solar cooking. The importance and practicality of solar cooking is woven into the novel as Angela shares it with the local population. You can purchase Farishta at your local bookstore or online. You can also listen to a recent interview that Patricia McArdle did with CBS News.
Solar cooker and low-emission fuel stove innovation workshop this July in Oregon, USA - Solar Cookers International is proud to partner with the Aprovecho Research Center and join their Summer Stove Camp "Fuels of the Future" on the grounds of Aprovecho Labs in Cottage Grove, Oregon, USA. Those committed to improving the use of fuel for cooking will gather to spend one week learning, innovating, and creating improved designs and prototypes.
May 2011
Women excel at the Solar Trade Fair in Totogalpa, Nicaragua - Twelve women participated in a program where they first, constructed solar box cookers under the direction from the Solar Women of Totogalpa in Nicaragua, and then set about to create their favorite recipes, which they demonstrated with their new ovens in a cook-off at the Solar Trade Fair.

Mauro Perez

, a member and only man in the Women's Association is working on the project to develop solar equipment use. In addition to solar cookers, the association constructs solar energy panels and equipment for homes and farms. The group also sponsors international university students to come to the workshop and participate in the construction programs. Perez also reported to have received support from a United Nations program for the construction of infrastructure at the workshop.
SHE actively promotes solar cooking in East Africa and Latin America - Solar Household Energy (SHE) was commissioned to test acceptance of the HotPot solar oven in the Gaga Refugee Camp in eastern Chad. It shelters 20,000 people from Darfur in Western Sudan. Patrick Fourrier, a French solar cooking expert affiliated with Bolivia Inti Sud Soleil, completed the first phase of the project last month. He will also ensure that local support systems set in place to encourage continued use of the solar ovens are working effectively. Meanwhile, SHE has begun a cooperative relationship with Grupo Jaragua, a highly respected non-governmental organization in the Dominican Republic, to support a solar cooking initiative. Grupo Jaragua is aided by a Dominican eco-tourism and solar cooking advocate El Fuego del Sol, which conducts the local assembly and subsidized sale of Sun Oven box cookers in rural communities near the Haitian border. They are also supporting The Nature Conservancy's office in the Dominican Republic to add the integrated cooking method as a component of their reforestation project in Haiti, and working to expand the solar cooking promotion efforts it undertook in Mexico with the Mexican Fund for the Conservation of Nature (FMCN) begun in 2004. On the public education front, SHE founding director Dar Curtis is participating as a contributing member of the Technology and Fuels Working Group of the Global Alliance for Clean Cookstoves. This alliance of governments, corporations and non-profits is promoting cleaner cooking solutions than the open cooking fires and inefficient cookstoves used by three billion people around the world. Read more in the SHE spring update 2011. This project is included among Most significant solar cooking projects.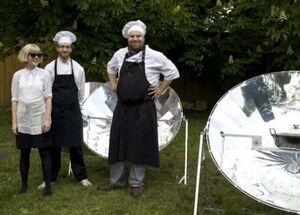 Traveling solar restaurant to visit European cities this summer - The Lapin Kulta Solar Kitchen Restaurant aims to follow the sun through Europe the summer of 2011, visiting several cities where it will present an extraordinary culinary concept. Joining forces to bring this about are world-acclaimed Catalan designer Martí Guixé, Finnish food visionary

Antto Melasniemi

and Lapin Kulta beer. Opening during Milan Design Week 2011 in April, the restaurant will celebrate the sun, gourmet cooking, beer, life and art on its trail towards the never-setting summer sun of the Arctic Circle. Unlike the traditional way of cooking, solar heat affects the taste and texture of the dish in a surprising and positive way, producing a completely different taste experience. The public is invited to follow the construction of the Lapin Kulta Solar Kitchen Restaurant at locations including Milan, Stockholm and Helsinki. You will be able to watch the cooking process and finally to enjoy the food in an outdoor setting. View opening day in Milan, Italy.
Hillary Clinton: "We have got to do something about this!" - Ryan Lizza writes in the New Yorker Magazine: "Not long ago, I met with Kris Balderston, the State Department's representative for global partnerships. He started working with Clinton ten years ago, when he guided her through the politics of upstate New York during her Senate race. Now he works on an array of entrepreneurial projects that complement traditional diplomacy. He talked excitedly about working with Vietnamese-Americans to build stronger ties to Vietnam and about distributing vaccines in partnership with Coca-Cola. He pointed to a bookcase stocked with devices that looked like a cross between a lantern and a paint bucket. These were advanced cookstoves. "This is a problem that the Secretary saw when she was First Lady," Balderston said, explaining how lethal cooking smoke can be. "One half of the world cooks in open fires. Two million people die a year from it—that's more than malaria and tuberculosis combined, and nearly as much as H.I.V." On a trip to Congo in 2009, Clinton met a woman in a refugee camp who had been raped in the jungle on the outskirts of the camp while gathering wood for her stove. Telling the story at the State Department, Clinton was angrier than Balderston had ever seen her. "We have got to do something about this," she said. Balderston spends much of his time trying to build a market for inexpensive, clean-burning cookstoves in the developing world." Read more...
April 2011
European bread producer supports cooking projects in Africa - Europastry, located in Spain, has signed an agreement with Sol Solidari, an NGO that provides solar cookers, stoves and solar cookers to families in the Sahel region, across Ethiopia and Central Africa. Introducing new technologies, Sun Solidari helps to reduce health problems, poverty and deforestation in these countries. In Isalo, Uganda most households cook with wood, especially with the system of the three-stone fire. This system is extremely inefficient because a lot of the heat it generates is wasted. In addition, cooking with this system generates a lot of smoke, often inside homes, causing severe vision problems and increasing the incidence of lung cancer and other respiratory diseases. Europastry has donated twenty solar ovens to help the creation of a micro-enterprise bakery in Isalo for a community of women to bake bread for sale, without the need for fuel. They have also funded the purchase of 600 efficient wood stoves for families in Bandiagara, Mali. These simple stoves, manufactured by local blacksmiths, consume only a third of the firewood used in traditional three-stone cook fires. Read more...
Solar cooker manufacturing business in Uganda is moving forward - Hopefully, production will begin this April in Uganda. In a recent interview with The EastAfrican, Ron Mutebi revealed that he has more than 1,000 prospective buyers for his product. "The

Ultra Sun Cooker

is designed to meet up to 70 percent of the cooking needs of a typical family, entirely using the power of the sun," he says. Uganda's dependence on forest resources for the domestic energy needs of most families continues to deplete the forest cover, a problem other East African countries are also battling with. It is estimated by the Food and Agricultural Organization that Uganda is currently losing almost 2% of their forested areas annually. Read more...
March 2011
Solar cooking helps AIDS patients in Malawi - Sun Ovens International, an Illinois, USA company, joins forces with the Rotary Club of Naperville, Illinois to help promote solar cooking for the people of Malawi, Africa. Given the economic and health struggles the country is currently facing, this population will benefit greatly from having access to safer and healthier food. The Global Sun Ovens they brought were perfect in slow cooking the "seven grains" diet given to people living with AIDS. This is a nutritious blend of seven wholesome grains that, when softened, provide patients the best nutrition without being too heavy or harsh on their digestion. Prior to the introduction of solar ovens, people would use a huge amount of fuel like charcoal or firewood to soften these grains. Now, all they have to do is to harness the power of the sun to cook their food. This minimizes their exposure to cooking fumes and the need to gather fuel. Read more...
Worldwide competition for solar cookers coming in October (postponed until possibly Jan. 2012). - The International Symposium on Renewable Energy, sponsored by Promoters and Researchers in Non-Conventional Energy, will take place in Dhule, India from October 11th -13th. The symposium includes lectures and activities on renewable energy, as well as, a side by side performance competition for solar cookers and domestic wood stoves. Many variations of solar cookers and stoves have been used in the past for projects promoting integrated cooking around the world. As solar cooking is being recognized as a valuable part of the solution in helping to reduce deforestation and respiratory disease, policy makers, governments, and NGO's will be looking at which designs provide the best real-world performance. To accomplish this comparison, testers will use an approach called the Kitchen Performance Test. The competition will focus on cooker output, cost, and ease of use in two solar cooking categories, concentrating solar cookers and other designs, typically box and panel cookers. All manufacturers, suppliers, and inventors are welcome to participate in the competition. Also, there is no entry fee, though participants are responsible for transporting their designs to the symposium site. More Information...
Former New York City photographer lives off-grid in Texas desert with his solar cooker - A New York Times article reports on John Wells, living a solitary existence in the west Texas, USA desert. If you stop by, he may offer you dinner: a plate of red beans, rice and broccoli, and a tangy slice of homemade cheese, olive and beer bread, cooked all afternoon in his solar oven. His structures are primarily recycled shipping containers, and he has made several clever adaptations of household appliances, including a pedal-powered clothes washer. Using his solar cooker, made from a recycled satellite dish, is central to his daily activities. New York Times article with photos of his cooker.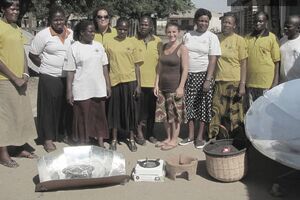 Light Gives Heat visits Solar Cookers International demonstration in Kisumu, Kenya - Light Gives Heat (LGH) is a NGO promoting grass-root economic sustainability and creative endeavors in Africa. Ugandan Director, Amberle Reyes and a staff member recently visited a demonstration of sustainable cooking methods sponsored by Solar Cookers International. It included traditional fixed and portable earthenware stoves, called upesi in Kiswahili, which more efficiently use charcoal or wood as fuel, CooKit solar panel cookers, and heat-retention cooking baskets. They were most interested in solar cookers and fireless baskets. Locals were initially attracted to solar cooking not because of the possibility of saving money by buying less fuel, or the health benefits of indoor smoke reduction, but because solar cookers can bake cakes. Cake is seen as a "rich person food", and LGH saw an entrepreneurial opportunity: Cakes are sold for weddings and birthdays. Most people cannot make high-quality cakes because of the irregular temperatures of charcoal and wood stoves, but solar cookers bake perfect, moist cakes with very little worry of burning or overcooking. At the end of March, SCI staff will bring CooKIts and retained-heat cooking baskets to Jinja and demonstrate first-hand their effectiveness to all the LGH employees. Light Gives Heat has received an $8,000 USD grant to supply their Uganda artisans with these solar cookers. More Information and photos...
A flat panel approach to a parabolic solar cooker - The

Phaeton

, developed by Fraser Symington and

Lorin Symington

of

ASTRA

, is a scaled down version of their earlier Helios Array. It consists of an array of mirrors supported on a straight steel frame and a cooking console. The light is first focused onto a second reflector, which sends it up to the base of the console, at a convenient working height of 76 cm (30"). With 35 square feet, or 3.2 square meters of collection area, the Phaeton achieves a 5 min/1L boil. A pot with 8L of water will boil in 35 minutes. The flat panel approach to construction allows this cooker to be fabricated for approximately US$350, considerably less than the typical parabolic solar cooker of this scale. Due to the high range of temperatures it is capable of achieving, the Phaeton can bake, boil, fry, roast, dry, or distill water. With a fan powered dehydrator, it will dry 12 kg of fresh, juicy pineapple into over 2 kg of perfect dry tidbits in twelve hours. The trade-off for such power and convenience is a long focal distance. This means that the Phaeton must be reoriented approximately every seven minutes for maximum output. The array is mounted on caster style wheels, and is easy to rotate for reorientation to the sun. Possibly a candidate for a village cooker shared with several households.
Big success of the sale of subsidized solar ovens in Lalibela (Ethiopia) - In 2008 Sol Solidari started to introduce solar ovens in Lalibela and in the Abune Yosef mountains. The solar ove

ns are a kind of sealed boxes with glass in the upper part. The solar rays that come into the box cannot go out of it and the inside heats up like a conventional oven. This oven is less expensive than a solar cooker, but it is also slower. The idea is to be able to cook without supervising the food whilst cooking; although the preparation of the food will take several hours. In a first phase of the project the solar ovens were given free to the families with the biggest needs. These families were chosen by the kebeles to promote the knowledge of this new technology. In this way 166 ovens were given during the years 2008 and 2009. Now that the people in this area have seen the functioning and the benefits of these solar ovens we took a start, in 2011, to sell them subsidized. (Read more)
February 2011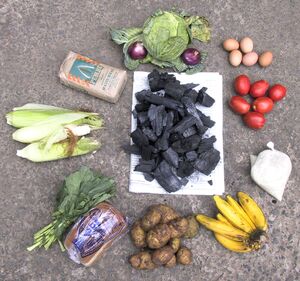 The Impact of Rising Food Prices - Across the globe, food stocks are down in part because of unfavorable weather, ranging from drought to floods in various parts of the world. The demand for rice and other grains, meanwhile has been growing, especially in big developing countries like China. This situation has added to the struggle for families trying to survive, and has helped to fuel protests in the Mideast. With food costs rising in developing nations, there is less money for the population to buy needed fuel, primarily charcoal, for cooking. Introducing solar cooking to more areas is an important way for residents to offset the higher price of food staples. Read more...
The World Wildlife Fund, working with energy consultant, Ecofys, has launched "The Energy Report" - It presents a detailed plan for earth's population, to thrive without nuclear and fossil fuels by 2050! The report includes solar cookers as one of the zero emissions solutions to the harmful indoor air pollution and massive deforestation faced by hundreds of millions of people in the developing world who still cook over open fires. The Energy Report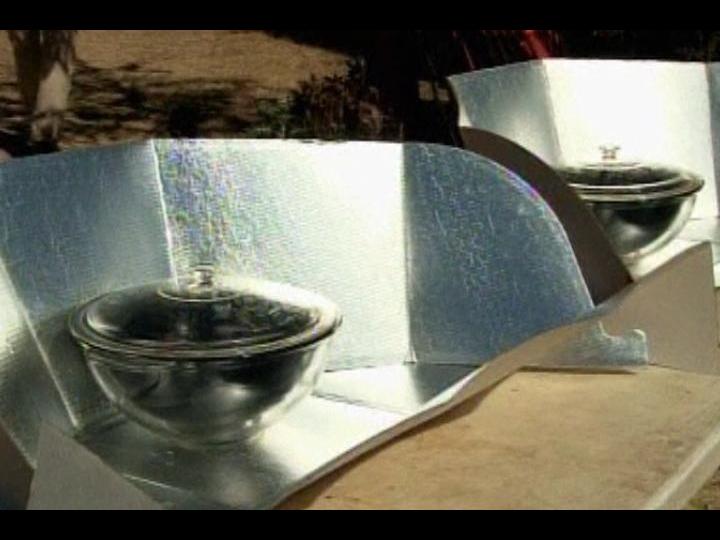 Student success shows independent spread of solar cooking - The Eldoret Student Projects in Kenya, spearheaded by Camily Wedende of Sun Cookers International, and aided by long-distance adviser, Sharon Cousins, of Solar Cookers International, have taken an important step in that spread with a student team who not only learned how to cook with sunshine but also learned to take a creative and scientific approach to solar cooking. Students researched existing solar cookers on the Solar Cookers World Network site. They put their heads together and came up with new ideas to try. They performed comparative tests on an existing model and two of their prototypes. While all three reached cooking temperatures, one innovation showed the strongest performance at their location. All twenty students built durable solar panel cookers to take home to the camps where they live, and have been using them to prepare food and provide water pasteurization for their families. They keep records of their progress and experiments, amazing the neighbors who stop by to see food cooking in a stove powered by sunshine, a stove that children in their community helped to invent. Camily and the team hope that other schools and clubs can use the example of their pilot project to help more youth become scientists for solar cooking, to aid in the spread of this bright idea whose time has come.
January 2011
Indian government clears plan for sixty solar cities - The Indian Government will kick off an ambitious scheme to develop sixty solar cities in two years. It will be done in collaboration with city corporations, municipalities and district councils. The focus will be on renewable energy devices such as kitchen waste-based plants, solar water heating systems, solar cooking systems, solar steam generation, drying and air heating systems, solar air-conditioning, bio-mass gasification based systems and biogas. Read more...
U.S. Department of State awards $100,000 grant to Turkish foundation - The grant will allow the Foundation for the Support of Women's Work (FSWW) to launch a year-long solar cooking project. The project will have two phases. During the first phase, educational seminars about the effects of climate change are planned in several communities — Istanbul, the Marmara district of Bandırma, the southern province of Hatay and the southeastern province of Mardin. Renewable energy sources will be discussed as alternatives to smokey cooking fires. An estimated 2,000 solar cookers will be built and sold by women's groups during the second phase of the project, providing needed income opportunities. Read more...
Flood-affected Pakistanis receive solar generators and cookers -- The people of Swat, Pakistan have received solar-powered energy generators for electricity and solar-powered cooking equipment funded by a leading Berlin-based non-governmental organization, German Aid for Afghan Children (GAAC). The organization has begun one million Euros relief and reconstruction work in the Khyber Pakhtunhwa's districts worst hit by floods. GAAC had announced in 2010 the distribution of solar-powered lithium-ion batteries to generate electricity and solar cooking equipment for the planned 1000 families of Swat, Nowshera, Pabbi and Bannu districts. Read more... ID Cook offers Portable snap-together parabolic solar cooker - Based in France, ID Cook markets the Cookup200. A clever design, it is assembled quickly from notched pieces that fit together without fasteners. When disassembled, it is easily transported in a relatively compact travel bag. Typically this style of cooker is constructed with fairly heavy materials, and a single piece reflector. Parabolic cookers are often used at a single location. This video of the lightweight solar cooker demonstrates its assembly, operation, and portability.
Solar Cookers International exhibition and reception at the United Nations a success - Representatives from non-governmental organizations and interested supporters attended the three-hour, open-house event put on by Solar Cookers International on January 18th. The concept of solar cooking is so important, that representatives from Nigeria, the Middle East, Pakistan, Bangladesh, and Somalia made it through freezing, blowing rain to attend the exhibition. A wide variety of solar cookers were on display with informational material accompanying the cookers. Video loops played throughout the evening, showing real people around the world cooking with the sun and training others to do so. There was a real urgency at the exhibition that the message of solar cooking be strong, unified, and be present in global discussions of development and progress for people around the world.
African solar cooking partnership project visited by Dr. Jill Biden, wife of the U.S. Vice President - Lift Up Africa is a strong believer that partnering and sharing resources is a key to successful implementation and sustainability. This project was designed to introduce solar cooking and related technologies to ten communities in Kenya. The partnership relied on

Africa HEART

, a Kenyan-based NGO recently visited by Vice President Biden's wife Dr. Jill Biden, to identify three community groups in each district, the fifty trainees in each community, and training venues. Africa HEART covered expenses and handling logistics related to transport for the solar cooking equipment, distribution venues, and follow-up on usage and other needs. Solar Cookers International East Africa Office (SCI-EA) provided the trainers and supplies, written reports, and conducted the training. Lift Up Africa provided a grant to cover direct expenses related to equipment purchase and SCI-EA's travel, partnership connections, and worked with Africa HEART on follow-up and project evaluation. This project was a success and 150 families, approximately 1,200 people, have benefited from their new training and solar cooking equipment. This project demonstrates the value of independent organizations working together, each providing their area of expertise, to achieve substantial results. Hopefully, this will be a continuing pattern for projects initiated by members of the Solar Cookers World Network.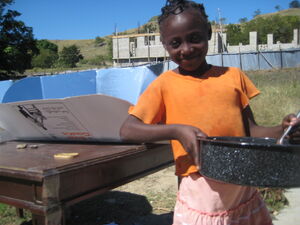 Haiti - One year later - Haiti continues to benefit from solar cooking. Solar Cookers International (SCI) and

International Child Care Ministries

(ICCM) are working to expand a project in the schools around Port Au Prince to integrate solar cooking into the 5th grade science curriculum. The goal is that each student will receive a CooKit to use each day in preparing and cooking their lunch, all the time learning about science. Training and certification of teachers continues, as do SCI's efforts to secure funding to provide 2000 more CooKits for this school project. To date, SCI has provided 200 CooKits, pots and Water Pasteurization Indicators (WAPIs) for four schools. With your help, we will achieve our goal of 2000 more! Reaching students in their classrooms, teaching a new lifestyle habit, while at the same time providing environment education is a winning program. Background: SCI, in collaboration with Sun Ovens International and ICCM, distributed over 400 CooKits in Haiti immediately following the devastating earthquake there. Near the community of Pigeon, 135 Haitians were trained in solar cooking by

Programme Energie Solaire

. Each participant received a CooKit, a pot and a WAPI, giving these earthquake survivors a method to cook their food and pasteurize their water without need of scarce and expensive fuel. Solar cooking is technology that offers relief in disaster situations: 1) When infrastructures are in ruins and no energy or gas is available, solar cooking utilizes the sun to cook hot food; 2) When fuel is scarce, cooking with the sun offers a clean, workable solution; 3) Solar cookers fight cholera by heating water to pasteurization temperatures (65°C or 150°F); and 4) Using a solar cooker requires only the sun, and does not necessitate searching for other forms of fuel. Families can stay together and remain safe. SCI thanks you for your ongoing support for solar cooking in Haiti.
All years
2021
2020
2019
2018
2017
2016
2015
2014
2013
2012
2011
Main article: Solar cooking news archive 2011
2010
2009
2008
2006-2008
Main article: Solar cooking news archive 2006-2008
1995-2005
Main article: Solar cooking news archive 1995-2005