December 2012
Solar cooking has created a business opportunity for a group of women in Zambia - The Solar Health and Education Project (SHEP) has initiated a project at a community-based nursery school in Livingstone, Zambia for unschooled mothers. Previously, their only source of income had been illegally making charcoal. During the course of the program, they learned how to make and use the CooKit solar cooker as an income generating activity. Thier next step was to create a registered group called Solar Ventures (SV). They have been holding SHEP-funded workshops at clinics, schools, agricultural shows (where they won 1st place for the most interesting booth in 2011), and government-sponsored functions on energy and conservation. The group was also invited to Lusaka to run a three-day workshop for a UK based nonprofit organization. Without question, their lives are different now since their introduction to solar cooking.
New study estimates four million deaths globally from household cooking smoke occur each year - The recently released "Global Burden of Disease 2010", funded by the Gates Foundation and just published in The Lancet, comes to this conclusion, and is double the previous accepted estimate. The study isolated the effects of cooking smoke only. There appears to be a shift from communicable children's diseases to non-communicable disease in adult populations as the major health threat affecting developing countries. The cooking problem is compounded by the fact that achieving a fifty percent reduction in cooking smoke does not correlate to a fifty percent reduction in respiratory disease. Substantial smoke reduction is required to see significant improvement. Read more about the cooking related air quality findings from the Global Alliance for Clean Cookstoves press release.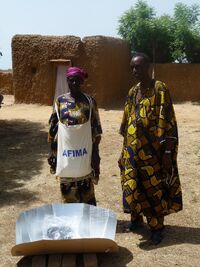 A successful Integrated Cooking project cooking in Ségou, Mali - In 2009, KoZon, a Dutch NGO promoting solar cooking in the Sahel, and AFIMA, a Malian NGO promoting the development of rural women, began a joint project in Ségou, a region of Mali where solar cookers had not been introduced. In five villages (Dioro, Babougou, Koila Bamanan, Kominé, Soké), they trained four groups of 25 women (selected by the village chiefs) in the practice of Integrated Cooking. They received kits containing: two CooKits, to cook meals when the sun shines; a fuel-efficient woodstove, for use when there's no sun; and a heat-retention cooker to allow even more food to be cooked in the first two. In addition to a short hands-on training workshop, the project ensured that all participants were visited several times after the course to solve problems, and provide extra tips, and encouragement. In the final evaluation, in May 2012, external experts established that more than 80% of the participants--in some villages nearly 100%--used these technologies daily. As intended, they are now saving some 1,800 tons of fuel wood per year. The evaluators also found that many women appreciate having more free time each day, since they do not have to tend a fire when solar cooking or using the heat-retention cooker. They use their time for other activities including running small businesses. Buying less firewood also saves them a lot of money. It's no surprise that the evaluators spoke of integrated cooking as a great means of relieving poverty! This project is included among Most significant solar cooking projects.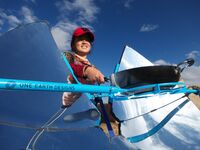 One Earth Designs introduces their new parabolic solar cooker - Working with rural communities in western China, One Earth Designs (OED), a Beijing/Hong Kong-based company, founded by Americans Catlin Powers and Scot Frank, has developed the SolSource S1, a portable parabolic solar cooker designed for use by nomadic communities. The S1 can boil a liter of water in ten minutes. Durable and weather resistant materials ensure a longer lifespan. It has a total weight of 18 kilos including a sturdy base design capable of withstanding the high winds typically encountered in the Himalayas. OED's other solar cooker design, the SolSource S2 will be the world's first temperature adjustable solar cooker with six discrete settings up to 1,000 degrees Celsius. It will provide users with the capacity to generate electricity, heat their homes, purify their water and cook with stored solar energy at night or on cloudy days.
Started twelve years ago, this Chilean solar restaurant has become a desired tourist destination - The Delicias del Sol restaurant, known for serving excellent food, has become a tourist destination for the village of Villaseca, Chile. Begun in 2000 with an initial seating capacity of sixteen, the solar restaurant now seats 120. The dry central valley area receives over 300 days of sunshine a year, and like similar areas, traditional fuel sources are becoming ever more scarce and expensive. The tourists enjoy viewing the solar kitchen at work. Find out about many other solar restaurants and bakeries here.

Restaurant's Ovens Powered by the Sun
Alternative energy funding groups offer options for technology promoters - The International Renewable Energy Agency(IRENA) is welcoming online applications with project summaries for concessional loans worth USD 50 million from the Abu Dhabi Fund for Development (ADFD) to facilitate renewable energy projects in developing countries, in the first of seven funding cycles totalling USD 350 million. Renewable energy projects must be government-led or government-guaranteed. Online applications close on 12 January 2013, 17:00 (Abu Dhabi local time). More information... The Global Alliance for Clean Cookstoves is also offering funding possibilities for new businesses. The Alliance's Spark Fund (Fund) launches its first round of funding with this Request for Proposal (RFP) as part of the strategy to strengthen supply and enhance demand in the cookstove and fuels sector through innovation and tailored entrepreneurial capacity development. Unfortunately the final submission date is January 10, 2013. More information...
Jewish World Watch, originator of the Solar Cooker Project for Sudanese refugees, reviews their current programs at several of the refugee camps in Chad – As a result of a joint security force between Chad and Sudan, violence against women has declined some since the project began seven years ago. Cord, their partner at the Farchana refugee camp, sees solar cooking as a way to keep girls in school, and not spending hours finding fuelwood for cooking. For others, the project has meant help for the environment and the air quality conditions for women previously using open fires. When the Jewish World Watch contingent first visited the camps many years ago, the refugees had just arrived and the encampment was meant to be temporary. The hope and expectation was that within a few months or a couple of years at most; they would return to their homes. But now, seven years later, it is clear that returning to Darfur is not a reality and the camps are turning into permanent settlements. As a result, the programs for the refugees must begin to move away from survival resources and begin to address ways of achieving self-sufficiency and permanence. In other words, helping to create a life, not an existence. Future larger scale solutions will be needed to address and benefit the surrounding communities, as well as the refugee camps, to help with the integration of the Sudanese residents. Read more...
War weary citizens in Iraq to receive solar cookers - During a recent visit to villages in the Najaf-Karbala region of Iraq, a trustee of the Lady Fatemah Trust (LFT) found that villagers were using two methods for cooking: The majority of families, living in abject poverty, use open fuelwood fires for cooking, heating and lighting, while a slightly more affluent minority uses appliances fueled by kerosene. In the first phase of this project, LFT intends to provide solar cookers to families living in the villages surrounding Karbala Barakat al-Zahra district, Al-Mahdiyeh Village One and Two, the al-Nedhal and al-Wala' neighborhoods, as well as to families living on isolated desert farms. About 7000 solar panel cookers will be needed to provide every family in the region with a cooker. The cookers to be used are an improved version of the Cookit solar cooker made from plastic fluteboard and manufactured by Matthew Rollins. Total project cost will amount to £105,000.00. More information...
November 2012
Regional Solar Food Processing Network to be established in India - Rolf Behringer reports that the German NGO WISIONS has agreed to support the establishment in India of the first regional Solar Food Processing Network. A workshop to inaugurate this effort will take place in early 2013 (date and location to be announced). The aim of the Solar Food Processing Network (SFPN) is to establish a global network of interested parties (NGOs, governments, farmers, and manufacturers) to develop and promote efficient methods of solar food processing and conservation. These are intended to help reduce poverty, improve local economic opportunities and health, and decrease environmental damage. In countries with high solar insolation, effective solar thermal production technologies will contribute to the sustainable development of small rural communities. SFPN is managed by the German NGO Solare Zukunft (Solar Future). It is financially supported by WISIONS, an initiative of the Wuppertal Institute for Climate, Environment and Energy to foster practical sustainable energy projects.
The November 2012 issue of Solar Cooker Review is now available online
TanzSolar wins the Green Africa Award for Business - In June of this year the annual Green Africa Award for Business was awarded to TanzSolar for championing environmental change in Africa. TanzSolar received the Award for bringing clean, renewable solar energy and electric lighting to villagers in Tanzania. TanzSolar received the Green Business & Environmental Management Award, one of ten categories. "We are thrilled and this is an enormous honor to receive such an award. It's nice to be recognized for our hard work in solar energy in Africa," said Marianne Walpert, Founder and Director of TanzSolar.
South Dakota foundation makes plans to have more solar cookers available in Haiti - Haiti Solar Oven Project board members and partners met the last weekend in October to set goals for 2013. In the next fiscal year, Haiti Solar Oven Partners will provide 2,280 units to families in Haiti participating in training and ownership of a solar oven.
October 2012
Recent natural disasters show need for emergency cooking and water pasteurization - Bangladesh floods and landslides, June 2012; India floods July, 2012; Haiti floods and mudslides August, 2012; More India floods September, 2012; Vietnam, Philippines, Southern China typhoon, October 2012; Eastern United States hurricane October, 2012. All of these natural events disrupted people's lives, even changing them forever. In the recovery stages after natural disasters, people's basic needs don't change: they still need clean water, food, safety, and shelter. In the bleakest situations, solar thermal power can begin to meet two important needs: a solar oven can pasteurize water and cook food. If you are an experienced solar cook, please contact people in your circle of influence in these affected areas. Share your knowledge of solar cooker construction and use with people who need it most. This YouTube video shows solar cooking done in the snow after power was lost in northern Virginia in a February 2010 storm.
Parabolic solar cookers delivered to Afghanistan's remote Wakhan Corridor - The Kirghiz tribe live at the end of this slender finger of land in northeastern Afghanistan. Their primary fuel source for cooking has been dried yak dung, creating smoky conditions in their yurts. The buffalo-like yaks are used for most of their transportation needs. In June, Jeff Waalkes in Kirghizstan and Grace Magney with the Global Hope Network in Kabul were able to deliver ten parabolic solar cookers to the tribe. Grace organized the procurement and had the cookers loaded onto a truck. Jeff's responsibility was to get the truck into the Wakhan Corridor, and where the road petered out, strap everything including the solar cookers to the backs of yaks to deliver them to the Kirghiz. Initially hesitant, members of the tribe were soon cooking food and boiling water. See more of Jeff's photos of the delivery.
Global conservation organization adopts solar cooking resolution sponsored by Solar Household Energy - The International Union for the Conservation of Nature (IUCN) has embraced a strong resolution sponsored by Solar Household Energy calling for increased support for solar cooking efforts worldwide. The measure was adopted in September at IUCN's quadrennial World Conservation Congress in Jeju, South Korea. The organization recognized the health hazards of cooking over biomass fires, and the availability of current solar cooking technologies. Efforts continue to develop solar cookers that offer increased efficiency, are cost-effective to produce and distribute, and are sturdy enough to withstand extended use. Read more...
Students set a world record and bring awareness to the benefits of solar cooking - Students, parents, faculty, staff and friends gathered at Miami Country Day School located in Miami, Florida, USA on Friday, April 20, 2012 and set the Guinness Book of World Records™ for "The Most Cookies Baked in One Hour Using Solar Ovens". Trays of unbaked cookies were placed in 40 smaller solar ovens, as well as, two Villager solar ovens. After the cookies were baked and 1225 counted....a World Record was set! The event raised over $18,000 USD, which was used to send the 40 solar ovens and a Villager oven to Haiti. The cookies baked in the event were donated to Feeding South Florida. The event was lead by Matthew Cohen, a high school junior who has been actively involved in the solar oven movement for the past nine years. Cohen launched the website Power from the Sun to educate people worldwide on the benefits of solar cooking and help raise money to send solar ovens to needy families in Haiti. Cohen's latest project is aptly named "The Life Of The Traveling Solar Oven" and encourages students, parents, teachers, and local businesses to sponsor a solar oven. Participants are asked to use the solar oven, document their experience with video or photos and share it on their facebook page: http://www.facebook.com/PowerFromTheSun. The event will conclude on Earth Day 2013.
September 2012
Swedish and Lutheran organizations sponsor water pasteurization efforts in Kenya - The Swedish Church and the aid agency Lutheran World Federation (LWF) are launching Solvatten in Kakuma Refugee Camp in Kenya. The goal of the project is to reduce environmental degradation by enabling people to use alternative sources of energy in the camp and in the host community that surrounds it. 

Supply of fire wood has been a problem in Kakuma region since the camp was set up in 1992 but it has escalated in the past two years, despite that the refugees are not allowed to harvest firewood directly from the bushes. This is attributed to the continuous massive influx of people into the camp leading to the environmental degradation through the harvesting of sticks from the available vegetation for firewood. Firewood has become very expensive and the UNHCR struggles to purchase and supply fuel to the growing population of refugees in the camp. The Solvatten is a solar water pasteurization device.
August 2012
Solar cooker project in Chad is in full swing - In the Farchana Refugee Camp, a team of ten volunteers, refugees themselves, are putting together 2350 cookers! The cookers help prevent conflict between the Sudanese population in the camps and the local Chadian community, who are both competing for scarce firewood. Women, who traditionally collect wood to cook with, face violence outside the camps. The solar cookers need only the sun to cook food, one thing Chad has in abundance! Read more...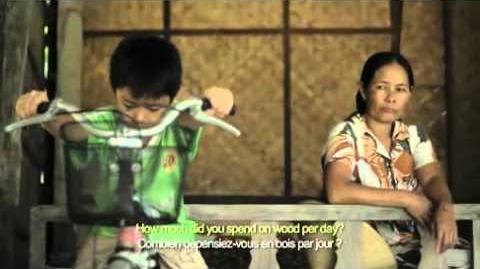 New video shows Vietnam Solar Serve's extensive solar cooking projects - A team of three French students came to visit Vietnam Solar Serve's center. They had organized Global Universities Social Trip (GUST), a project that aims to raise students' awareness of social entrepreneurship in Asia. For six months they met many social entrepreneurs throughout Asia who worked on problems such as energy, communication, waste, water, and housing. They created videos that presented the entrepreneurs' projects, the social issues they wanted to solve, and the challenges they had to overcome. Click the image on the right to see a video that they made on their visit to our Solar Serve Center in Danang. For more information on the Gust Project, visit the: http://www.gustproject.com or visit their Vimeo Channel.
Dissertation posted: Identifying the barriers to the deployment of solar cookers in the energy-poor households of sub-Saharan Africa - Sarah Cochetel
New video from Cord showing their solar cooking project in refugee camps in Chad
July 2012
June 2012
Solar cooking heads to The Discovery Center - Central Valley Solar Cookers, founded by Carl Peters, is one of the most successful solar cooking clubs in the USA. Located in Fresno, California, the group now has 111 members. They recently had their First Annual Solar Cooking Festival, which was a huge success. They now have enough money to buy materials to build a solar cooker for use at The Discovery Center, a free non-profit science education facility. The park is fully self-funded and situated on six acres. Carl thinks a panel type cooker would be the safest type. It would be a nice addition to ultimately see solar cookers in our parks instead of only charcoal and wood burning BBQs.
New video: The need for a more durable solar cooker for desert refugee camps
Solar Cooking Hits the Mainstream - StarTides (Read more...)
May 2012
Students flood southern Mexico integrated cooking class - Volunteers from the Rotary Club of Fresno, California, led by Wilfred and Marie Pimentel, teamed up with the Rotary Club of Tapachula Centenario, Mexico, to host a five-day integrated cooking workshop in Tapachula. This is the tenth grant project completed in Mexico by the Rotary Club of Fresno. Although only twenty students were expected to attend, ninety-one arrived on opening day to participate—a clear indication of the desperate need for affordable fuel-saving cooking devices in this region. Local instructors and expert solar cooks from Torreon and Oaxaca led the workshop. Participants learned to build three types of rocket stoves: mud and chopped grass, five gallon tin can, and sixteen brick, which were used to make tortillas. Students cut out cardboard sheets and glued them to pieces of aluminum foil to make solar panel CooKits. A variety of meat, vegetable and egg dishes were prepared with the CooKits along with desserts like pineapple upside down cake. Students also learned how to use WAPI's to pasteurize water with a CooKit. Finally, the instructors showed their ninety-one students how easy it is to make a retained heat cooker with a pillowcases and crumpled newspaper stuffed into a woven basket. Read more...
April 2012
Alternative energy organization in Vietnam enthusiastically promotes solar cooking - Vietnam Solar Serve has provided a recent video tour of their production facility in Da Nang, Vietnam. The resourceful group has been adapting solar cooker designs from other countries and developing their own solar energy products since 2000. Looking at the larger alternative energy picture, they also promote photovoltaic panels made in Vietnam and are working on designs for water and wind power turbines. They manufacture a variety of parabolic and box solar cookers.
March 2012
Solar cooking set to help preserve the Golden Temple in Punjab, India - To save the Golden Temple from the ill effects of pollution, the Punjab Energy Development Agency (PEDA) is developing a plan to prepare a daily meal of Langar dal with the help of a solar steam cooking system. PEDA is the governmental agency promoting renewable energy within Punjab, India. To prepare Langar dal for 50,000 to 60,000 devotees daily at the Golden Temple requires one ton (909 kg) of dal to be cooked. A recent study has shown cooking dal with the help of steam will save at least 25 LPG cylinders per day and also reduce the effects of air pollution on the Golden Temple. PEDA chairman Manjeet Singh said that PEDA would bear the entire project cost. This project is included among Most significant solar cooking projects.
February 2012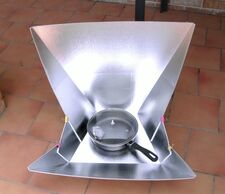 The Sun2Cook is a simple solar panel cooker - The Sun2Cook, was designed by Heinz-Joachim (Jo) Muller. The solar panel cooker takes shape from a single rectangular sheet of polypropylene sheet (core flute). With a few cuts and simple folds it is ready to cook. The steep back of the cooker makes it a good choice to take advantage of morning and late-day sunshine.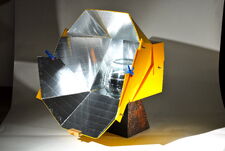 The versatile All Seasons Solar Cooker cooks year-round - The All Season Solar Cooker is featured this month as a solar panel cooker whose key feature is its adjustable, coordinated reflector array. The advantage of the ASSC is that it can efficiently capture the earliest morning sun, to begin cooking far earlier, and later, in the day than most other designs. The cooking pot maintains a level position regardless of cooker orientation. It also folds into a flat package that is easy to transport and ship. Visit the cooker article for plans that can be downloaded for free from designer Jim La Joie. SCI tests showed that bread could be baked easily in Seattle (47° N latitude) on February 3rd.
January 2012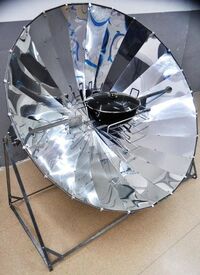 Spanish solar cooking promoter offers to donate cookers to other groups - ACCESO director, René Bijloo, has made the generous offer to donate up to thirty AlSol 1.4 parabolic solar cookers to any non-profit humanitarian project providing solar energy options for rural areas around the world. Contact René Bijloo with detailed information about your program.
Private equity firm invests over $11 million USD in Gadhia Solar - Private equity firm Zephyr Peacock has reportedly invested $11,000,000 USD in Mumbai-based Gadhia Solar in India.. The solar energy company provides energy solutions by using parabolic concentrated technology and has implemented some of the world's largest solar thermal systems during the past two decades. Read more...
Featured solar panel cooker receives attention, and a suggestion - The Copenhagen Solar Cooker Light was featured here this past November, and Teong Tan, an active participant in the Network, has suggested an alternate plate base design, which will shorten the assembly time and not require any bolts. His design for the base uses two sandwiched pieces of cardboard sewn together, creating sleeves for the reflector corners to slip into. Alternate Base Plate for the Copenhagen Solar Cooker Light
Indian Government budgets six hundred million dollars for solar cooking! - Ajay Chandak of Prince India reports that in the Indian government's latest five year plan, 30 billion INR (approx. $600 million USD) is budgeted for solar cooking in 500,000 schools across India. This will not only help in saving the environment, but it will expose millions of school children to solar cooking and build the confidence that these systems work. For more information on solar cooking in India,
See India. .
All years
2019
2018
2017
2016
2015
2014
2013
2012
Main article: Solar cooking news archive 2012
2011
2010
2009
2008
2006-2008
Main article: Solar cooking news archive 2006-2008
1995-2005
Main article: Solar cooking news archive 1995-2005
Community content is available under
CC-BY-SA
unless otherwise noted.